Presales is a relatively new category of software, and as yet, presales teams often poorly armed. Left with spreadsheets, email, and LinkedIn, while other teams get 5-figure budgets for Salesforce, SaaS analytics tools, and more.

In this article, I'll share 10 presales software and their key features to help ramp up your presales efforts in record time.
Here are the 10 best presales software
Navattic

Walnut

HyperComply

Demodesk

Homerun

Gong

UserGuiding

Seismic

Toplyne

Cloudshare
Best suited for: presales & marketing teams creating no-code interactive product demos
Free trial: No, request a demo here or see their interactive demo in action
Starting price: unknown

Key features
Navattic is an interactive product demo software. It helps marketers, sales, and presales teams to to educate prospects and increase conversion rates with no-code product demos.
Navattic is simple to implement; even non-technical users can build a full product tour within a few hours. You can then either embed it on a webpage, or personalize and send directly to a prospect to share with their team.
You can customize each Navattic demo as needed, and add CTAs within the experience. It's a great way for presales teams to help prospects understand the value of your product as early as possible in the sales process.
Take a look at their own interactive demo to see an example of how it works.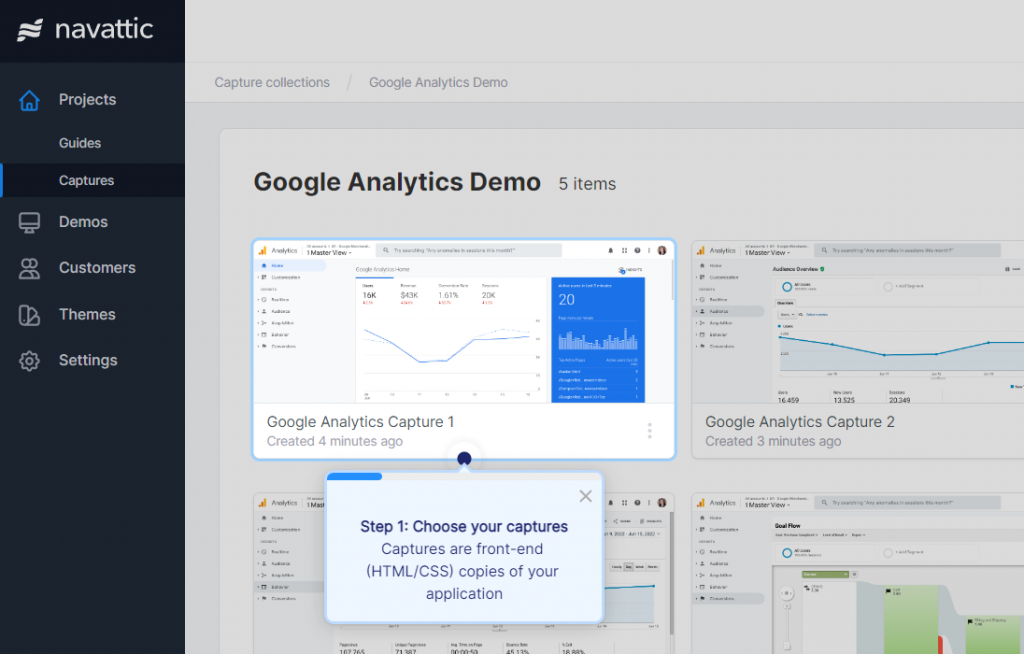 Integrations
Google Analytics
HubSpot
Salesforce
Segment
Zapier
Pricing
Navattic pricing isn't available on their website, but there is a lower cost startup plan. You can contact them directly for more information.
Best suited for: presales & sales teams personalizing demos
Free trial: no. Request a demo here.
Starting price: unavailable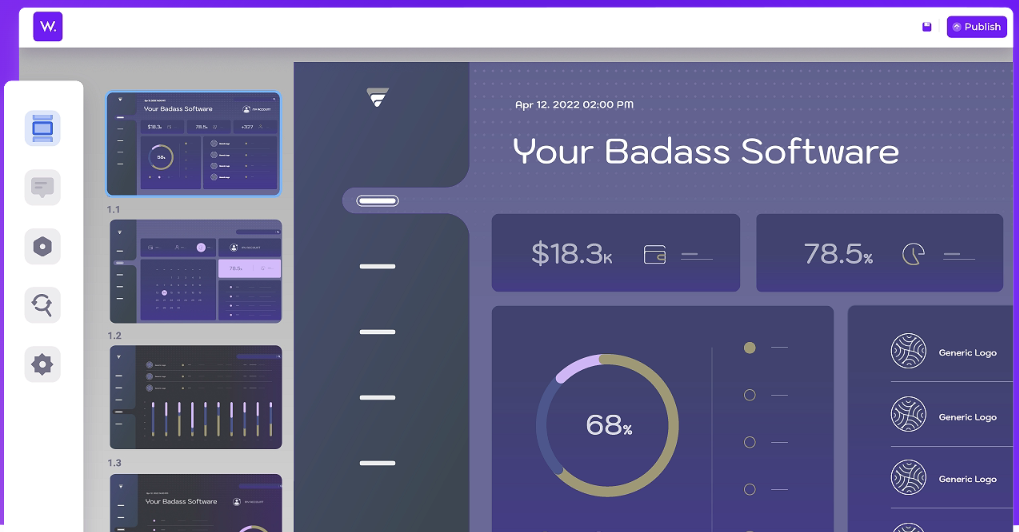 Key features
Walnut is another alternative to Navattic for interactive demos. It helps you capture your software front-end and edit text, features, and colors no-code.
Many of the features are similar to what I described above, but there are a few differences,
The main one relevant to presales teams is their template library feature.
It lets you save demo templates, and quickly bulk find + replace names, numbers, and logos to personalize the demo.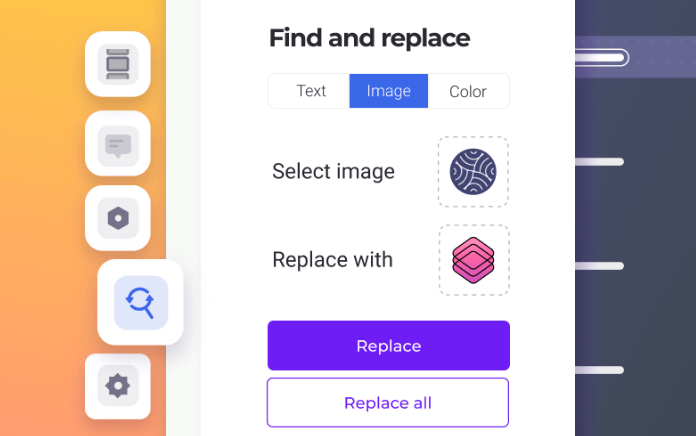 Then, like with Navattic, you can send a link to your prospect and get analytics on their engagement with the demo.
Pricing
Walnut pricing isn't available to the public. You can get started here.
Best suited for: presales & sales teams to automate security questions & due diligence
Free trial: unknown
Starting price: from $550/month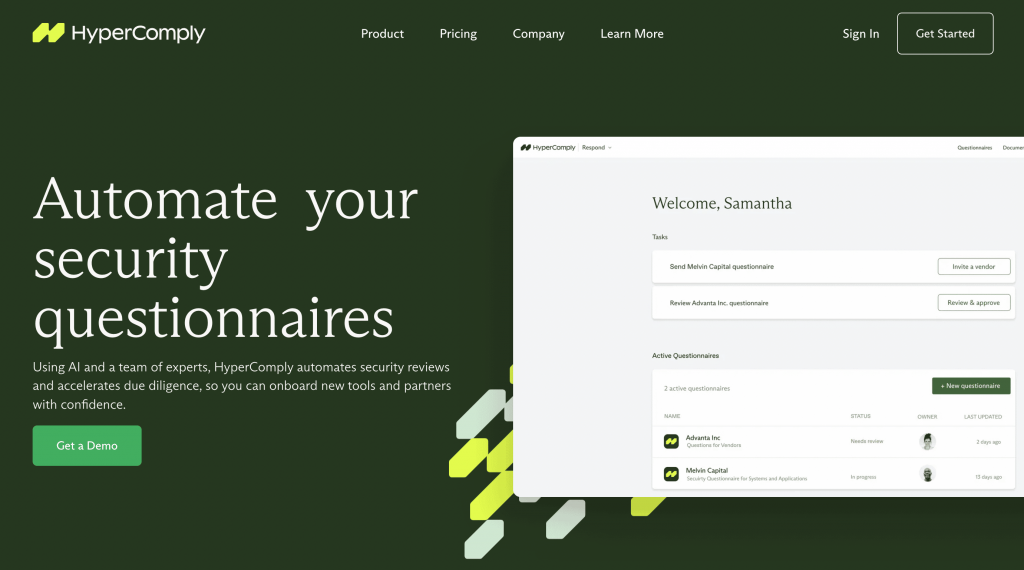 Key features
HyperComply is a vendor risk management solution that automates security reviews and due diligence processes and centralizes third-party risk assessments. HyperComply combines AI and human specialists so you can complete security questionnaires in 1 to 3 days.
First, with HyperComply, you can see all vendors in one place to quickly evaluate risk and take action. Its security review workflows let you understand what stage a security review is in and what needs to happen next.
Second, HyperComply makes it effortless to onboard new tools or vendors, letting you ensure your new vendors are secure. Use industry-standard security questionnaires developed by experts to make the vendor review process quick. You can also create your own customized template to fulfill your particular security requirements.
Pricing
Hypercomply pricing starts at $550 per month (on an annual basis) which comes with unlimited users, browser extension, and Slack integration. See full pricing here.
Best suited for: revenue teams to automate meeting scheduling
Free trial: yes, 7 days. Sign up here.
Starting price: from €29/user/month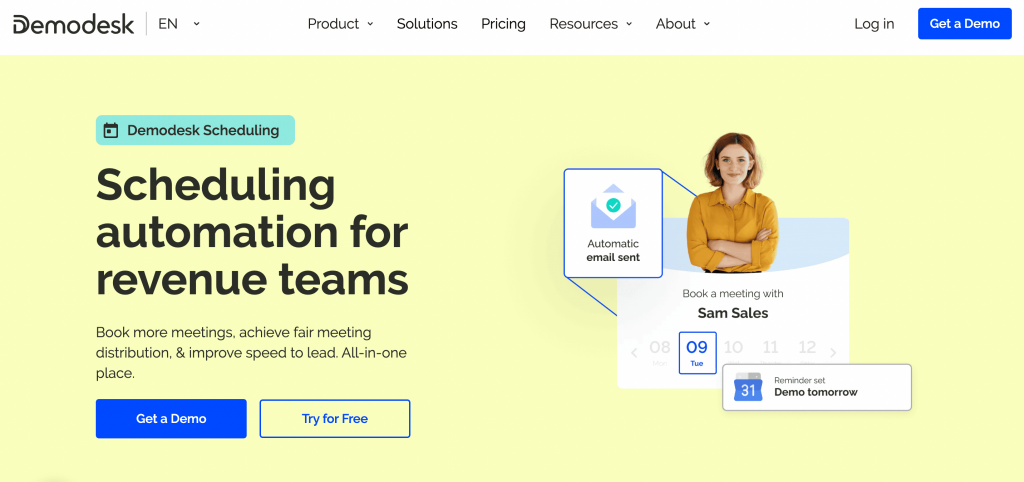 Key features
Demodesk is a meeting platform that supports screen-sharing and video conferencing for sales reps' product demos.
It provides features such as real-time insights and analytics, automated scheduling, and customer engagement—everything that helps streamline sales processes without a hassle.
Demodesk helps to increase win rates by structuring and maintaining your sales narrative with playbooks tailored to each customer conversation. With Demodesk, you save hours by automatically taking notes and instantly syncing them to your CRM.
Thanks to its analytics capability, you can better understand why top sales reps are performing well. Then, you can leverage valuable insights to coach your sales reps at scale. Another great Demodesk feature is that you can even join live meetings as a shadow participant without being seen.
Integrations
Salesforce
Gong
HubSpot
Pipedrive
Microsft Office
Google Suite
Pricing
Demodesk has 3 plans, starting at €29 per user per month. See full Demodesk pricing here.
Best suited for: sales leaders who need to get a full view into the presales pipeline
Free trial: unknown
Starting price: unavailable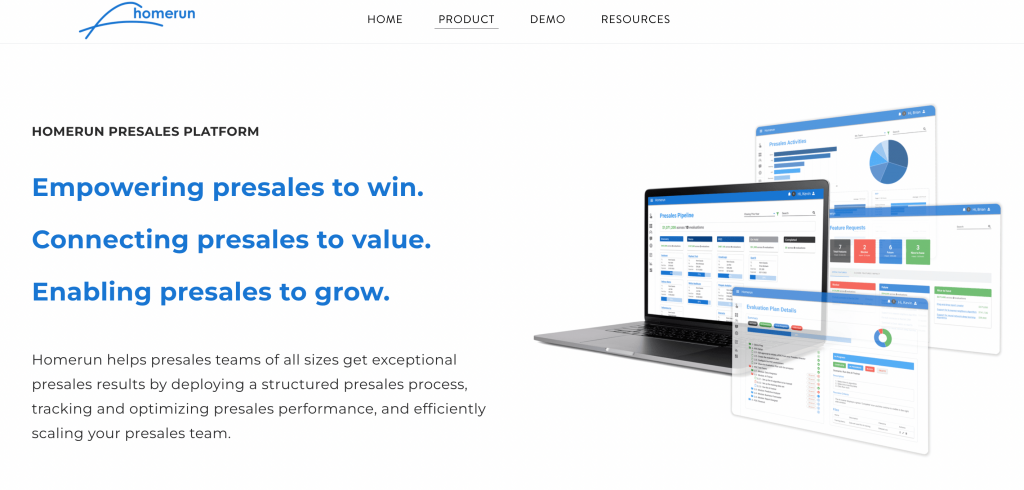 Key features
Homerun is presales software that helps sales teams to deploy a structured presales process, optimize presales performance, and efficiently scale the sales teams.
Its evaluation plans and playbooks allow you to standardize your sales process and engage your prospects throughout the sales cycle.
The solution makes it possible to capture feature requests and quantity their impact on the revenue. You can share that knowledge with product teams to prioritize the roadmap and accelerate blockers that affect your deals.
Homerun's activity tracking helps track presales activities to learn which activities bring more revenue. With its reporting and analytics feature, you can quickly uncover the areas of improvement and measure progress to boost your team's sales performance.
Integrations
Slack
Salesforce
HubSpot
Jira
Pricing
Homerun pricing isn't available. You can request a demo here.
Best suited for: sales and customer success teams
Free trial: no
Starting price: unavailable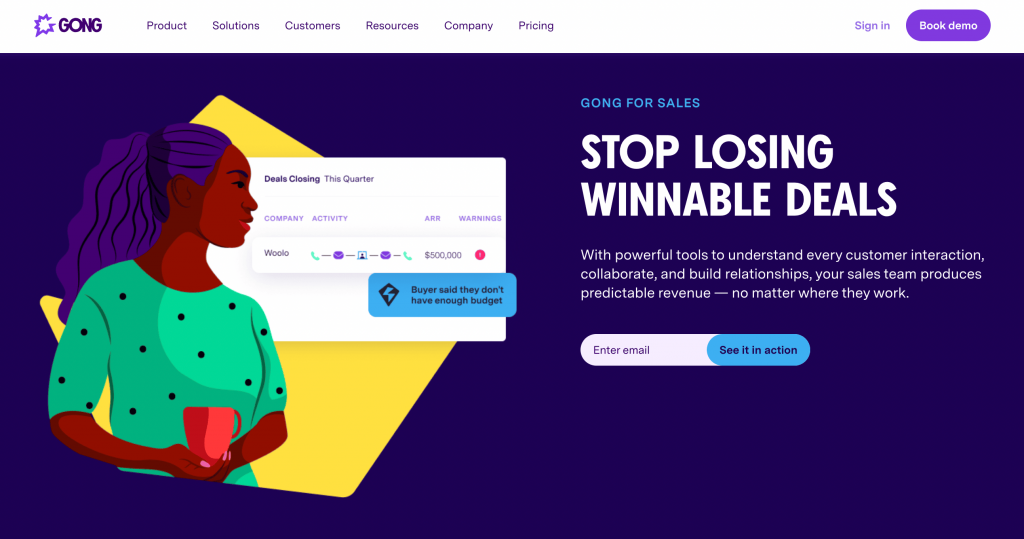 Key features
Gong is a sales enablement and management platform that records all sales interactions—from video meetings to phone calls and emails— across every channel, then makes sense of it with AI. Its algorithm automatically analyzes calls and demos for filler words, potential discovery questions, and timing metrics.
Gong enables sales leaders to dissect closed-won deals to understand what worked and derive insights from all activities to find the right talk tracks and coaching opportunities.
Its automation capability categorizes sales teams into performance tiers linked to their CRM records, so sales reps across the organization can see the talk tracks and call tactics that the best reps use to close more deals.
Integrations
Cognism
HubSpot
Salesforce
Microsft Teams
Slack
Zoom
Nextiva
Pricing
Gong pricing depends on the license type you need for your team. Gong doesn't charge extra for integrations. You can request pricing info here.
Best suited for: product and user-onboarding tools
Free trial: yes, 14 days. Sign up here.
Starting price: from $34.50/month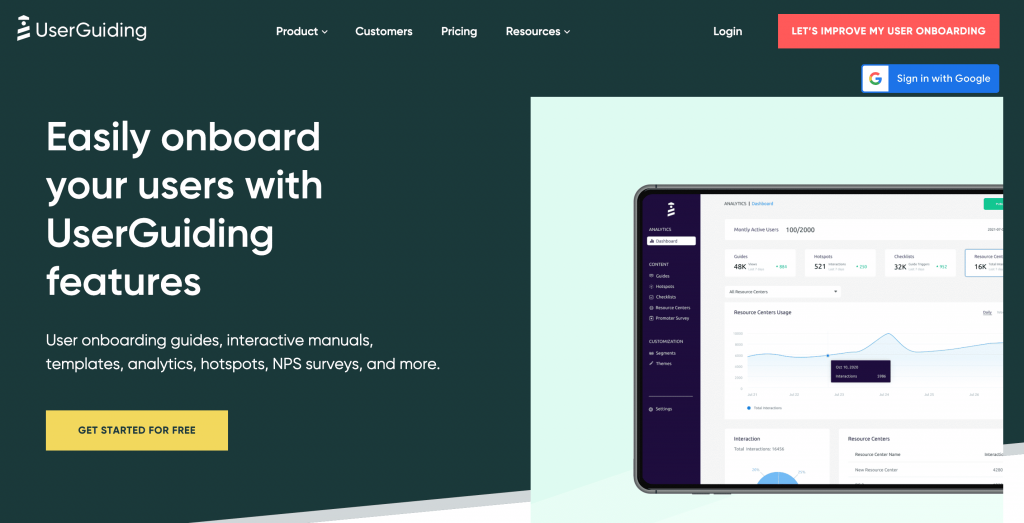 Key features
UserGuiding is a digital adoption and user onboarding solution that allows businesses to easily create interactive and personalized product walkthroughs for each user using no-code tools. It can be used to design various onboarding flows, including templates, NPS surveys, and more.
With UserGuiding, you can display your real value at a glance, so users get engaged with your product quickly. Also, the solution lets you inform your users about the new features you released on your platform.
You can offer your users a gamified user experience using UserGuiding's goal-tracking tool. Furthermore, you can start by defining specific goals you believe your users should complete and then collect these goals in a checklist.
Lastly, the UserGuiding analytics feature lets you gain all the statistics you need to make the changes and develop the perfect guide that will help you improve your conversion and activation rates.
Integrations
Google Analytics
Google Tag Manager
Mixpanel
Slack
HubSpot
Pricing
UserGuiding has 3 plans, starting at $34.50 per month. View full UserGuiding pricing here.
Best suited for: sales and customer services teams
Free trial: no
Starting price: unavailable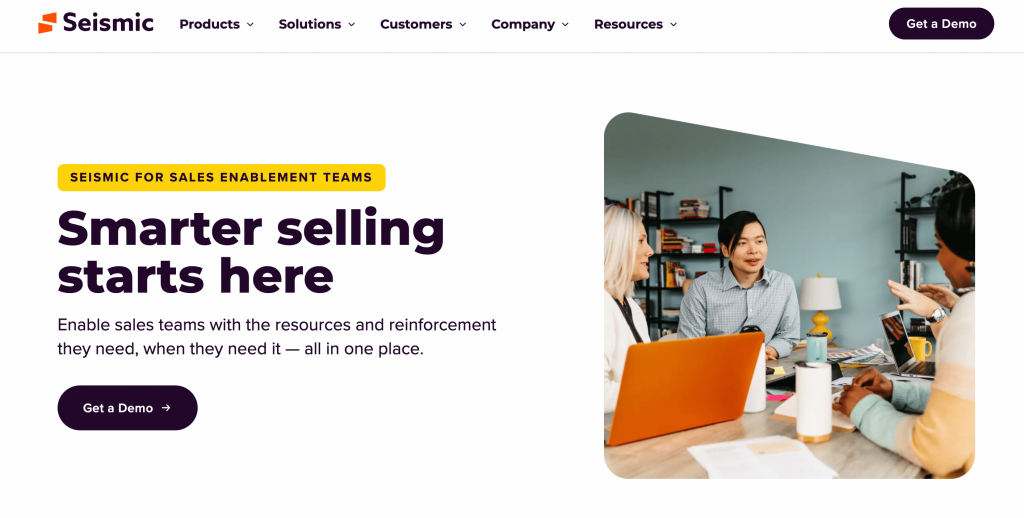 Key features
Seismic is a sales enablement platform that helps businesses engage their customers via social media, email, and SMS, and boost revenue growth.
It has features like live social, interactive content, and digital sales rooms, which allow sales teams to facilitate two-way conversations that drive deals forward.
Its sales content management capability provides sales reps with the content they need, when they need it, with a single location for accessing and self-service customizing digital materials.
Seismic's AI-powered virtual assistant, Aura, enhances sales enablement activities, bringing sales and marketing teams closer together. The engine identifies patterns and behaviors, helping uncover new business opportunities and increase seller efficacy. Seismic Aura continuously learns from previous buyer engagements and develops itself over time.
Integrations
HubSpot
Zendesk
Gmail
Outlook
Marketo
Pricing
Seismic pricing isn't publicly available. You can get a demo here.
Best suited for: account executives & SDRs to identify which users to focus on
Free trial: no
Starting price: from $99/month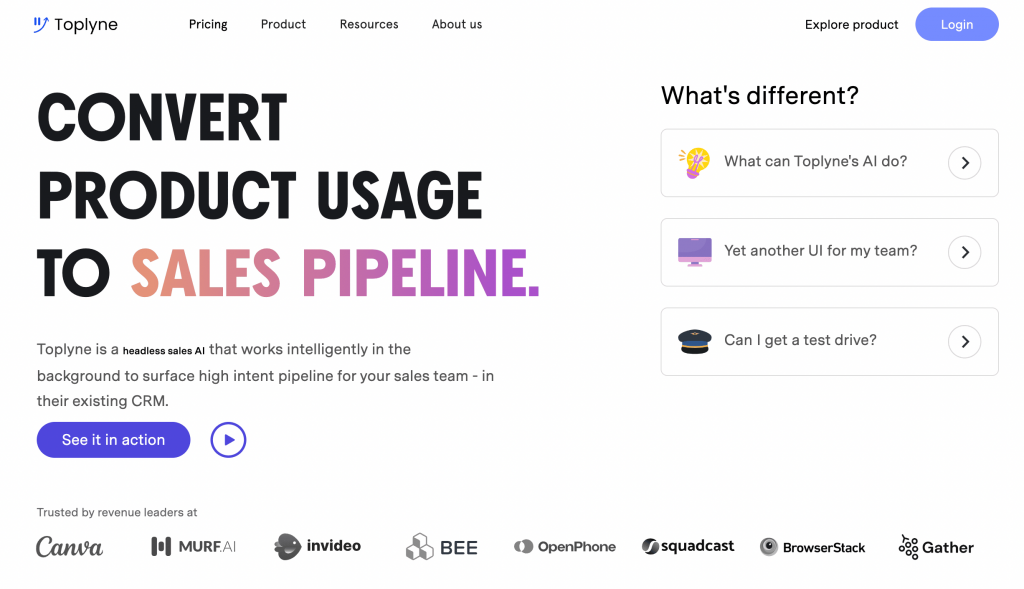 Key features
Toplyne is a sales enhancement platform that allows sales teams to discover accounts that are most likely to convert by analyzing user behaviors within a product. It unites siloed product usage, billing, and third-party enrichment data from your existing applications and creates segments of customers.
Its AI engine captures every user click and helps you see the most important product-qualified leads so that your sales reps can pursue them.
The platform immediately displays the strongest intent signals for your product. That way, you can concentrate your efforts on the users and accounts that are most likely to make a purchase.
Integrations
Zoho
HubSpot
Mixpanel
Slack
Pricing
Toplyne has 3 plans, starting at $99 per month. See full Toplyne pricing here or sign up for a demo here.
Best suited for: sales leaders and sales reps to create POCs
Free trial: no
Starting price: unavailable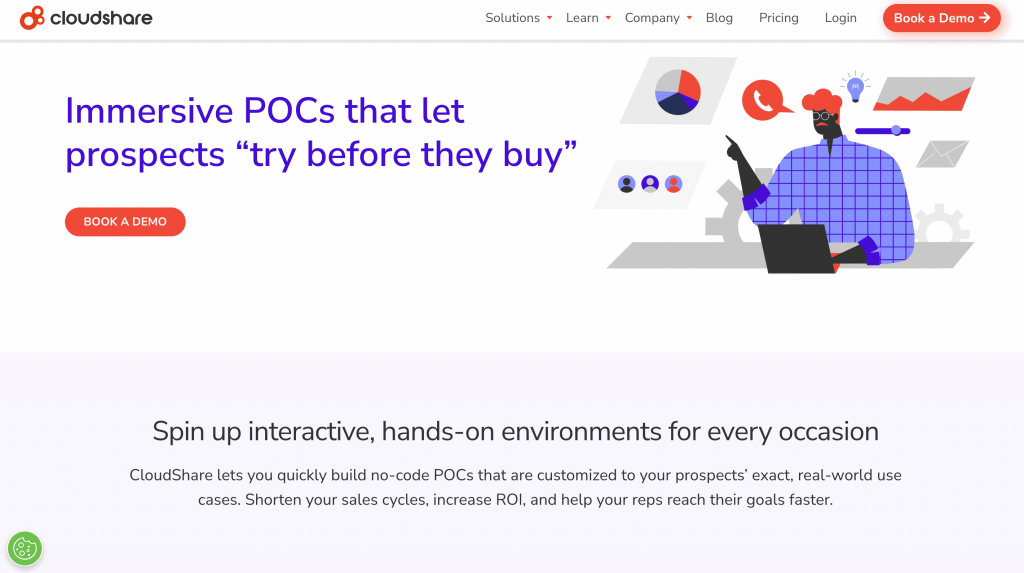 Key features
CloudShare is a leading software experience platform that helps software companies improve customer acquisition and retention by building engaging hands-on virtual software experiences and demos.
With CloudShare, you can showcase your software in real-world scenarios, track your most popular demos, and centralize your demos so you can send them fast—with no coding or virtual infrastructure maintenance required.
Build no-code proof-of-concept (POC) tailored to your prospects' actual use cases and shorten your sales cycles while helping your sales team achieve their goals faster. CloudShare lets you monitor each prospect's POC usage to see how engaged they are and analyze user engagement KPIs to optimize POCs.
Integrations
Google Sheets
Salesforce
HubSpot
Pricing
CloudShare offers a pay-as-you-go plan and annual subscription. You can request a personalized 20-minute demo here.