Whether you're an experienced SEO professional, a CMO at a newly-built startup, or a small business owner, you need to deep dive into your company's competitors' marketing strategy. In other words, you need a quality marketing intelligence toolkit.
The 13 best tools for marketing intelligence
Here are the 13 marketing intelligence tools I can recommend to you. Keep scrolling to get the details.
Similarweb
Semrush
SE Ranking
Attest
SpyFu
Ahrefs
iSpionage
Visualping
Awario
Owletter
Facebook Ad Library
Moat
Alexa
Similarweb is a digital intelligence platform that provides a comprehensive overview of websites, companies, and industries from a marketing and sales standpoint.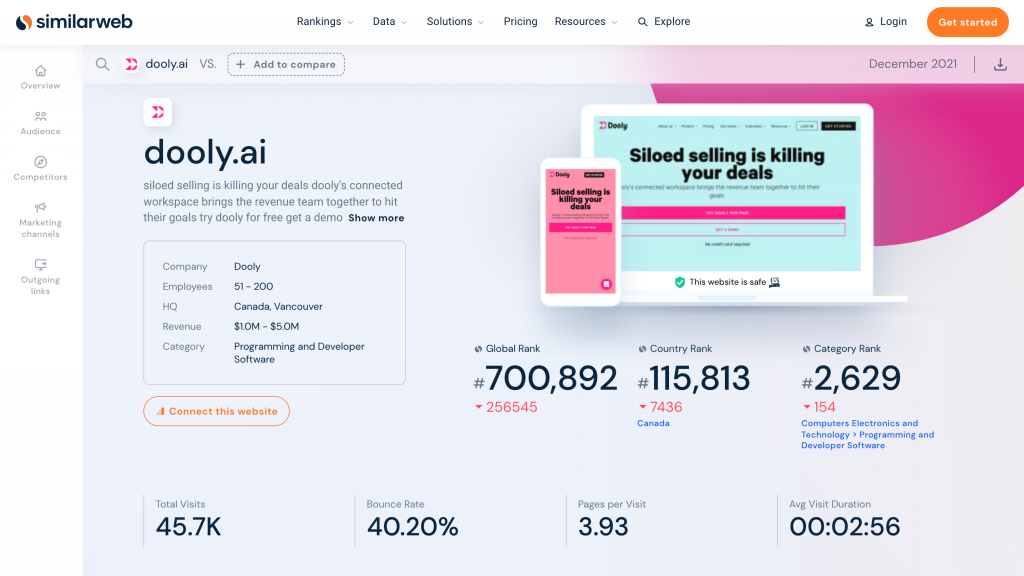 Features & reasons to use Similarweb
When it comes to marketing intelligence, Similarweb is one of the best tools on the market. Why?
First of all, it displays some basic but important data on a freemium plan – no registration required. This way, you can take the first steps into competitor research and figure out which data you really need on your way.
Most importantly, Similarweb is known to provide the most accurate data from all the popular market intelligence tools. The research has shown that the tool overestimates total visit numbers for analyzed websites on average by 17%, which is impressive compared to the discrepancy of 42% in Semrush.
Rand Fishkin, Co-Founder of Moz and SparkToro, has called Similarweb's data 'the most robust and accurate information available about what's happening online.'
Below are some of Similarweb's top features for marketing intelligence:
Website traffic analysis: monthly visits, top traffic sources, top social media marketing channels, etc. for any website (including your competitors)
Market analysis: top-ranking websites in the category (by country and worldwide),
Keyword research: keyword benchmarks by industry, competitors' top-performing keywords, keyword gaps, etc.
Advertising insights: best performing paid search campaigns, competitors' search ads, paid traffic distribution, top ad networks based on traffic volume and quality, competitors' display ads, etc.
They describe their competitor analysis features as like having 'x-ray vision' into traffic & strategies. You can get a detailed breakdown of website traffic sources, with a surprisingly good level of accuracy.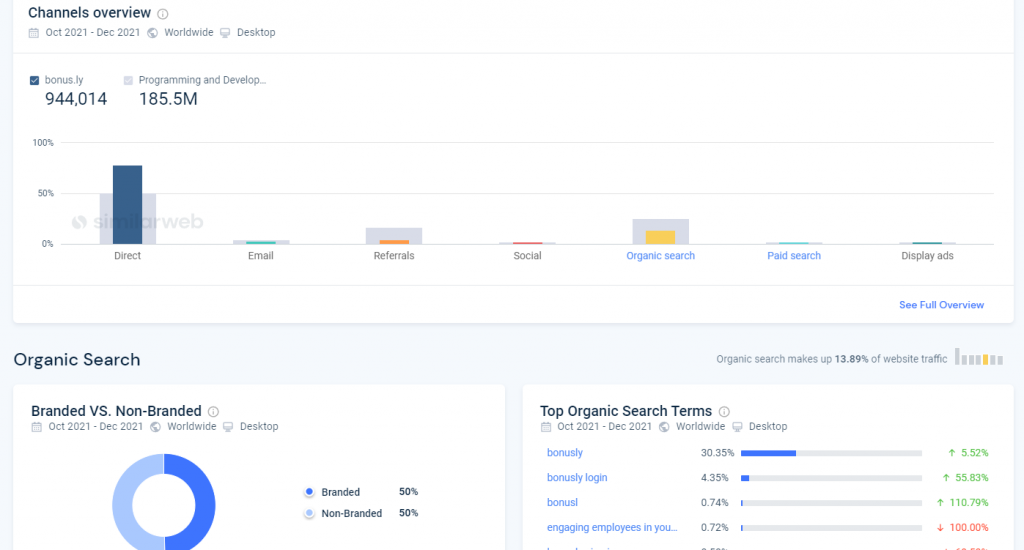 Similarweb pricing plans
The pricing of the Similarweb Digital Marketing Intelligence toolkit starts at $249/month or $209/month if billed annually. With this plan, you access Competitive Analysis Tools, Keyword Research Tools, Affiliate Research Tools, Media Buying Research Tools, Ad Creative Research Tools, and even Insights Assistant that sends alerts on new opportunities or changes happening on competitors' sites.
On more expensive plans, you simply get more credits.
Semrush is another well-known marketing intelligence tool on the list. It's most useful for SEO and PPC research.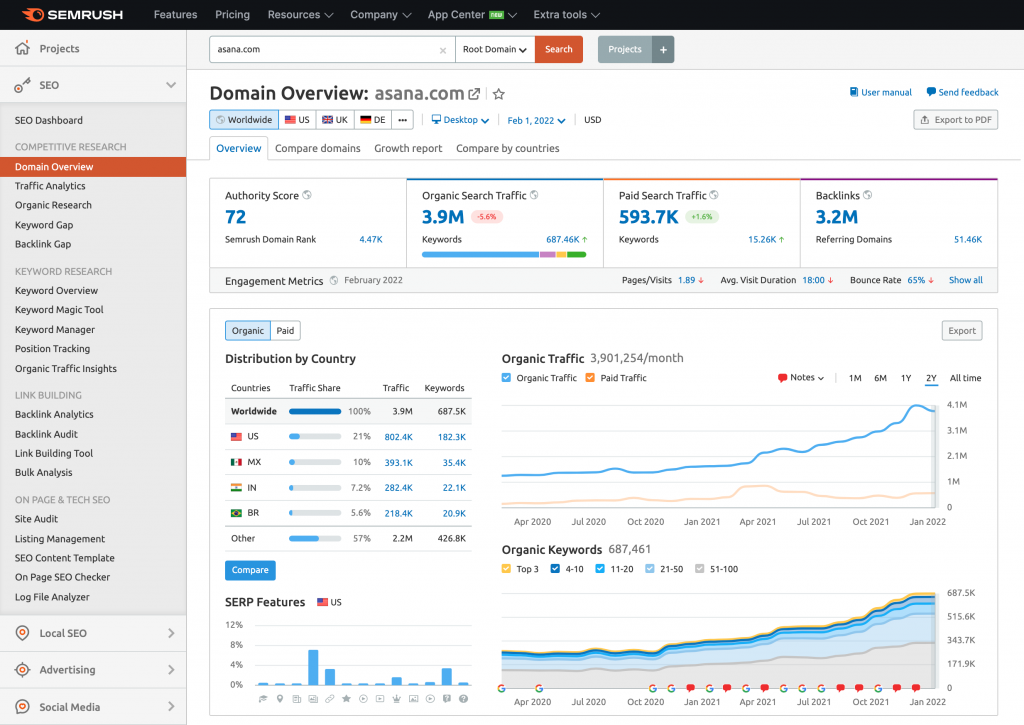 Features & reasons to use Semrush
While it's not so strong for a 360-degree market/competitor analysis as Similarweb, Semrush is a top-performer in terms of search data analysis. It has features that Semrush doesn't, like keyword difficulty analysis.
Users often choose Semrush for its Position Tracker, Site Audit, and Competitive Research tools. Here's what users say about the platform on G2:


Sometimes, users are concerned about the accuracy of data on search volume and keyword difficulty, but otherwise robust functionality of the platform makes up for some discrepancies.
Semrush features for marketing professionals:
Competitive research: domain overview, traffic analysis, brand monitoring, and more.
Keyword research: keyword magic tool, keyword gap, organic traffic insights, and more.
Link-building: backlink analytics, backlink audit, link-building tool, bulk analysis.
On-page & tech SEO: site audit, on-page SEO checker, log file analyzer.
PPC keyword research: PPC keyword tool, keyword planner, and more.
Ad tracking: advertising research, display advertising, PLA advertising.
Social media monitoring: social media poster, social media analytics, social media ads, and more.
Content marketing: topic research, SEO content template, SEO writing assistant, and more.
Semrush can also be used as a PPC reporting tool. For example, their Advertising Research feature shows PPC performance in context, to see how it contributes to overall traffic.
Semrush pricing plans
Just like the majority of SaaS tools, Semrush offers a forever-free plan with extremely limited functionality – up to 10 requests per day and no more than 10 results per request. And what do you get on paid plans?
The cheapest plan is called Pro and costs you $119.95/month or $99.95 when billed annually. With it, you can create 5 projects, monitor a maximum of 500 keywords with the Position Tracking tool, access 10,000 keywords per report, and generate 3,000 reports per day. You can also schedule 5 PDF reports every day.
SE Ranking is lower cost SEO and PPC software. This marketing intelligence platform offers tools for keyword research, rank tracking, backlink analysis, and website audit – everything an SEO expert, content marketer, or a small business owner might need.
Features & reasons to use SE Ranking
The #1 reason to choose SE Ranking over Semrush or Ahrefs (that will be covered a bit later) is the price. It's arguably the best balance of value for money — offering a ton of features at a much lower price than Semrush.
However, despite the affordable pricing, the tool offers decent features and quality data – the latter often correlates with Semrush.
You can expect a typical set of features from the toolkit:
Rank tracking
Backlink analysis
Keyword research
Competitor analysis
Report building
On-page SEO auditing
Social media management (an additional feature that more and more SEO tools are offering these days for some reason)
SE Ranking pricing plans
SE Ranking's pricing plans aren't that simple. You can modify yours the way you want and get a custom price. Monthly prices for the starter plan begins at $39/month with daily rank tracking.
For instance, if you choose to update the data on your site's rankings every 3 days, you'll get a 20% discount. When extending your subscription period, you can get an extra 20% discount. The resulting price on the most basic price will be $24.93/month instead of the initial $39/month.
On higher pricing tiers, you unlock more projects, backlink audits, daily keyword searches, and advanced functionalities, like API access.
Finally, we're moving away from SEO tools (for a minute). Meet Attest – a marketing intelligence tool for consumer research.
Features & reasons to use Attest
With Attest, you can achieve the following goals:
Measure brand awareness (you thought you couldn't measure it, right?)
Track your brand awareness over time to see if your marketing is working
Compare your brand awareness levels vs. competitors in the market
Test creative for ad campaigns and save thousands of ad dollars
Create data-driven customer profiles
Make informed decisions during the product development process with concept testing
How does it work? You create a survey from scratch or use one of the pre-built templates, specify your audience, and send it to Attest's built-in audience of 110M+ users. Results will start to come in within hours, and Attest have a big focus on data quality.
What's best, you can set criteria for qualifying respondents – this way, you'll have greater control over the data reliability.
Attest pricing plans
Attest is more than a survey tool. It guarantees the delivery of fast, accurate, and actionable data that guides your decision-making.
Everyone can create a free 5-question survey with Attest. If it proves effective, and you feel you need more data, you'll need to upgrade to a paid plan that starts at $25,000/year. The sum might sound overwhelming before you discover you'll have a designated research expert to support your needs. Provided that the median pay for a full-time market research analyst is $65,810/year, Attest's offer isn't bad at all.
Back to SEO tools (finally!), SpyFu is a search analytics tool with an affordable price tag.
Features & reasons to use SpyFu
What I like the most about SpyFu is that it's a dedicated platform for keyword research. All-in-one tools are great, but sometimes you want a solution that excels at one specific task.
It does provide a backlink report, but it's also focused on the link recommendations that might help you rank on the analyzed keyword.
If you don't need the site audit feature or fancy content marketing tools, SpyFu is a great choice for you. Here are the features you'll get for the price 3x as low as the one of an all-in-one tool:
Keyword research
Competitor analysis
PPC keyword research & competitive analysis
Ranking history
Google Ads Advisor
Backlink recommendations
SpyFu is known as a great tool for PPC specialists. If that's of interest to you, you should look into its Google Ads Advisor tool. Based on the analyzed keyword, the platform checks competitors' Google Ads bidding history and recommends the most profitable relevant keywords you might want to bid on.
SpyFu pricing plans
SpyFu starts at $39/month. If you choose to pay for a year, the price is reduced to $33/month. The higher the pricing plan is the more data rows you have. On more expensive plans, you also get API access, custom branded reporting, and – on the Team plan – 5 user logins.
The last all-in-one SEO toolset on the list (I promise!) is Ahrefs.
Features & reasons to use Ahrefs
Ahrefs features include:
Site Explorer (for competitor analysis)
Keywords Explorer
Rank Tracker
Site Audit
Rank Tracker
One of the reasons to choose Ahrefs over Semrush is the intuitive interface and the abundance of free user manuals. On G2, users often praise its usability:
But if you have a few years of experience with SEO tools, the ease of use can't be a decisive factor for you. SEO professionals usually choose Ahrefs for its backlink monitoring and keyword research functionalities.
Ahrefs claims to have the second most active web crawler after Google and the world's largest index of live backlinks.
Ahrefs pricing plans
Ahrefs is a rare tool that doesn't have a freemium plan. However, it offers free tools hosted on separate pages. These are:
Free Keyword Generator
Free Backlink Checker
Free Website 'Authority' Checker
Free Website Checker
The all-in-one tool pricing starts at $99/month or $82/month if paid annually. The more you pay, the more credits you have.
iSpionage is a competitive intelligence tool for search marketing specialists. While some of its features intersect with the ones of the above-mentioned platforms, it's not another SEO toolkit.
Features & reasons to use iSpionage
The tool specializes in competitor research, providing deep insights into the PPC strategies of analyzed companies.
It monitors organic and paid search results on Google, Bing, and Yahoo, allowing its users to get a 360-degree view of their competitors' campaigns.
With iSpionage, you'll learn everything about your competitors':
PPC keywords
Ad copy
Landing pages
Organic keywords
SEO & PPC Competitors
Also, iSpionage offers an SEO rank tracker. However, users rarely mention it alongside the tool's top features.
iSpionage pricing plans
iSionage's Starter plan costs $59/month. You can save 15% if you purchase an annual subscription. In higher pricing packages, the number of limits and data rows is raised. The Advanced ($299/month) and Enterprise (custom price) plans also offer a customer success representative and account set-up assistance.
Want to know when your competitors update pricing plans or product features?
Of course, you do. Visualping is the tool you need then.
Features & reasons to use Visualping
Visualping is a tool for monitoring websites changes. That simple. But very useful.
To start, you need to specify a web page you want to monitor, select criteria for comparison (optional), and expect the updates to be sent through the preferred communication channel (email, Slack, or text).
The Visualping can track the changes in pixels, HTML code, or text – you can choose the preferred method when setting up the monitoring process.
Visualping pricing plans
Visualping starts at $13/month for personal use and $20/month billed annually for businesses. The most basic plan allows for 130 checks per day. In more expensive plans, the number of checks increases.
The functionalities of marketing intelligence tools aren't limited to site tracking. Awario is a social listening tool for monitoring brand mentions across social media channels and blogs.
Features & reasons to use Awario
Awario monitors keyword mentions non-stop and delivers every relevant post right to your dashboard. You can filter the results by the source, date, reach, location, or language.
The platform collects data from nine sources:
Facebook
Instagram
Reddit
Twitter
YouTube
Vimeo
News/blogs
Web
A user-friendly dashboard compiles all the data and creates reports on mention statistics, including reach, authors' age and gender, languages, daily mentions, etc.
There is a ton of use cases for the tool. In my experience, the most effective ones are:
Setting up keyword monitoring to collect posts that ask for a recommendation of a product in your category;
Monitoring competitors' brand name mentions to identify influencers worth partnering with;
Keep track of your brand mentions to reply to negative commentaries promptly.
Awario pricing plans
Awario starts at $39/month. But if you choose to buy an annual subscription, you can save up to 40%.
More expensive plans not only grant more credits but also provide access to data export, shareable reports, and API.
The following marketing intelligence tool will help you keep track of your competitors' email marketing campaigns. Meet Owletter, an email monitoring tool.
Features & reasons to use Owletter
When I first came across this tool, I thought I should have found it long ago. Every time I wanted to look into the company's email marketing strategy, I had to sign up and wait for them to start bombarding me with emails. Now, I have an overcrowded inbox and can't recall why I subscribed to most of those campaigns.
With Owletter, you simply enter the URL of the site you want to track emails from and wait for them to drop in your dashboard. When you need a specific campaign, you can find it by applying the date, website, or category filter. That's it.
Owletter pricing plans
For $19/month, you can monitor up to 10 websites with 12-month email retention. Higher pricing tiers unlock more websites and allow for lifetime storage of emails.
What's the easiest way to find active ads run by your competitors across the Facebook network? By checking Facebook's own ad library.
Features & reasons to use Facebook Ad Library
Inside Facebook Ad Library, you can search for ads by keyword or competitor's brand name. The results will display campaigns that are live at the given moment.
The tool doesn't provide any additional insights into paid campaigns other than ad creative. But since no other tool provides reliable data on the performance of campaigns run by other companies, Facebook Ad Library is the best option for analyzing competitors' Facebook Ads. And it's free.
Moat is a platform for measuring consumer attention. Are your display, video, and branded content campaigns reaching your target audience effectively? Moat is designed to provide you with the answer.
Features & reasons to use Moat
Moat will scan and analyze your advertising impressions to ensure your ads are served on the right sites, to the right people, in the right format. Below are some of the most common use cases of the tool:
It identifies sources of invalid traffic and sends alerts;
It measures how much the ad is in view and for how long;
It detects contextual environment ads are shown within;
It monitors how ads are seen and interacted with.
As paid advertising tools usually provide limited reporting features, Moat might help you fill in holes of missing data on user engagement. On the Moat dashboard, you'll find:
Heatmaps
Attention metrics, like hovers, interactions, clicks, etc.
Awareness metrics, including impressions, ad in-view time, percent of video played in-view, etc.
Brand safety metrics
Moat pricing plans
Moat doesn't have established pricing packages.
Alexa's marketing stack is naturally about to become a legend. After 25 years, Alexa announced it would retire in May 2022. And I can't help but give it a credit for its powerful suite of marketing tools.
For years, Alexa had been a go-to platform for link-building experts and webmasters. But other than Backlink Checker, Alexa had to offer many more features, including:
Content Exploration
Competitive Content Analysis
Topic Research
Competitive Analysis
Competitor Keyword Matrix
Keyword Difficulty Tool
Organic Keywords
Paid Keywords
Site Audit
On-Page SEO Checker
Audience Analysis
Over the years, we've seen many platforms with a similar toolset appearing on the market that could be a suitable Alexa alternative.