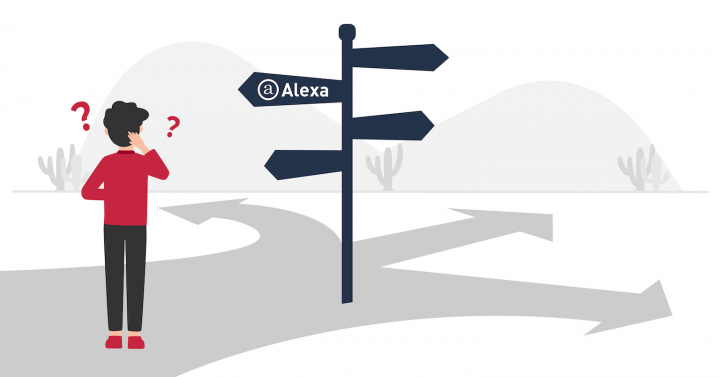 After having provided users with invaluable web traffic and rankings data over the past two decades, Amazon has announced that Alexa.com will be retired as of May 2022.
This decision will leave Alexa.com users searching for a suitable alternative for website rankings and broader SEO, PPC, and competitive analysis needs.
In this article, you'll find Alexa.com alternatives to fill the void in your tech stack. Keep reading for a detailed breakdown of six options, complete with their features and pricing information.
Criteria for an Alexa alternative
Alexa.com is considered one of the pioneers of website traffic analysis, having been around since 1996.
One of the biggest use cases Alexa.com users will be looking to replace is just that: website rankings.
Without a doubt, the best Alexa.com alternative for that specific use case is Similarweb, because they have a similar and arguably more accurate rankings system.
Nevertheless, many users also use Alexa.com for other purposes like SEO/PPC competitor research and competitive analysis. Some of the other Alexa alternatives on our list are better suited for those purposes than Similarweb.
Last, most of the options on our list offer a wider range of SEO and digital marketing features than Alexa.com ever did. These are great choices for those who want to migrate from Alexa.com and find a more complete software than they had before.
Here are the 6 best alternatives to Alexa.com:
Similarweb
Semrush
Ahrefs
SE Ranking
Serpstat
SpyFu
Keep scrolling to get the details.
1. Similarweb
Similarweb is likely the best alternative to Alexa.com out there. It's been around since 2007 and has dubbed itself the official measure of the digital world. If you're looking for website analytics, competitive analysis, and traffic intelligence specifically, Similarweb is the best of the best.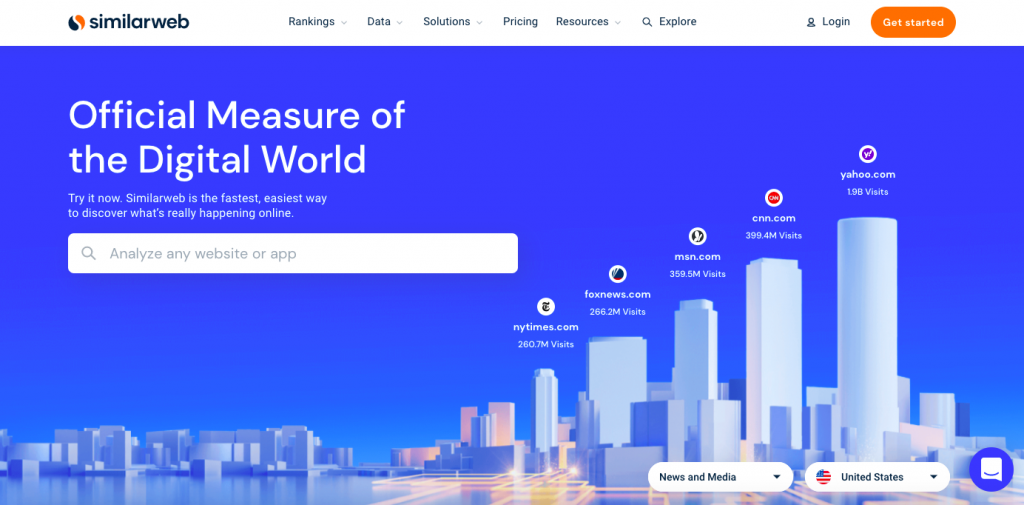 Reasons to use Similarweb
By far, Similarweb's biggest claim to fame is the fact that their competitive data quality is the best on the market. They've pioneered a unique, multi-dimensional approach to measuring online traffic over the past ten years. They gather data from a wide variety of resources like website and app owners, public sources, contributor networks, and partnerships.
Similarweb's fine-tuned technology typically makes their traffic estimates more accurate than competitors like Semrush or Ahrefs.
Overall, while Similarweb doesn't act as a robust all-in-one SEO and digital marketing solution like some of the other Alexa.com competitors, their website rankings data can't be beat.
Similarweb features
Similarweb's tools can be broken down into the following categories:
Competitive analysis tools
Keyword research tools
Affiliate research tools
Media buying research tools
Ad creative research tools
Similarweb has even gone as far as pointing out the specific areas where their software outshines Alexa.com:
Visibility into all marketing channels
Absolute traffic figures
Over time views for metrics
Built-in keyword generator
Page-level detail
Databases refreshed daily so you know they're always presenting the most up-to-date information
Plans & pricing
Similarweb has a free plan that you can use to start developing your digital strategy right away. It's a serious benefit that you can use their basic website rankings function for free.
In terms of their paid plans, they've got two options. Their Digital Marketing Intelligence Essential plan comes in at $249 USD per month. The Advanced version costs a whopping $449 USD per month.
Similarweb also offers savings of up to 16% if you subscribe annually rather than monthly.
2. Semrush
Semrush is a well-known name in the SEO world and is considered one of the industry leaders. They provide their users with an SEO, content marketing, competitor research, PPC, and social media marketing solution with just one platform. Their 50+ different tools can help you tackle just about any digital marketing challenge imaginable.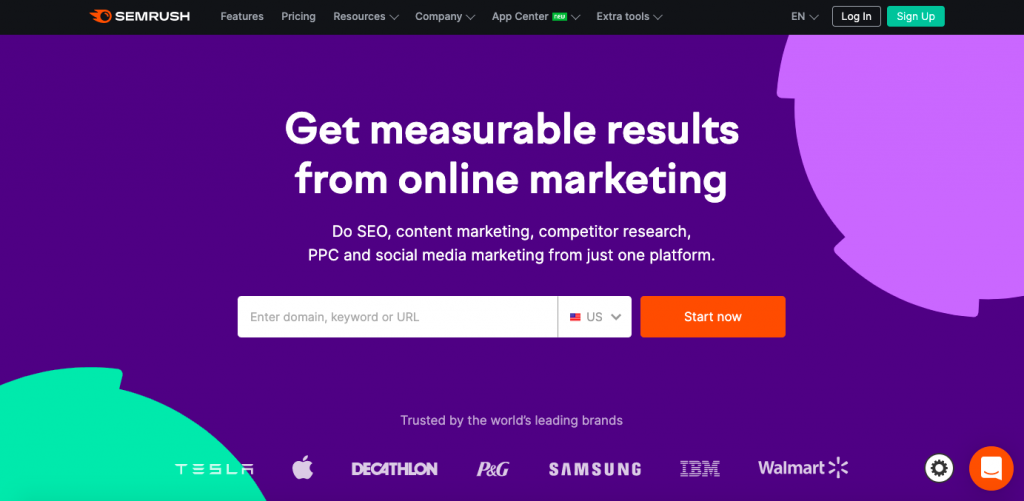 Reasons to use Semrush
Overall, if you're looking for an Alexa.com alternative that also acts as a powerful, all-in-one SEO and digital marketing solution for your business, Semrush could be the best choice for you. They provide an ideal combination of competitive analysis tools paired with a wide array of other features.
Semrush is one of the more expensive SEO tools on the market, but their price makes sense because it's one of the best out there.
Semrush features
Semrush's list of features is long and comprehensive. They can be split into 5 categories:
SEO: Keyword research, on-page SEO, local SEO, rank tracking, link building, and competitor SEO analysis.
Content: Content marketing, content creation and distribution, content optimization, and content marketing analytics.
Market research: Competitor analysis, market analysis, paid advertising, and competitor PR marketing.
Advertising: PPC keyword research and website monetization.
SMM & SERM: Social media management.
Plans & pricing
Semrush offers three different paid plans: Pro, Guru, and Business:
The Pro plan costs $119.95 USD per month and is best suited to those who are new in the marketing world or work on a small team.
The Guru plan costs $229.95 USD per month and is designed for mid-sized agencies and well-established marketing consultants.
The Business plan costs $449.95 and is meant for leading agencies and large organizations.
It's worth noting that you can save up to 17% the cost of a paid plan when you pay annually rather than monthly.
You can also try the Pro or Guru plans for free for 7 days.
3. Ahrefs
Ahrefs is another popular, all-in-one SEO solution that's been around since 2011. Their platform is notoriously easy to use but also potent enough for experts, so they're a great choice for just about anyone in the SEO world.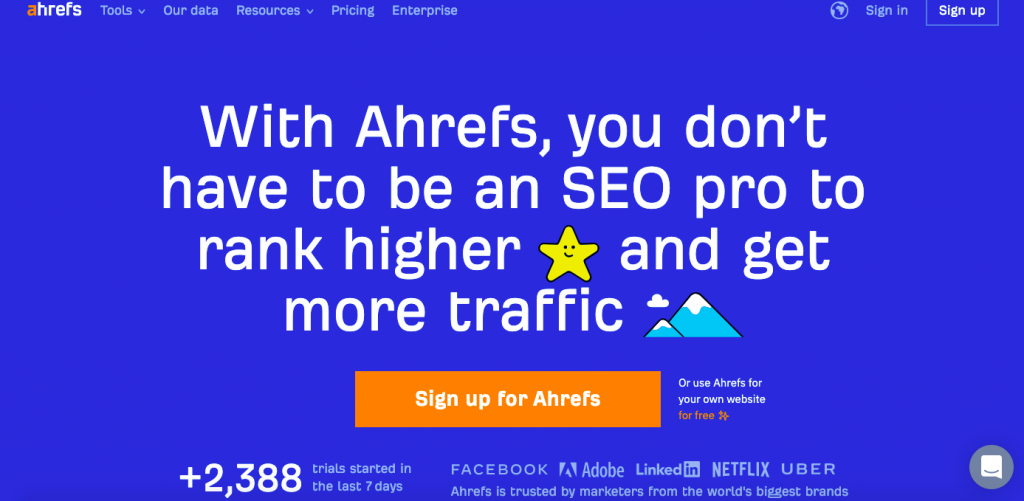 Reasons to use Ahrefs
Ahrefs is another Alexa.com alternative that provides a great combination of competitive analysis tools and broader SEO features. Another one of their claims to fame is having the world's largest index of live backlinks, which definitely makes it stand out from the competition.
Ahrefs features
Ahrefs most important features are as follows:
Site Explorer: Combines organic traffic research, a backlink checker, and paid traffic research in one elegant interface.
Keywords Explorer: Dubbed `'the most complete keyword research tool on the market,' as it spits out thousands of ideas while analyzing their ranking difficulty and calculating their traffic potential.
Site Audit: Checks your website for over 100 SEO issues and gives you a precise idea of what's holding you back in the rankings.
Rank Tracker: Helps you visualize your SEO progress and compare it to your competitors'.
Content Explorer: Scour the internet to find your niche's top-performing content and determine how you can emulate it.
Ahrefs also has an 'Ahrefs Rank', ranking websites based on the strength of their backlink profile. That could be a viable alternative to Alexa's ranking system.
Plans & pricing
Ahrefs has 4 different paid plans: Lite, Standard, Advanced, and Agency:
The Lite plan costs $99 USD per month, so it's quite reasonably priced if you're just getting started.
The Standard plan costs $179 USD per month and is their most popular option for SEO professionals.
The Advanced plan costs $399 USD per month.
The Agency plan costs $999 USD per month.
Ahrefs doesn't offer a free plan, but you can try the Lite and Standard plans for a week for a $7 fee. You can also get 2 months for free when you pay for an annual `plan up front rather than subscribing monthly.
4. SE Ranking
Founded in 2013, SE Ranking is a well-rounded SEO and digital marketing solution. Their broad feature set offers most of the functionality of Ahrefs and Semrush at a much lower price tag, making it an alternative worth considering.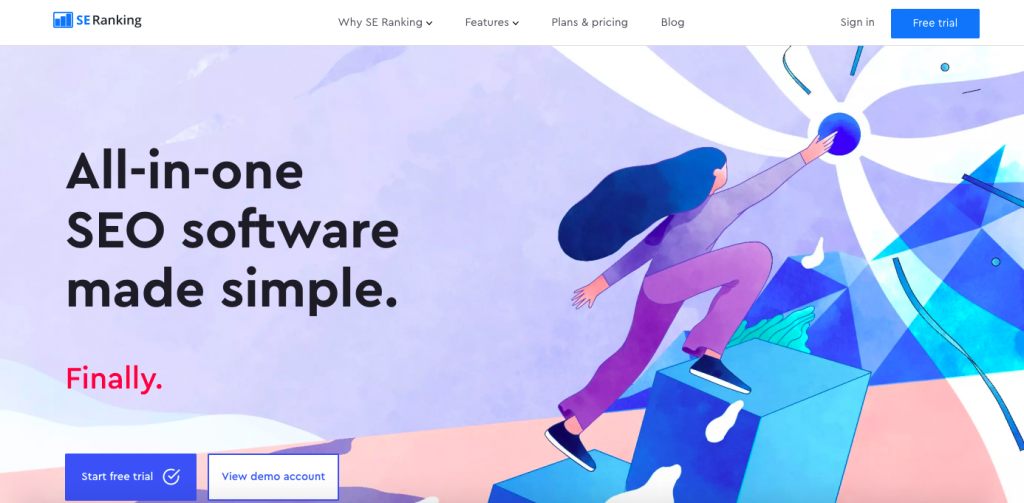 Reasons to use SE Ranking
Overall, SE Ranking is another great option for those looking for a competitive analysis tool that also includes a suite of SEO and digital marketing features.
While their range of features isn't as comprehensive as some of the other platforms mentioned on this list, their prices are more affordable. That makes them a great option for freelancers, start-ups, and small to medium-sized businesses.
Some users may not like that SE Ranking's paid plans vary in price based on factors like rankings check frequency, but it also offers some flexibility in their pricing.
SE Ranking features
SE Ranking's features can be broken down into the following 4 categories:
SEO Tools: Keyword rank tracker, website audit, on-page SEO checker, backlink checker, backlink tracking tool, webpage monitor, keyword research & suggestions tool, keyword grouper, marketing, and SEO plan.
New Competitor Analysis Tool: Enter any domain name or URL and find out everything you need to know about it.
B2B Features: White label, lead generator, SEO reporting tools, and API.
Social Media Management Software: Complete with scheduled publishing and monitoring tools.
Plans & pricing
SE Ranking offers 3 different paid plans: Essential, Pro, and Business:
The Essential plan costs 29 EUR (~$33) per month
The Pro plan is their most popular option and costs 65 EUR (~$74) per month
The Business plan costs 139 EUR (~$158) per month
Keep in mind that SE Ranking's paid plan pricing varies based on monthly vs. annual subscription, ranking check frequency, and how many keyword ranks you want to track. This makes it a little bit confusing to figure out at first.
The above prices are based on a monthly subscription with daily ranking checks.
SE Ranking also has a 14-day free trial available.
5. Serpstat
Serpstat started as a standalone keyword tool in 2013 and eventually morphed into an all-in-one SEO platform by 2016. It's now considered a 'Swiss army knife' when it comes to automating SEO processes and one of the best options out there.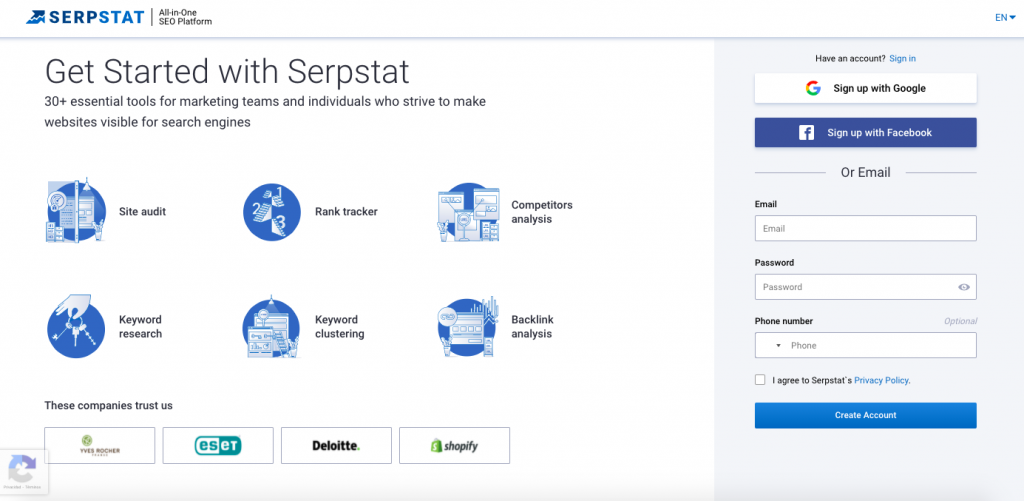 Reasons to use Serpstat
Serpstat is a great, comprehensive SEO solution that would make a great choice for anyone from digital marketing agencies to in-house SEO teams to large enterprises. They've got an impressive range of over 30 tools, but they really shine when it comes to keyword research.
If your SEO strategy is heavily focused on keywords, then you really can't go wrong with Serpstat.
Serpstat has identified the areas where they outperform Alexa.com, namely:
Keyword database that's one of the largest on the market
Their own backlink index
Task automation via API
Generally more bang for your buck (more affordable compared to the features you get)
Serpstat features
Serpstat's main features are as follows:
Rank Tracker: Paid and mobile search results, market share tracking, local tracking, and keyword grouping
Keyword Research: Keyword difficulty, search queries, keyword trends, and related keywords
Website Analysis: Domain and URL analysis, missing keywords, top pages, and tree-view analytics
PPC Research: PPC ads analysis, keywords in PPC, and competitor ads
Site Audit: Site audits, page audits, and custom reports
Backlink Analysis: External links, top pages, referring domains
Plans & pricing
Serpstat has 4 different paid plans available: Lite, Standard, Advanced, and Enterprise:
Their Lite plan costs $69 USD per month and is designed for freelancers and small to medium-sized businesses
Their Standard plan costs $149 USD per month is meant for well-established in-house teams and agencies
Their Advanced plan costs $299 USD per month and is great for large marketing agencies or anyone else with high data needs
Their Enterprise plan costs $499 USD per month and was created for industry leaders
You can save 20% on the cost of paid plans when you subscribe annually rather than monthly.
You can also get started for free without any credit card required. You'll get basic access to the platform so that you can determine if it's the right fit for you!
6. SpyFu
SpyFu was founded in 2005 and is a search marketing software that ticks a lot of SEO and digital marketing boxes. They've got a wide range of features but really excel when it comes to keywords and competitor research.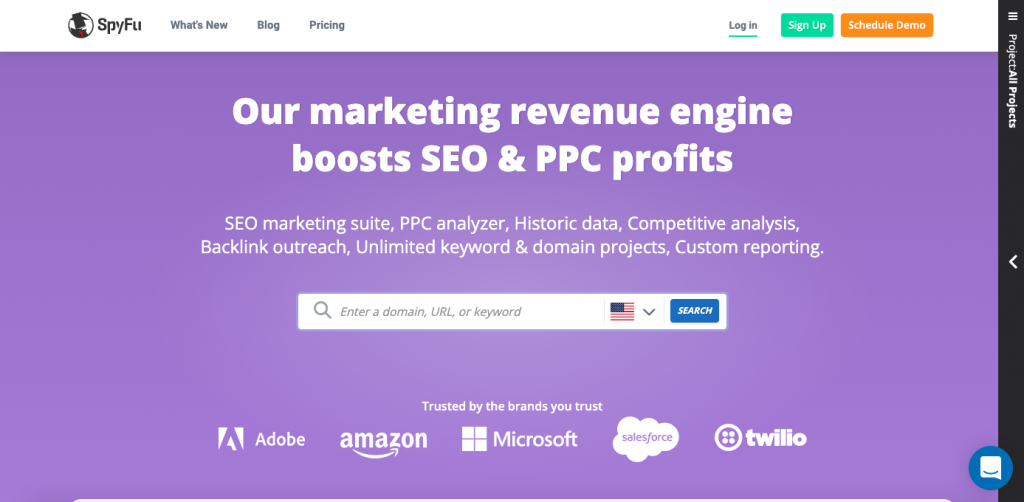 Reasons to use SpyFu
SpyFu is a great tool if you're mostly focused on optimizing your SEO and PPC profits and taking your keyword research up a notch. Those are the areas where this software really excels. If you're looking for a more complete range of SEO and digital marketing features, you may prefer another option on this list.
SpyFu's an interesting tool for freelancers and SMBs because its relatively inexpensive. That makes it a cost-effective solution for those just getting started compared to other more comprehensive SEO solutions.
SpyFu features
SpyFu has lots of different features in their roster, but here are the stand-outs:
PPC Competitor Research & Keyword Research Tools: All you have to do is search for one of your competitors and you'll be able to see all the keywords they've bought and the ads they've run. Analyze their strategies, learn from their mistakes, and emulate their successes.
SEO Competitor Research: Once again, search for your competitors and you'll be able to discover every keyword they rank on. Then, analyze the content and backlinks they use to get there.
Domain Leads & Top Lists: Discover top websites by Google Ads spending and search traffic as well as the highest CPC and most-searched keywords.
Plans & pricing
SpyFu has 3 different paid plans: Basic, Professional, and Team. They all offer unlimited access to United States and United Kingdom data.
Their Basic plan costs $39 USD per month
Their Professional plan costs $79 USD per month
Their Team plan costs $299 USD per month
SpyFu offers their users a discount when they pay for an annual plan upfront rather than monthly.
Unfortunately SpyFu doesn't have a free trial, but they have a 30-day money back guarantee you can use with no strings attached.