Text to speech technology is implemented widely within different domains like marketing, eLearning, content creation, and documentary making. These tools meet the needs of a larger number of people, especially those with visual impairments, reading difficulties, and learning-disablements.
Besides that, text to speech software is used to improve the customer experience with intuitive and natural conversations to get your message across more seamlessly, boosting the overall customer engagement.
In this article, I'll review the 10 free text to speech software you can try today. Most of these solutions can create highly accurate and humanlike voices in many languages to satisfy your specific needs.
These are the 10 best free text to speech applications
Natural Reader

Voice Dream

Murf

Lovo Studio

Kukarella

WordTalk

Panopreter Basic

Watson Text to Speech

Azure Text to Speech

Amazon Polly
Best for: personal usage and foreign language learning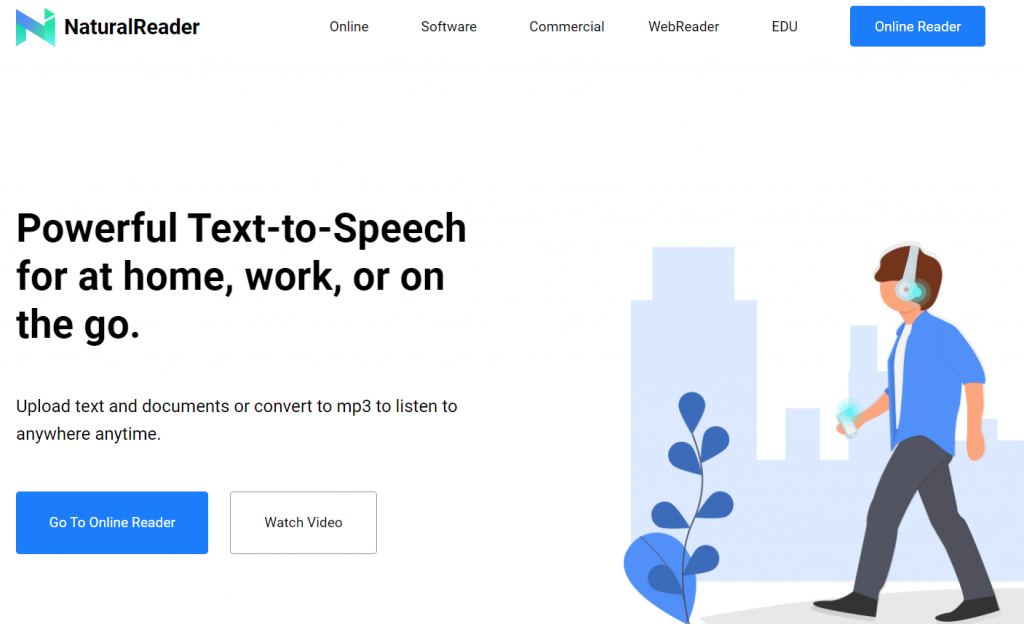 Key features
Natural Reader is a free text-to-speech tool with high-quality natural-sounding voices and you can use it in different ways. First, you can load files into the program's library and have them read out loud from there. This is a simple approach to handling many files, and the list of supported file types also includes ebook formats.
The second option is to use NaturalReader's WebReader, a widget you can add to your website toolbar and let your web pages read the content for you. The beauty of this method is that it's also optimised for mobile.
Its optical character recognition allows you to load up an image or scan of text and have it read to you.
Pricing
Currently, 4 personal plans are available on Natural Reader: Free, Personal, Professional, and Ultimate. The free version of the software allows you to work with PDF, Docx, TXT, and ePub files. If you wish to use the OCR technology, you'll have to upgrade to the 'Ultimate' plan which costs $199.50 for lifetime access. See full pricing here. To see the pricing for commercial use, click here.
Best for: iOS users who need a free text-to-speech application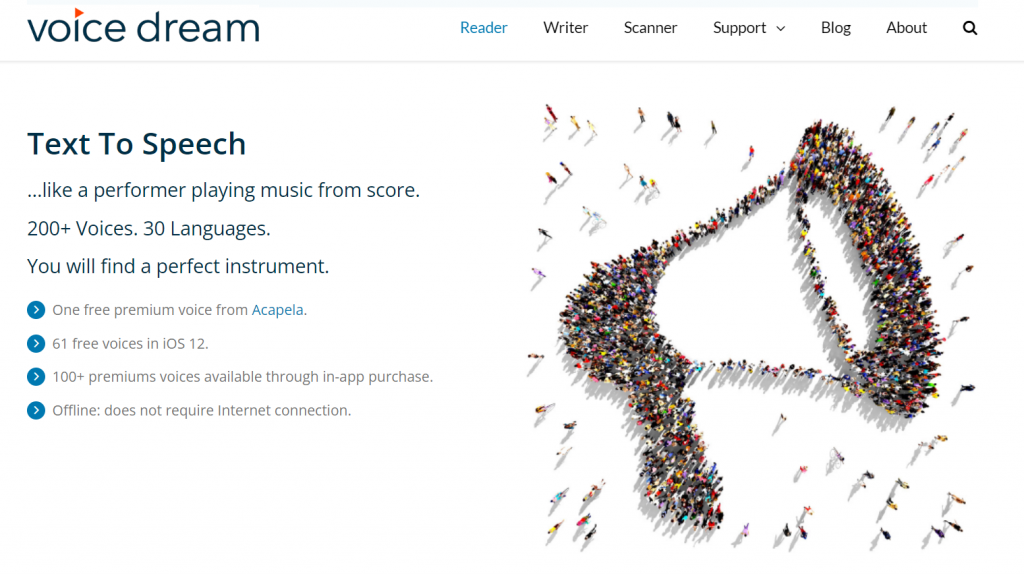 Key features
Voice Dream is a mobile text-to-speech application that's developed for Apple users.
Although it's a free tool, it offers a rich set of features. For example, you can use over 60 free voices to convert your text to speech. It works offline – you don't need an Internet connection to use the tool.
Besides these features, you can benefit from its synchronised highlighting feature. With that feature, users can select if the text must be highlighted dynamically as it is being read which improves knowledge retention.
Voice Dream can read different file formats, including PDF, Microsoft Word and PowerPoint files, plain text, and EPUB.
Other noteworthy Voice Dream features are different reading modes like speed reading and word-by-word or sentence-by-sentence reading. Its visual controls let you change font size, colors, and character spacing.
Lastly, you can save online documents and articles directly from the browser with its Safari extension.
Pricing
Voice Dream for iOS costs $19.99 and you can download it on the App Store. The Mac version of the tool is free and you can download it on the Mac AppStore.
Best for: eLearning narrations and content creators who need to create real-sounding voice-over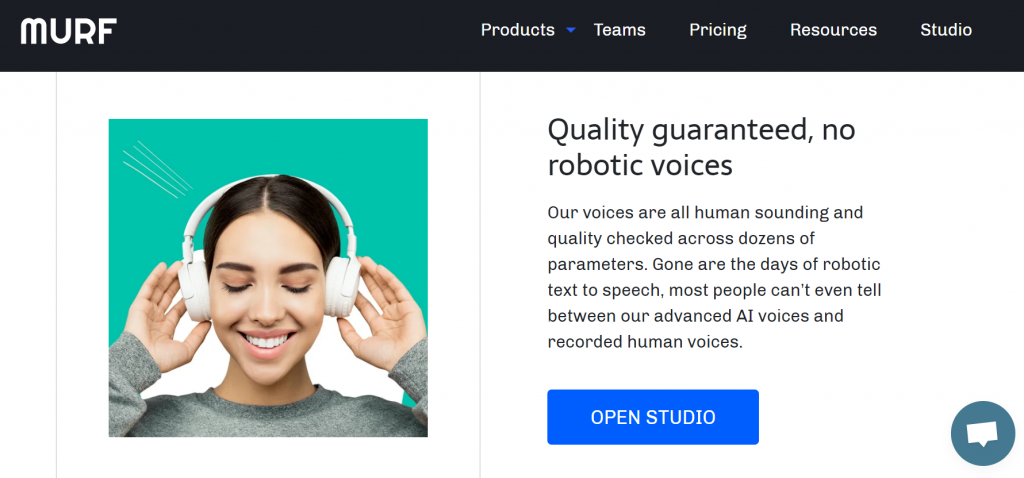 Key features
Murf is an AI-driven text to speech software to create a human-sounding voice-over for videos, presentations, and text-heavy eLearning content across 20 languages.
With Murf, you can easily create voice-over videos by simply uploading videos/images. If you wish to change the narration speed or hear the voice in a lower pitch, that's also possible with Murf.
Furthermore, this software comes with a free grammar and punctuation assistant. In that way, you can always create perfect scripts for your voice-overs. Murf detects grammar, spelling errors, and punctuation improvements in your text and provides suggestions on improving the script for a high-quality voice-over. There's also a transcription tool that can be used for editing.
To make your voice-overs seem more intriguing, you may define the sections of a sentence you want the voice to emphasize more or less.
Pricing
4 different plans are available on Murf: Free, Basic, Pro, and Enterprise. The 'Free' plan allows you to try over 120 voices and generate 10 minutes of voice. The cheapest plan is the 'Basic' plan which starts from $13 per month (billed annually) or $19 per month (billed monthly) and allows you to create 24 hours of voice per year. See full pricing here.
Best for: content creators and marketers who need a tool with a rich set of voices for different purposes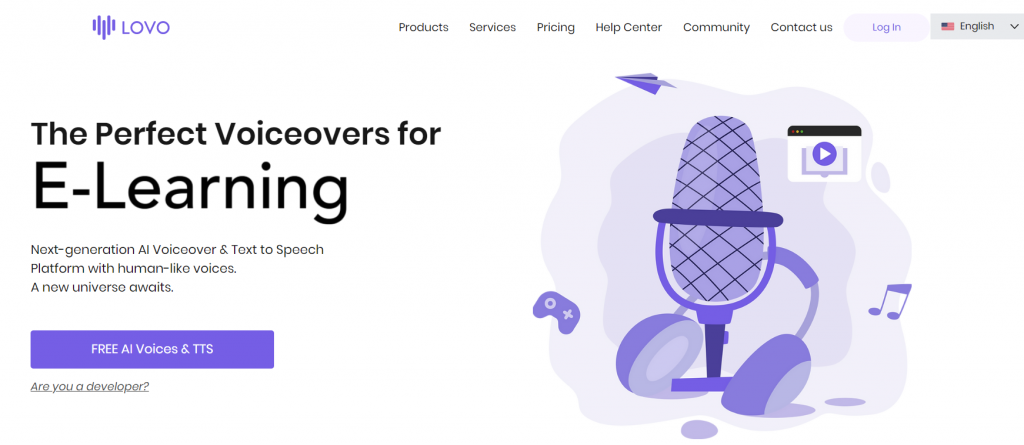 Key features
Lovo is text to speech software for realistic voice-overs, eLearning content, documentary, animations, games, and voice ads in 33 languages.
Its voice cloning technology is so powerful that Lovo requires only 15 minutes of a target voice to create your specific voice skin. You can quickly generate voices for different applications and domains with that feature.
Lovo's advanced synthesis technology allows you to add verbal emphasis to specific words in your script. Once you've completed converting your text, you can add background music to your voice-over as the software provides a library of over 50 songs to accompany your project.
Additionally, this software offers Lovo API so you can integrate it into your apps or products. This will help you enhance your services with realistic voices to create a better user experience.
Pricing
Lovo Studio offers 3 subscription plans: Free, Personal, and Freelancer. The 'Free' plan gives you 3-day access to premium voices and grants you 3 downloads per month. See full pricing here. You can see the pricing for Lovo API here.
Best for: individuals and marketers who need voice-overs for educational games, informational videos, and advertising materials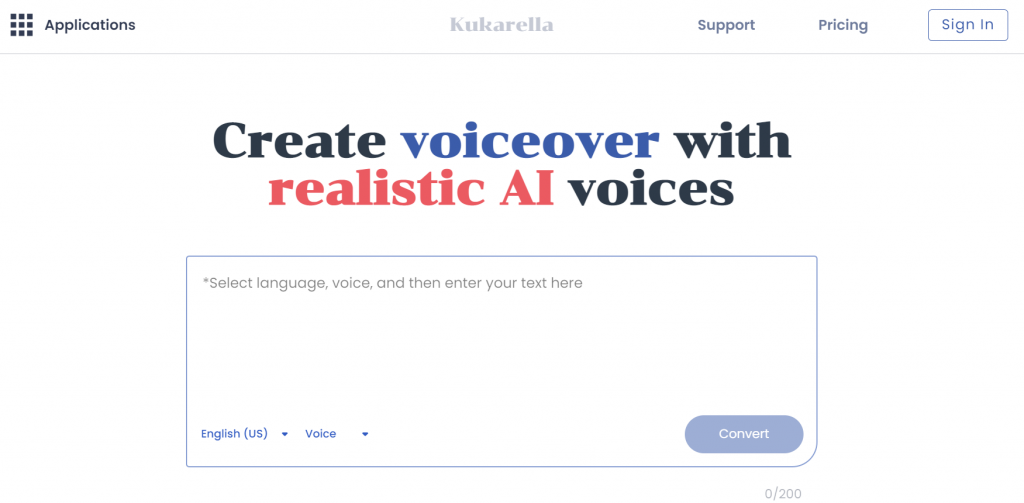 Key features
Kukarella is a text to speech solution famous for its speedy speech synthesis in real-time in more than 80 languages.
With Kukarella, you can sort the voices by male or female, and you can listen to each voice before you start your conversion so you can decide if it satisfies your needs. It allows you to test the quality of the voice-over before you convert the entire text into a voice.
Lastly, Kukarella allows you to use the transcriptions for commercial purposes if you're on a paid plan.
Pricing
Kukarella comes with 4 subscription plans: Free, Pro, Premium, and Studio. You can convert 3000 characters of text into speech per month and choose from 159 voices with a free plan. See full pricing here.
Best for: Microsoft Word users who need a simple tool to convert text into audio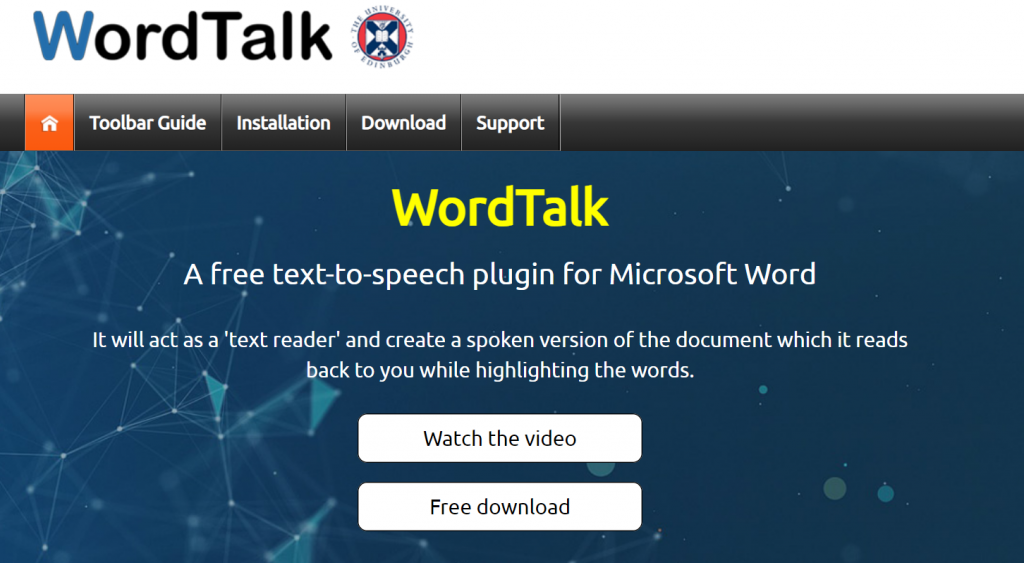 Key features
WordTalk is a free text to speech plugin for Microsoft Word. It's compatible with all versions of Word and is accessible via the toolbar.
Once you've downloaded the tool, you simply choose the part of the text you want WordTalk to read aloud and then press one of the first 4 buttons on the toolbar. It highlights the text as it goes, which improves comprehension.
You can easily change the voice and the speed as per your needs. You also have the option of saving narrations.
Pricing
WordTalk is free and you can download it here.
Best for: personal usage and learning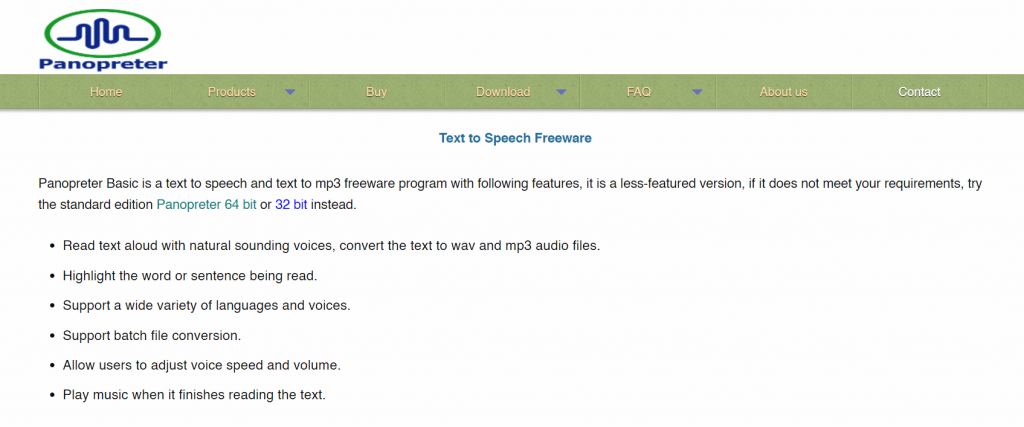 Key features
Panopreter Basic is a text to speech and text to mp3 software that reads text aloud with natural-sounding voices.
It accepts plain text files, web pages, and also Microsoft Word documents as input, and exports the final sound in formats like wav and mp3.
Panopreter Basic has the option to change the language, destination of saved audio files, and interface colours.
The users who use Windows 8, 8.1, and 10, will get Microsoft speech synthesis voices in a number of languages, including English, German, French, Italian, Spanish, Portuguese, Japanese, and many more.
Pricing
Panopreter Basic offers 2 plans: Free and Premium. You can download the free version here. The 'Premium' plan costs $32.95 which is a one-time purchase for lifetime access. You can purchase the 'Premium' plan here.
Best for: businesses who need to create unique voice experiences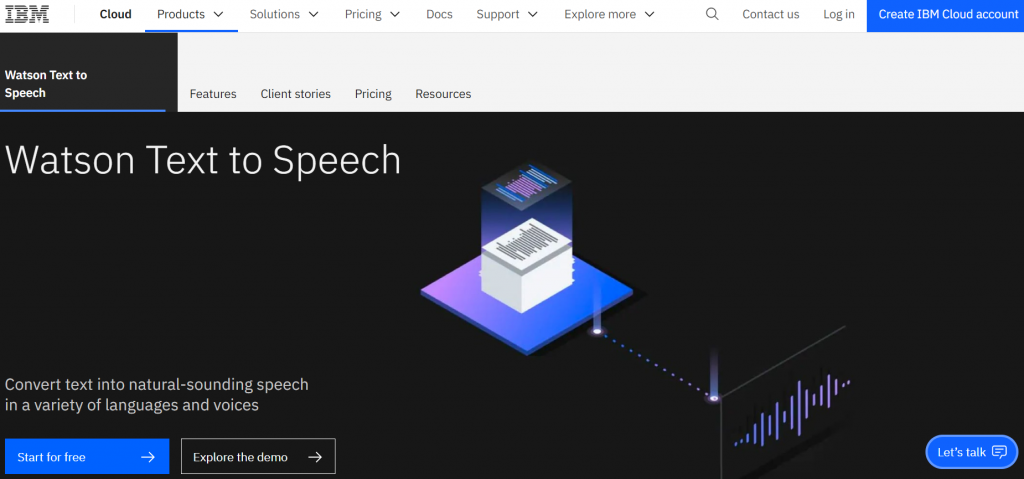 Key features
IBM Watson Text to Speech is an API cloud service that enables you to convert written text into realistic-sounding neural voices in many languages and voices.
Watson enables you to improve your business's customer experience and engagement by enhancing interaction with your users in their native language.
This software comes with controllable speech attributes, with which you can adjust pronunciation, volume, pitch, speed, and other attributes. You can even personalise voice quality by specifying attributes like breathiness, timbre, and more.
Pricing
Watson Text to Speech comes with 4 plans: Lite, Standard, Premium, and Deploy Anywhere. You can convert 10.000 characters of text into speech per month at no cost with a free plan and choose from 35 natural voices. The number of supported languages and dialects with the free plan is 16. The next tier starts at $0.02 per 1000 characters. See full pricing here.
Best for: developers who need advanced text to speech features to embed in their apps and products

Key features
Azure Text to Speech is a tool to develop applications and services with a customized voice in your preferred programming language.
With its lifelike synthesised speech capability, you can enable high-quality text to speech that matches the patterns and intonation of human voices across 129 languages and variants.
Azure supports different speaking styles, including newscast, voice assistant, and customer service, and emotions like cheerfulness, seriousness, and empathy. The intensity of speaking style can be modified to better fit your use case. Another interesting Azure feature is that it allows you to adjust the parameters so the voice imitates a different age and gender.
Its speaker recognition helps determine who is speaking in an audio clip, thanks to its well-developed voice biometry. Azure's speaker identification feature allows you to determine an unknown speaker's identity within a group of enrolled speakers, which particularly comes in handy while working on multi-user device personalisation.
Pricing
Azure Text to Speech offers 2 plans: Free and Pay as You Go. The free plan gives you 0.5 million characters per month. See full pricing here.
Best for: developers who want to build speech-enabled products with the help of machine learning and AI capabilities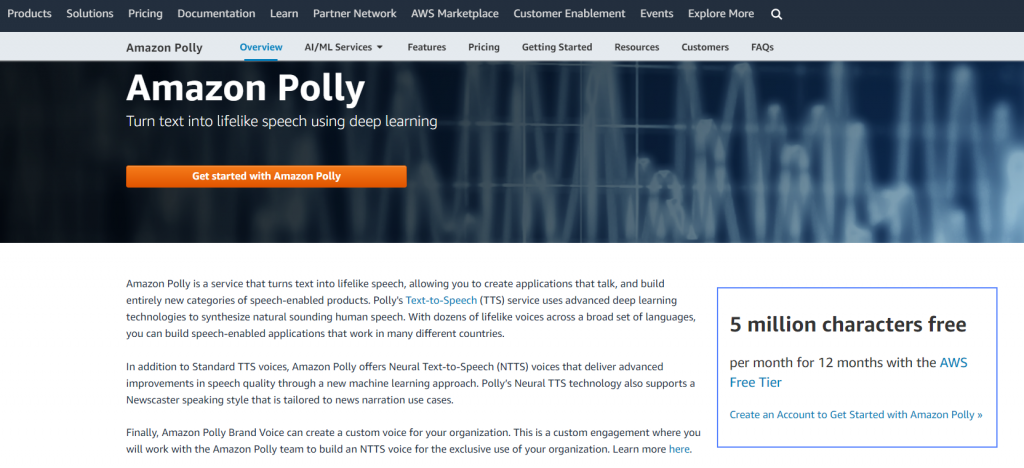 Key features
Amazon Polly is a simple-to-use API service that uses advanced deep learning technologies to synthesise natural-sounding human speech.
You simply send the text you want to be converted into speech to the Amazon Polly API, and it'll return an audio stream to your application right away.
The service includes many lifelike voices and support for many languages, including English, Dutch, German, Italian, Spanish, French, Japanese, Korean, Turkish, and many more.
With its custom vocabularies, you can edit the pronunciation of specific words like company names, acronyms, or foreign words.
Amazon Polly supports all the programming languages included in the AWS SDK like Java, Node.js, .NET, PHP, Python, Ruby, Go, and C++, and AWS Mobile SDK like iOS/Android.
Pricing
Amazon Polly's free tier allows you to convert 5 million characters per month for speech requests. The 'Pay as You Go' tier starts from $4 per 1 million characters for speech requests. See full pricing here.
Final thoughts
Text to speech tools represent a massive opportunity for text-intensive content to become more engaging, accessible, and engaging for individuals and businesses. But choosing the right software entirely depends on your particular needs, like whether you're a business owner, marketer, or end-user. Go ahead, give these tools a try, weigh the usage limitations and features, and see what works best for you.