To understand the customer journeys, you need to bring together data that's typically divided amongst various channels & places like social media, paid search, revenue data, product usage, and more.

This article will provide you with the 10 customer journey tracking tools that can do exactly that.
How to track customer journeys, and figure out where to double down in marketing
Customer journey tracking can be complex. If you're in a marketing/sales team and you're struggling with this, here's one key thing to understand:
Perfect customer journey tracking is simply impossible.
Once you understand that, it'll relieve a lot of stress. You'll always miss some data no matter how good your software setup is. Word-of-mouth, dark social, and ad blocks—there are numerous ways that untrackable decisions can be made.
Simply asking your customers how they discovered you will help, but it's not reliable. They'll rarely remember every detail. Instead, here's a 'TL;DR' of the approach:
Start with a goal or endpoint. For example, signing up for a software product.
Set up an attribution tool like HockeyStack that records every trackable interaction.
Create charts in your tool of choice to help identify influential touchpoints.
Add qualitative answers from customers into the mix for a holistic view.
Regularly review the data to identify the most influential pages, channels, and campaigns.
Now, let's talk software.
Here are 10 of the best customer journey tracking software tools
HockeyStack
SharpSpring
Google Analytics 4
Glassbox
Ruler Analytics
Adtriba
Heap
Woopra
MoEngage
Indicative
Best suited for: customer journey tracking and product analytics
Free trial: yes, 14 days. See a live interactive demo here.
Starting price: from $599/month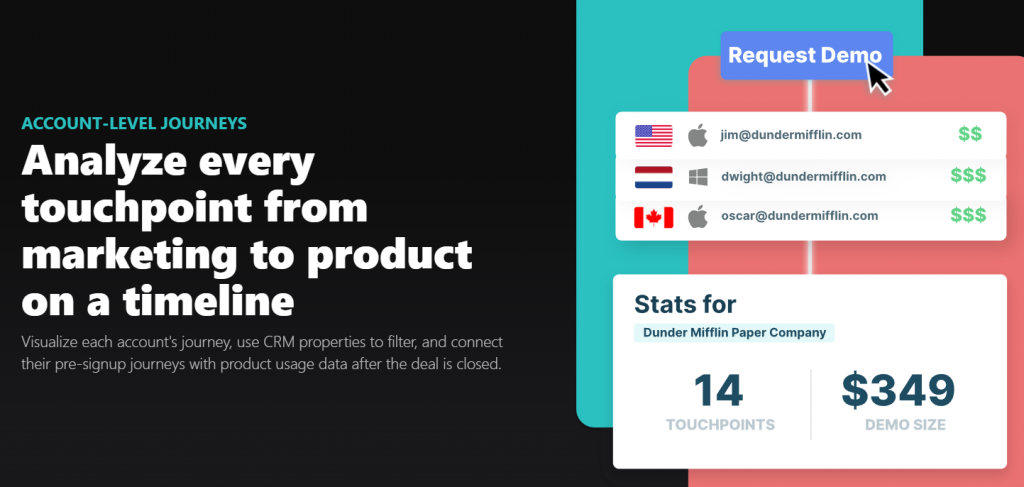 Key features
HockeyStack is a multi-touch attribution and analytics software for B2B companies. It unites marketing, revenue, and product data to manage the company's marketing budget and streamline campaign optimization.
Even better than tracking every touch for a single user, you can use it to track every touch from a whole organization using account level journeys.
The interface is intuitive, so non-technical marketers can easily use and understand it. The time to implementation & value is typically quicker than older & more complicated customer journey tracking tools.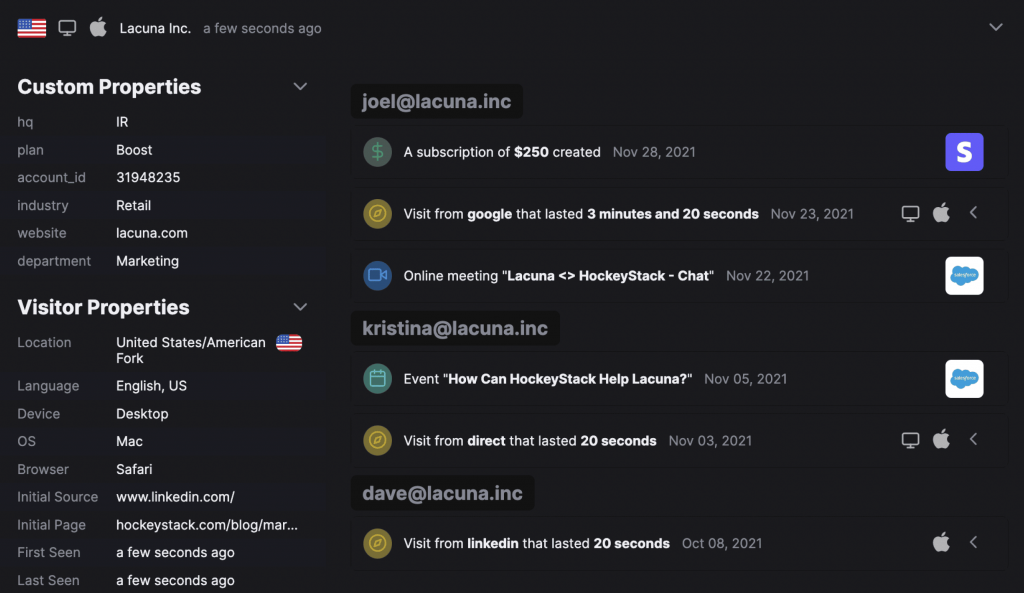 HockeyStack automatically tracks all website activity—ad clicks, scrolls, email clicks, video views, and submissions—around your existing landing pages. This way, you'll understand where people come from, how they navigate your website, which touchpoints need optimizing, where your leads are dropping off, and which paths result in conversions.
To save time, HockeyStack provides some great pre-made dashboard templates for different use cases.
HockeyStack integrations
HockeyStack integrates easily with most major CRMs, ad platforms, payment processors, and customer support and marketing tools:
HubSpot
Salesforce
Pipedrive
Google Ads
Facebook Ads
LinkedIn Ads
Stripe
Paddle
Segment
Mailchimp
Pricing
HockeyStack offers a usage-based pricing model, starting from $599/month. Book a demo here.
Best suited for: marketing automation and email marketing analytics
Free trial: no
Starting price: from $449/month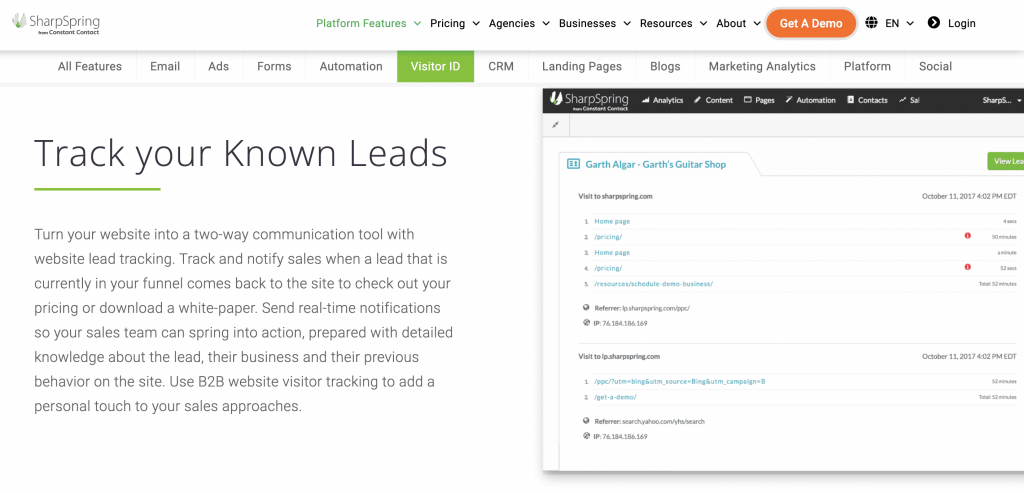 Key features
SharpSpring is a marketing automation and analytics solution that helps to engage leads at critical points in their unique buying journeys.
One great SharpSpring feature is its VisitorID which you can use to uncover twice as many visitors to your site. Thanks to its behavioral-based tracking, you can understand what motivates each click and identify visitors' pain points so your website never stops optimizing.
Furthermore, SharpSpring allows you to develop user-friendly landing pages and landing page funnels with its simple point-and-click editor, so you get to organize visitors into different funnels and capture leads directly into your website.
Lastly, with its actionable marketing reports, you see end-to-end ROI, monitor both online and offline lead sources, and share meaningful insights with your team, clients, and customers.
Integrations
Salesforce
Zapier
CallRail
Pricing
SharpSpring pricing starts from $449 per month with unlimited users and a full set of features. See full pricing here.
Best suited for: web analytics and reporting
Free trial: free to use
Starting price: free to use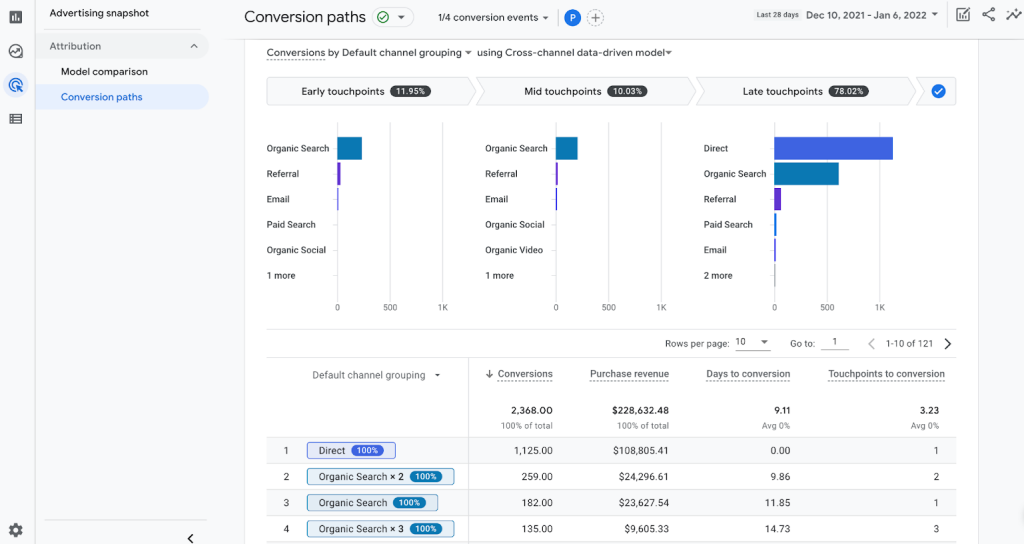 Key features
GA4 is a website analytics application that provides real-time insights and analysis of user interaction across your website. It has numerous important features, such as data-driven attribution, predictive analytics, segmentation, and event-based funnels.
To start with, GA4's behavior flow report shows you the paths that users most frequently take on your website with the ability to change the granularity.
If you want to look at a specific user's journey, GA4's user explorer will help you. It combines the pages and events an individual user has performed on your website, showing them as a timeline you can easily analyze.
With GA4 multi-channel funnels, you can also see insights into how users interacted with various components of your marketing campaigns. What is even greater is that it displays the moments when several sources contributed to a conversion.
GA4 integrations
Google Ads
Google Search Console
Google Optimize
HubSpot
Facebook
Search Ads 360
Pricing
GA4 offers 2 plans which are Free and GA4 360. GA4 360 costs $50.000 annually, and it provides greater data freshness and enterprise-level technical support. Sign in to GA4 here.
Best suited for: customer journey mapping and digital analytics
Free trial: no
Starting price: available upon request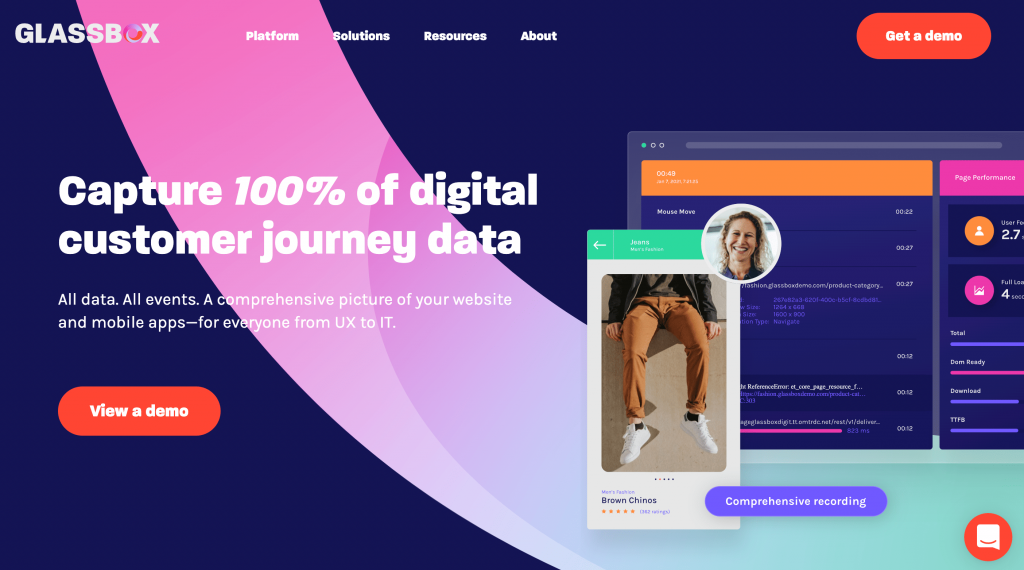 Key features
Glassbox is digital experience and customer journey tracking software that visualizes and analyzes users' digital journeys, empowering teams to provide a seamless experience across all digital channels.
Firstly, Glassbox uses tagless technology, offering you full visibility of everything that happens across your website, hybrid, and native mobile applications (iOS and Android). You can also filter journeys by device, operating system, location, user behavior, demographic, and traffic source to enhance your digital experience for all users.
Secondly, Glassbox has dynamic reporting features that align with your unique business goals. Its comprehensive and simple-to-understand dashboards and highly customizable reports let you track shifting patterns and see how the customer journey progresses over time so you can timely anticipate future changes.
Integrations
Google Analytics
Adobe Analytics
Salesforce
Slack
Pricing
Glassbox pricing isn't available to the public. You can request a demo here.
Best suited for: marketing attribution and revenue analytics
Free trial: no
Starting price: from £179/month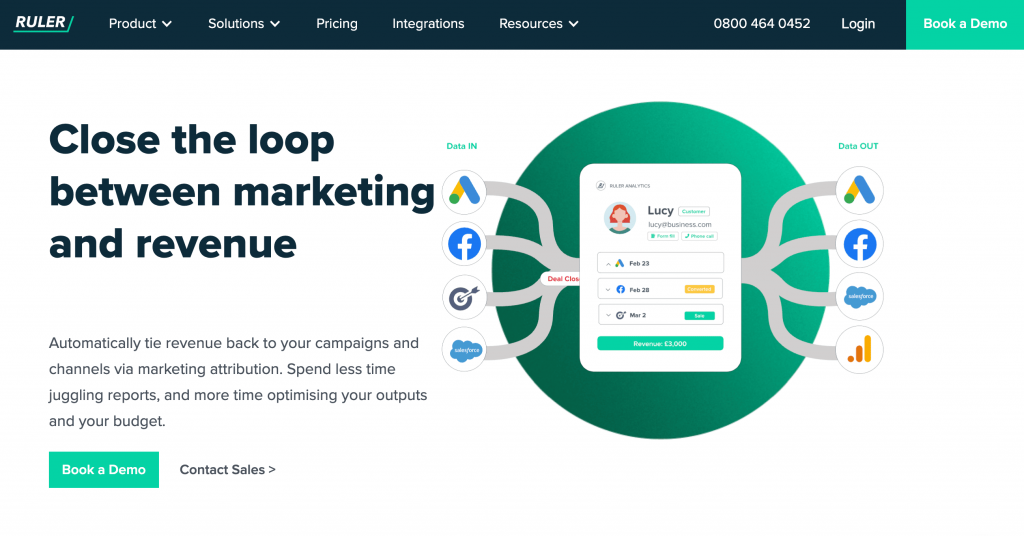 Key features
Ruler Analytics is an attribution, call tracking, and revenue analytics solution that helps businesses understand the impact of their marketing efforts.
Its first great feature is an attribution that lets you track each visitor across multiple sessions along with marketing variables, including source, channel, campaign, and keyword. It's also possible to track offline conversions, proving that your marketing is impacting leads and revenue, no matter where the sales are happening.
For revenue analytics, Ruler Analytics tracks data on a visitor level, allowing you to attribute deals and revenue across multiple campaigns, ads, keywords, and more, so you understand what touchpoints are most influential during a customer's buying journey.
Integrations
HubSpot
Pipedrive
Salesforce
Google Analytics
Google Ads
Zapier
Pricing
Ruler Analytics pricing isn't available to the public. You can book a demo here.
Best suited for: multi-touch attribution
Free trial: no
Starting price: available upon request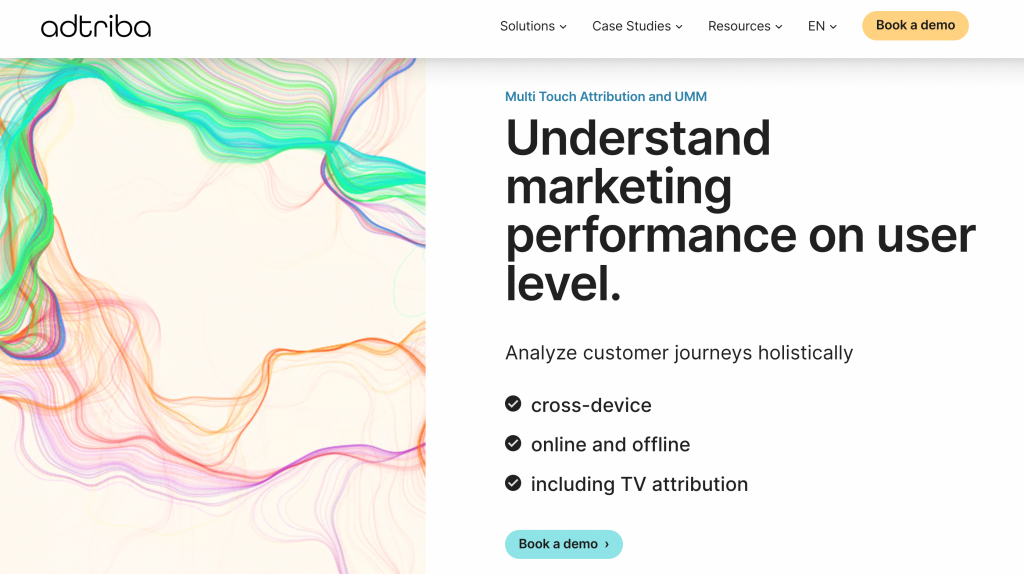 Key features
Adtriba is an attribution and marketing optimization solution that helps SaaS businesses understand marketing performance on a user level, ​​simply with the help of AI.
First, Adtriba allows you to analyze customer journeys—cross-channel and cross-device—from start to finish incorporating all touchpoints for full transparency.
It lets you set up pixel-based and UTM-based tracking for online activities and integrates offline data for comprehensive insights into your marketing mix.
Furthermore, you get to see the comparison of converting and non-converting customer journeys and fractional conversions, thanks to Adtriba's machine learning algorithms.
Integrations
Pricing
Adtriba pricing isn't available to the public. You can book a demo here.
Best suited for: customer journey tracking and reporting
Free trial: yes. Sign up here.
Starting price: available upon request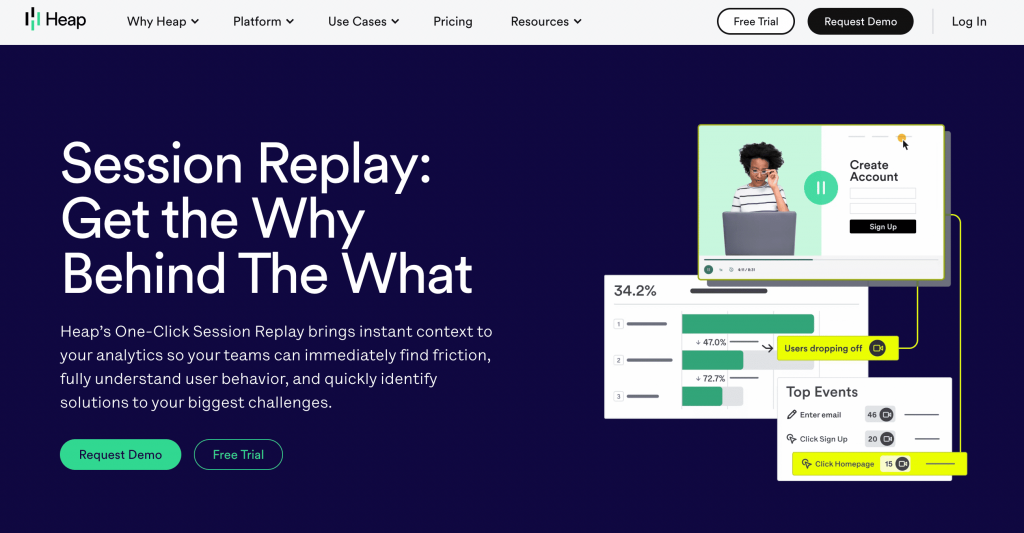 Key features
Heap is a customer analytics solution that automatically captures every user interaction across your website and application.
Heap's cross-platform analytics platform helps you learn how your users complete the entire customer journey, helping you answer the questions like 'How many users are only on one platform' and 'What do users do on your site before they move to your app'.
It lets you track everything through Autocapture—a single snippet of code that grabs every click—and enriches your dataset manually with APIs that track client and server-side events.
With its dashboard functionality, your teams can align on important business KPIs, and you can share dashboards with a link or invite a team member to explore through email. Build a home dashboard to monitor core KPIs and critical charts and see the most viewed dashboards across your company.
Integrations
Mailchimp
Zendesk
Intercom
Marketo
Shopify
HubSpot
Salesforce
Pricing
Heap pricing isn't available to the public. You can get a demo here.
Best suited for: customer journey tracking
Free trial: yes, 14 days. Sign up here.
Starting price: from $349/month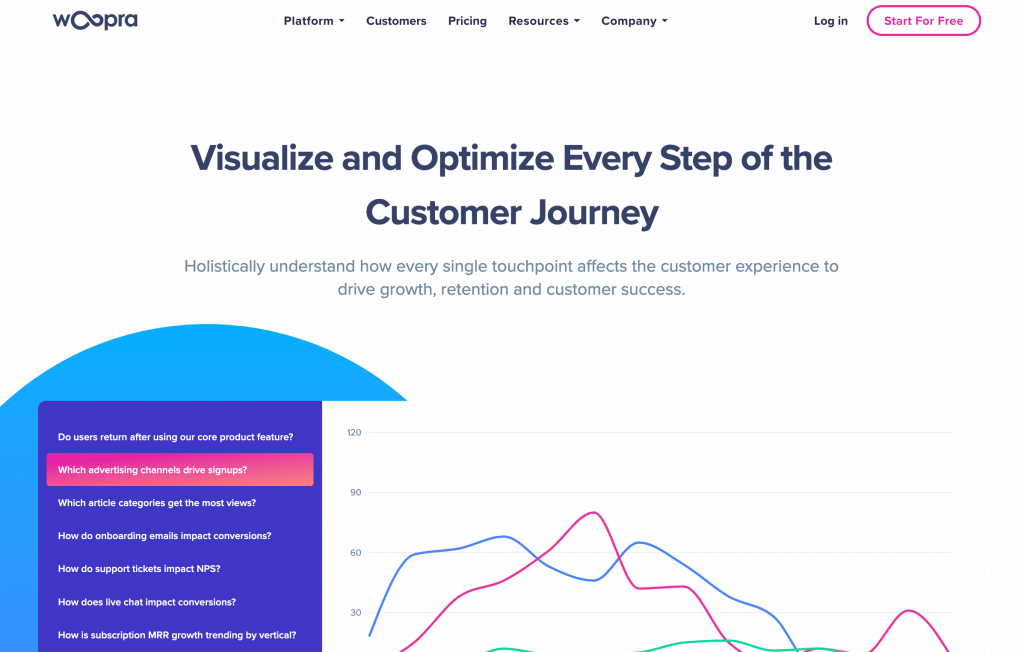 Key features
Woopra is a customer journey and product analytics solution that seamlessly tracks and unifies data across product, marketing, sales, and support touchpoints.
With journey reports, you get a holistic overview of how users navigate across digital touchpoints, helping you determine the nature of the journeys users take from a multi-path perspective.
Its unmatched segmentation capabilities let you analyze the results by any combination of cohort criteria, such as date, geography, platform, device, campaign source, industry, and job title, giving you granular-level detail into customer journeys.
With Woopra's trends report, you can discover how product metrics change over time, so you can track product usage by feature, subscription changes by location, and campaign performance by source.
Integrations
Google Ads
Mailchimp
ActiveCampaign
HubSpot
Pipedrive
WooCommerce
Shopify
Stripe
Pricing
Woopra has a free version for tracking up to 500K actions per month. Its paid plans start from $349 per month, with which you can track up to 1 million actions every month. View full pricing here.
Best suited for: customer analytics and campaign optimization
Free trial: yes. Sign up here.
Starting price: available upon request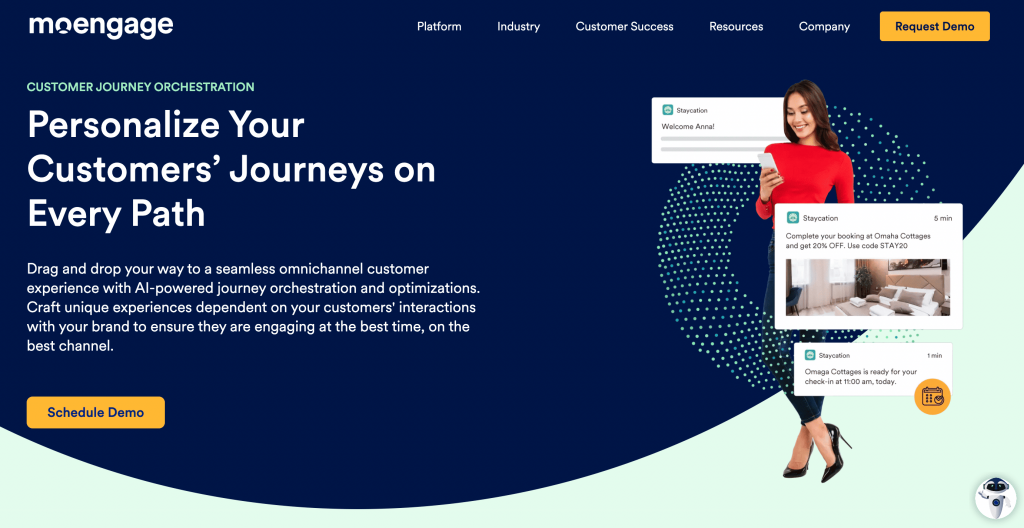 Key features
MoEngage is a customer engagement platform that helps businesses optimize their customer experience, increase conversions, and reduce drop-offs with AI-powered journey orchestration features.
With its drag-and-drop builder, your marketing and product teams can quickly develop customer journeys. Additionally, you can build up your campaigns with a few clicks, learn more about the ideal omnichannel mix, and increase conversions with the help of A/B testing and AI optimization functionalities.
Dive deep into each customer's journey to acquire information on impressions, engagement metrics, drop-off volumes, conversion rates, and attribution. That way, you can act on essential KPIs in real-time to ensure your users continue engaging with relevant content.
Another great MoEngage feature is that it lets you unify all your data from online and offline channels to create a holistic view of your users.
Integrations
Shopify
Sengrid
Zendesk
HubSpot (via Zapier)
Pipedrive (via Zapier)
Pricing
MoEngage pricing isn't available to the public. You can request a demo of MoEngage here.
Best suited for: customer journey tracking and reporting
Free trial: yes, 30 days. Sign up here.
Starting price: from $249/month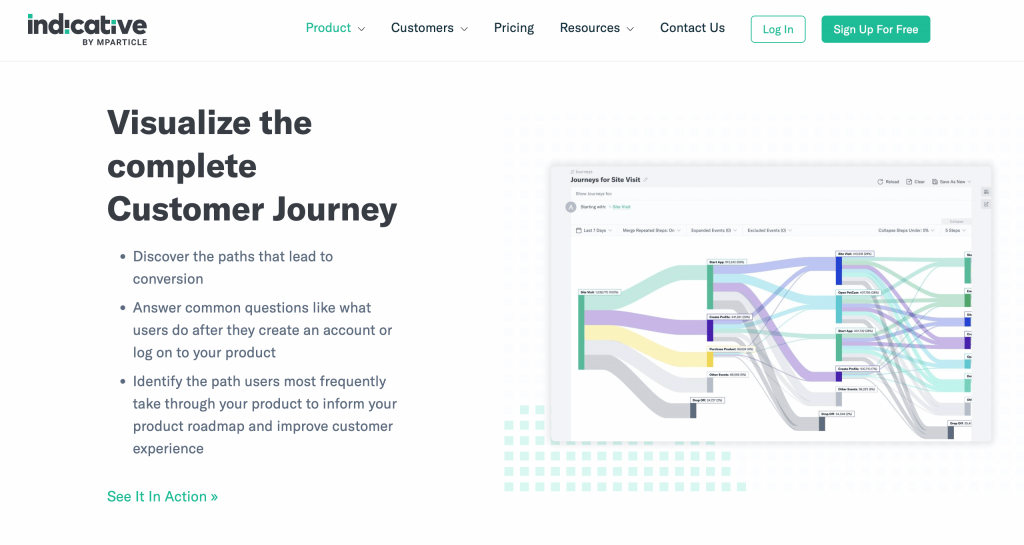 Key features
Indicative is a customer journey analytics solution that helps marketers and product teams understand the complete customer journey and optimize engagement for higher conversions.
With an easy-to-understand user interface, Indicative provides a single overview of user activity across all digital touchpoints, including web, marketing automation, support systems, databases, and data warehouses.
See the most common paths that lead to churn and see how you can prevent customers from dropping off, and that way, you can prioritize your product roadmap by improving features to retain customers. Furthermore, Indicative allows you to compare event-level data with user-level data, so you can analyze the total number of times a particular event was performed or measure event counts per user.
View a complete summary of each user and their attributes, and access the information like user ID, geographic location, and time first and last seen to get a better perspective on geographic trends.
Integrations
Pricing
Indicative offers a free version for tracking up to 25 million events per month. Its paid plans start from $249 per month, with unlimited users. See full pricing here.