You can't deny the benefits of embedding video in your marketing strategy which can boost your search engine visibility and even generate more leads. Yet video strategy is a common hurdle for marketers today. The biggest obstacle? The lack of production resources is perhaps the most challenging obstacle to video marketing success. But the thought of creating your first video shouldn't be intimidating with the right tools in your arsenal. In this article, I'll review the best 10 video marketing software to spice up your next video marketing campaign.
Types of video marketing tools
Like any other type of software, there're different types of video marketing tools and their use cases.

Animations. Animated videos are a great way to convey technical and complex ideas or messages in the form of a short story. Animations are also entertaining and fun compared to other types of videos.

Promotion. Some tools are great for promotional content, helping you enhance your brand image through ads.

Optimization. It's important to optimize your videos (like creating an attractive thumbnail) so that they rank higher in search results and encourage viewers to click and watch the video.

Podcasting. Some software is great for podcasters who look for an easy way to promote their content and add music overlays and sound effects to increase the quality of their videos.

GIF making. If you're a great fan of GIFs, some tools allow you to create GIFs from any video. You can also add text to GIFs, cut your GIFs, or even resize GIFs.
Here are the 10 best video marketing software
Wistia

Vimeo

TubeBuddy

Promo

VideoAsk

Animoto

Vidyard

Magisto

Loom

Biteable
1. Wistia
Best suited for: businesses needing professional video hosting software with a simple user interface
Free trial: no
Starting price: has a FREE plan. Paid plans start from $99/month.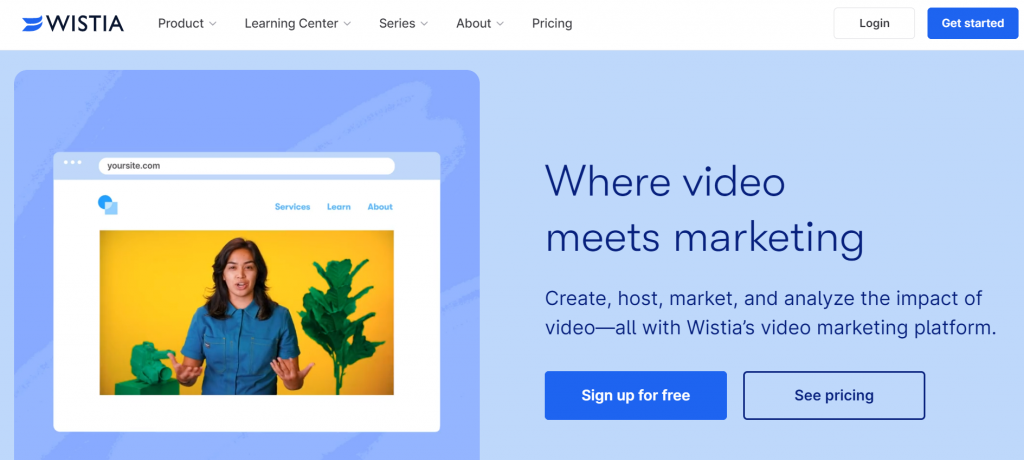 Key features
Wistia is a video marketing platform for producing, managing, and sharing video content with clients and partners. It's a great tool to record your videos right from your browser, thanks to its browser-based screen recorder, Soapbox.
With its intuitive video trimmer, anybody can trim and edit videos for a more professional and polished look. Wistia has a customizable player that allows for matching the look of your brand in videos.
Another beautiful Wistia feature is that it automatically optimizes your videos for search engines. Integrate this tool with your marketing automation solution and collect leads directly from your videos with its email collector, Turnstile.
Furthermore, Wistia is equipped with powerful video analytics features. Track audience behaviors via viewer-based tracking and video heatmaps, uncover who's watching your content and which videos yield the most value for your business.
Wistia integrations
Google Analytics
Databox
Mailchimp
HubSpot
Trello
Zapier
Pardot
Zendesk
Pricing
Wistia offers a free plan that comes with basic integrations, unlimited users, easy embedding and sharing, and advanced video analytics. See full pricing here.
2. Vimeo
Best suited for: marketers who need a low-budget video hosting platform to store and share high-quality videos
Free trial: yes, 30 days. Sign up here.
Starting price: from $7/month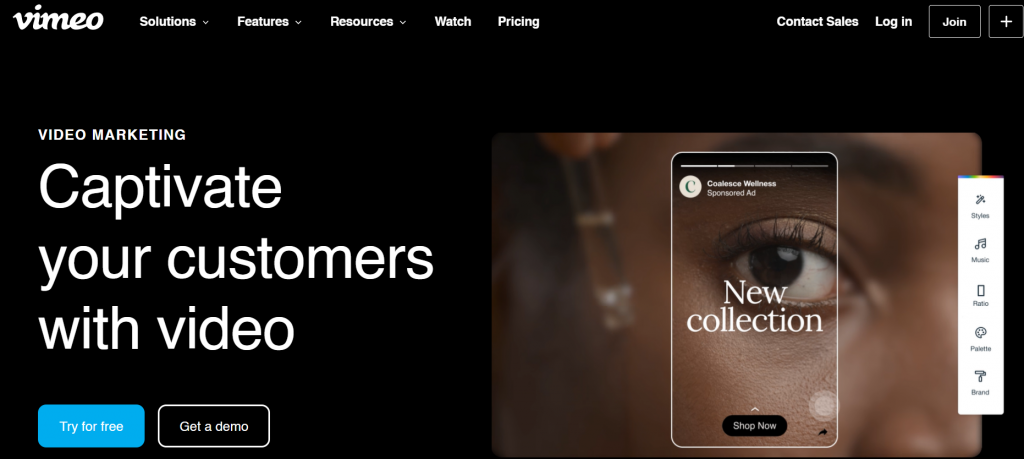 Key features
Vimeo is a content hosting and video sharing platform for creating, editing, recording, and organizing videos into channels. It offers unmatched quality to host your videos in the highest quality possible and stream in 4K.
Its marketing and monetization features are for embedding your videos anywhere, selling them worldwide, and even starting your own subscription network — all without support teams, dealing with third parties, or managing app upkeep.
Vimeo integrates with email marketing platforms, such as MailChimp and Campaign Monitor. That way, you can enable contact forms on any of your embedded videos and automatically sync your viewers' submissions to your mailing lists.
Extend your reach by simultaneously live streaming to Vimeo and Facebook, YouTube, or other destinations. Additionally, get key insights from Vimeo, Facebook Live, and YouTube — all by channel, all in one location.
Vimeo integrations
Pinterest
Slack
Google Drive, OneDrive, and Dropbox
Zoom
Shopify
Mailchimp
Pricing
Vimeo has 4 plans: Plus, Pro, Business, and Premium. The 'Plus' plan starts from $7 per month (billed annually) or $12 per month (billed monthly) that comes with an unlimited screen and webcam recording. See full pricing here.
3. TubeBuddy
Best suited for: content creators and marketers needing a low-budget tool for growing their YouTube channel
Free trial: no
Starting price: has a FREE plan. Paid plans start from $2.40/month.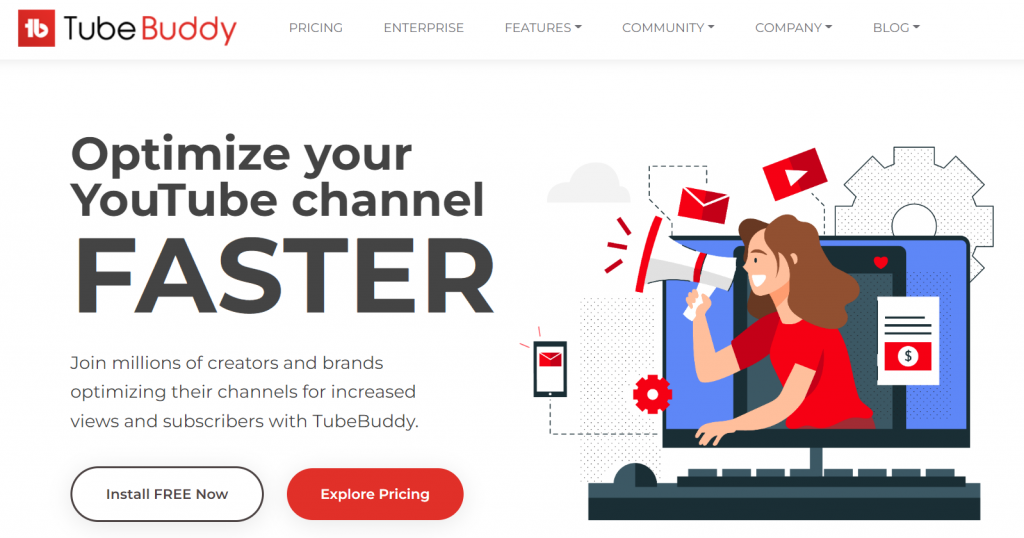 Key features
TubeBuddy is a free browser extension that integrates into YouTube to manage your channel and optimize it for increased views. It has an advanced keyword research feature, helping you find high-performing and searchable video topics.
TubeBuddy has a suite of tools allowing creators to determine the type of content their audience engages with and ensure that they get potential viewers to consume their content.
Another interesting TubeBuddy feature is that it automatically finds the best time to share videos for your specific audience. Easily apply the A/B test to your titles, descriptions, tags, and thumbnails to see which ones leave the maximum impact.
TubeBuddy integrations
Pricing
3 plans are available on TubeBuddy: Pro, Star, and Legend. The 'Pro' plan starts from $2.40 per month, and it comes with advanced video embedding and comment formatting features. View full pricing here.
4. Promo
Best suited for: marketing agencies needing a tool to produce high-quality professional video clips
Free trial: yes. Sign up here.
Starting price: from $25/month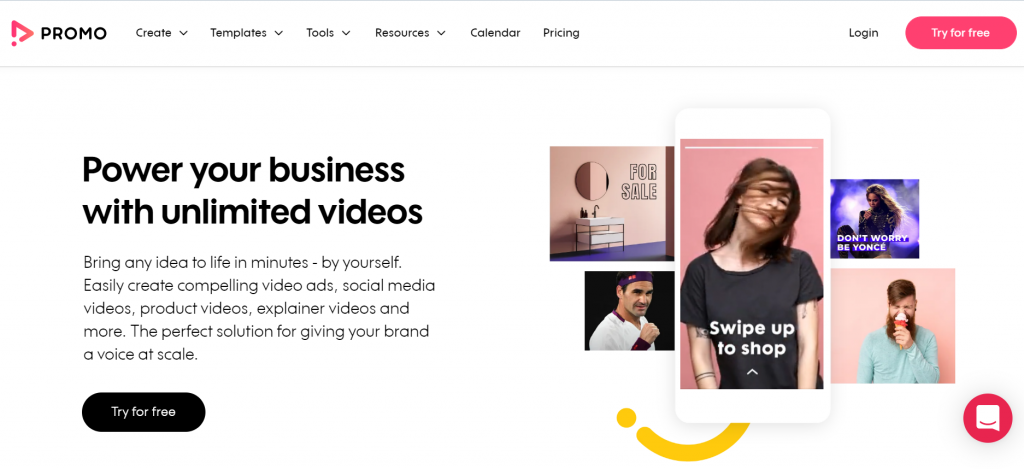 Key features
Promo is another video creator to produce loads of visual content using your own or stock footage. With Promo, it only takes minutes to create a video, thanks to its pre-built templates and royalty-free libraries.
Its YouTube intro maker is for creating captivating YouTube intros — select premium footage from over 110 million videos and photos and access over 1500 pre-approved music tracks for YouTube intros.
With Promo, you won't anymore need to hire a third-party designer just to create your social media ads. You can achieve greater conversions using Promo's Facebook, Instagram, Linkedin, and Tiktok ad templates.
Promo integrations
Pricing
Promo plans start from $25 per month (billed annually) or $49 per month (billed monthly). This plan comes with over 5000 built-in templates, a fully licensed audio library, full HD videos, commercial usage rights, and photo to video maker. See full pricing here.
5. VideoAsk
Best suited for: marketers and agencies who need a no-code and easy-to-use tool to convert more leads via visual content
Free trial: no
Starting price: has a FREE plan. Paid plans start from $24/month.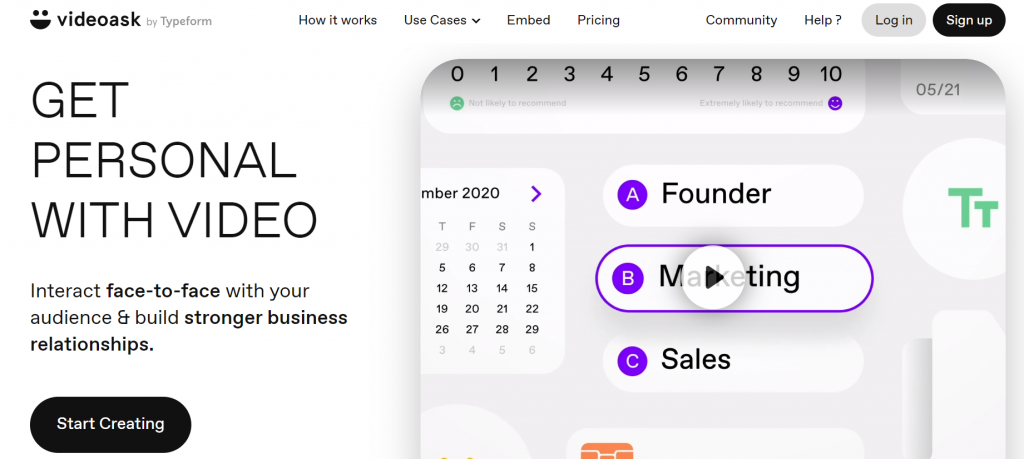 Key features
VideoAsk is a web and mobile app to record a video directly from your device and reach new audiences online. You can get started by recording your video in-app or uploading a video or GIF. This tool has several use cases, including marketing, lead generation, sales, and audience engagement.
Once you're finished creating your video clip, share it the way you want — as a URL link anywhere, embed it in an email, or add it to your website as a widget.
With its analytics feature, track visits, clicks, and answers via a dashboard, and get a complete overview of how well your clips are engaging with your audience.
VideoAsk integrations
HubSpot
Google Analytics
Google Tag Manager
Google Sheets
Facebook Pixel
Salesforce
Calendly
Pricing
On top of a FREE plan, VideoAsk offers paid plans that range from $24 to $40 per month (billed annually). All VideoAsk plans include all core features and a voice-text transcription option. View full pricing here.
6. Animoto
Best suited for: content creators and marketers needing an inexpensive video editing tool with various functions
Free trial: no
Starting price: has a FREE plan. Paid plans start from $8/month.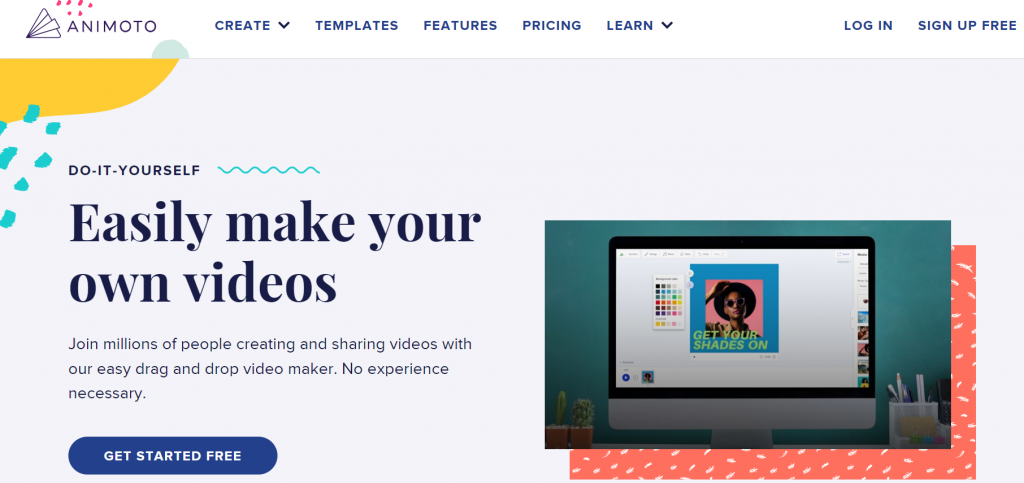 Key features
Animoto is a video creation and editing tool to create and share videos with an easy drag-and-drop video maker. Get a head start on your visual content with fully customizable templates and choose a song from Animoto's library of thousands of licensed tracks to add to your content.
Animoto allows you to crop and trim your video clips without much hassle. Furthermore, Animoto makes it easy to add high-quality voice-overs so you get more impactful videos.
Brand your videos with a watermark — receive more brand awareness by adding a professional logo watermark to your videos.
Pricing
Currently, 4 plans are available on Animoto: Free, Basic, Professional, and Professional Plus. Its FREE plan comes with unlimited videos, 50 music tracks, and unlimited social sharing. See full pricing here.
7. Vidyard
Best suited for: marketing and sales teams needing a video creation tool with powerful features
Free trial: yes, 14 days. Sign up here.
Starting price: has a FREE plan. Paid plans start from $19/month.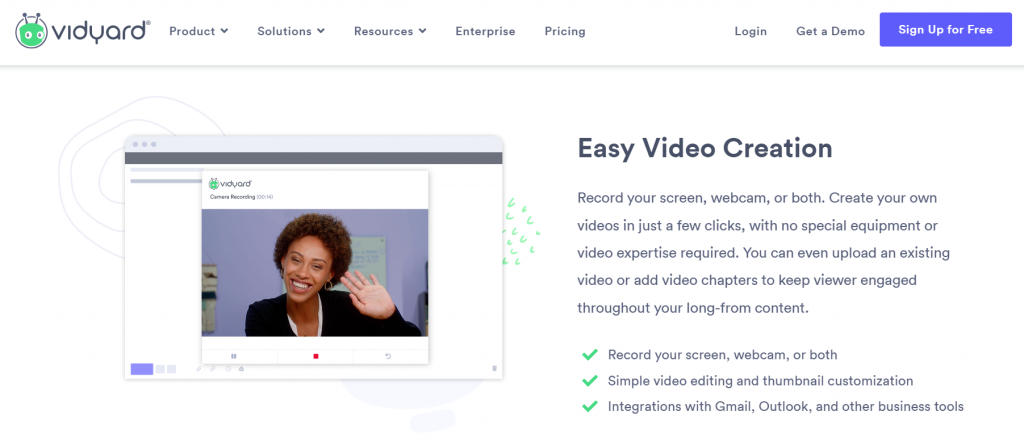 Key features
Vidyard is a video creation and marketing solution to create, share, and host videos in a unified place. It allows recording using your browser extension, desktop, or mobile app.
Vidyard comes with a powerful video analytics dashboard, letting you see who's converting and how viewers progress through your engagement funnel, so you can optimize each aspect of your video marketing strategy.
Video sharing is also easy with Vidyard. Send videos by email, social, or however else you communicate, and your viewers can consume your content on any device without having to download any attachments.
Optimize your videos by adding buttons, links, and more to your videos to provide viewers with the next steps after watching. Also, you can automatically optimize your video content with metadata to rank better in search engines.
Vidyard integrations
Google Analytics
HubSpot
Youtube
LinkedIn
Gmail
Salesforce
Zoom
Pricing
Vidyard has 4 pricing editions, from $19 to $1250 per month, other than the FREE plan that comes with video recording and social sharing features. Vidyard's paid plans start from $19 per month, offering video performance insights and video password protection. See full pricing here.
8. Magisto
Best suited for: social media marketers and photographers needing an affordable video editing and post-production solution
Free trial: yes. Sign up here.
Starting price: from $4.99/month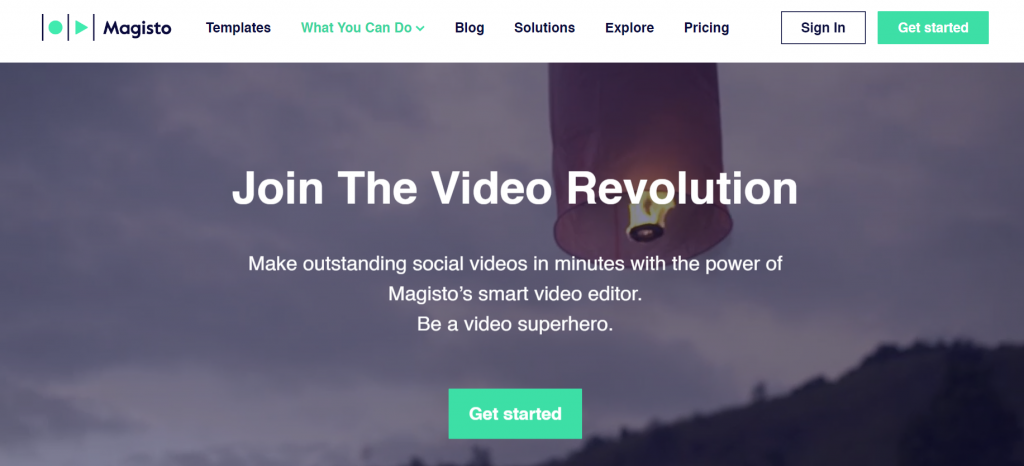 Key features
Magisto is a video management solution to streamline video editing operations, audio analysis, and post-production. It's an AI-powered application helping you produce highly effective marketing and product videos.
You can easily host marketing videos on your website with Magisto's native player and distribute cross-channel marketing visual content optimized for different channels, such as social media and email marketing.
Magisto's analytics feature is for viewing audience behavior. That way, you'll better understand which video videos perform the best and analyze shy viewers stop watching your videos.
Another noteworthy Magisto feature is its post-production capability — zoom in on important actions, give movement to static elements, lower the volume of the track when somebody is talking, and many more.
Pricing
Magisto offers 3 plans: Premium, Professional, and Business. The starting plan costs $4.99 per month (billed annually) or $9.99 per month (billed monthly), and it comes with premium editing styles and unlimited downloads. View full pricing here.
Best suited for: marketers who need a video messaging solution to create high-impact videos and promote knowledge sharing with ease
9. Loom
Free trial: yes, 14 days. Sign up here.
Starting price: has a FREE plan. Paid plans start from $8/month.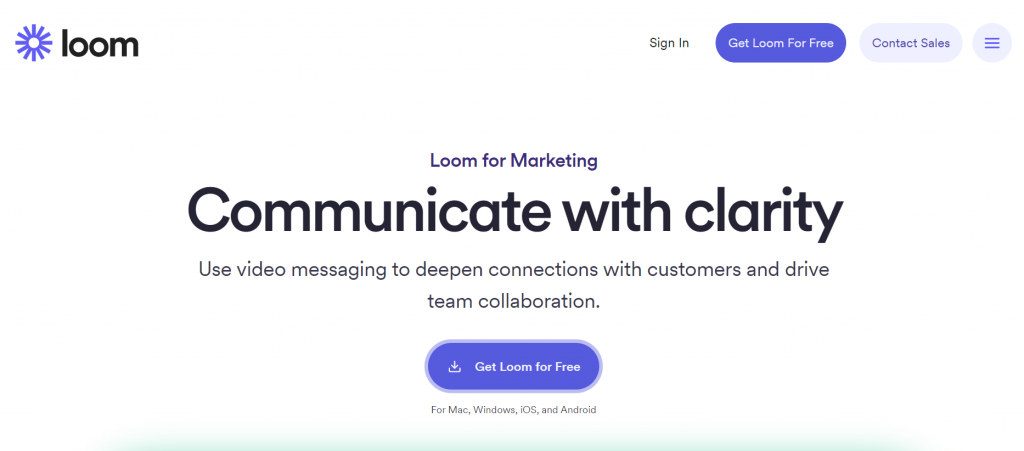 Key features
Loom is a video messaging and screen recording tool to deepen connections with customers and streamline team collaboration. Loom has a user-friendly interface — all Loom settings and functions are laid intuitively.
Use Loom on either desktop (Mac & Windows) or mobile (iOS & Android). It's also integrated with Slack, so you'll have a lot of flexibility for where and when to distribute and watch videos. Record videos and use them in paid ad campaigns, email marketing, social media, or anywhere else your audience interacts with you online.
Another beauty of this tool is that Loom videos can be rewatched as many times as you want, which is great for digesting more detailed information at your own pace. It comes with engagement insights, allowing you to see who watched your videos, how long they watched, and monitor call-to-action performance.
Loom integrations
Gmail
Slack
Medium
Salesforce
Pricing
The following 3 plans are available on Loom: Starter (FREE), Business, and Enterprise. Its FREE plan is good for quick video messages and screen recording. If you wish to use custom branding and password-protected videos, you'll have to upgrade to the Business plan. See full pricing here.
10. Biteable
Best suited for: marketers, sales teams, and agencies needing a video creator for better user engagement
Free trial: yes, 7 days. Sign up here.
Starting price: from $49/month

Key features
Biteable is a video creation tool to build optimized videos for Facebook ads, Instagram ads, and other commercials via its suite of animations and over 1.8 million stock images. Select a Biteable video ad template from many ready-made templates with high customization flexibility to get your ads made quickly.
It also has a high-quality music library so you can use a custom soundtrack for every clip. Its professional-looking animations will help you generate exceptional video content.
With Biteable, you can add a call-to-action button to your videos. Just click the option to include a clickable call-to-action button when you export your clips.
Pricing
Biteable has 2 plans to choose from: Pro and Teams. The PRO plan starts from $49 per month (billed annually) or $99 per month (billed monthly). Its starting plan comes with unlimited HD exports, video analytics, unlimited video storage, and 24/7 support. View full pricing here.