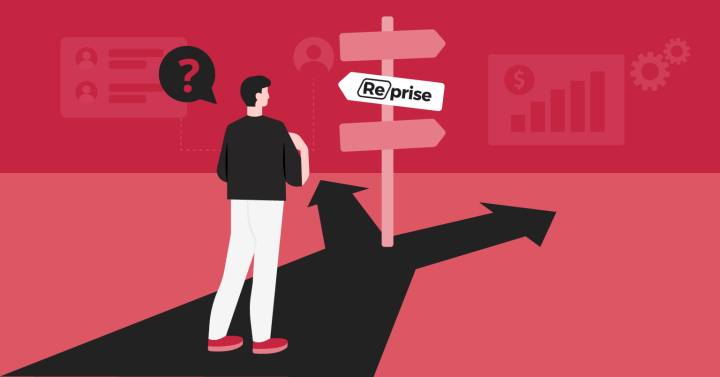 In the relatively new world of interactive product demo software, there aren't that many serious competitors in the market.
Reprise is one of the most well-established. The problem?
They're focused on enterprise. If your head count is <300, they're not interested
Their pricing gets high fast when adding demo variations & user seats
Implementation time & adoption are on the slow side compared to alternatives
If you're looking for a demo tool, but Repise isn't right for you, here's some other options.
Here are the 7 best alternatives to Reprise
Navattic
Walnut
Consensus
Demostack
Saleo
Supademo
Tourial
Let's take a look at the differences.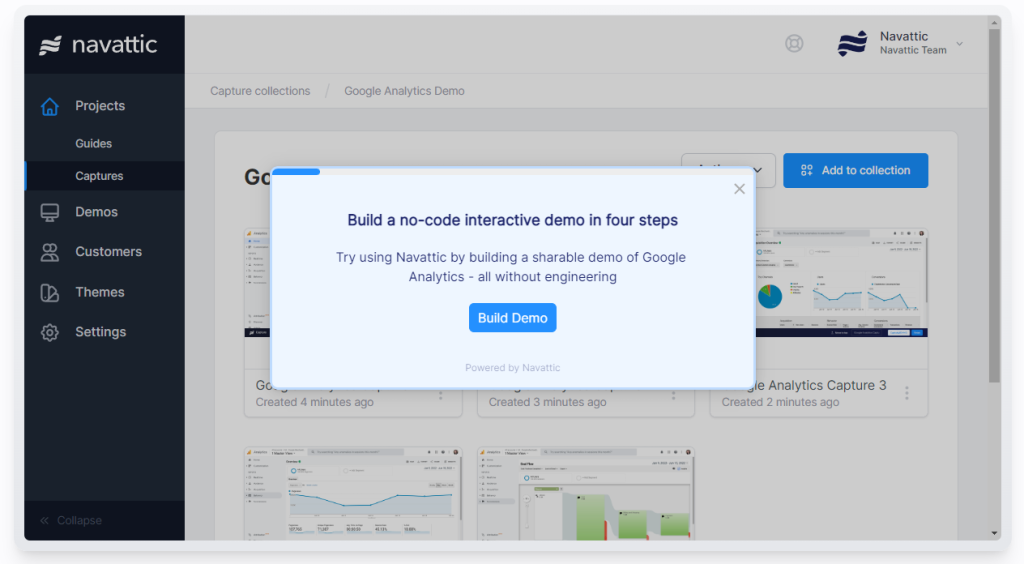 Best suited for: embedding an interactive demo on a website, or for sharing with prospects
Free trial: No, request a demo here or look at their product tour.
Starting price: $500/month (or a startup plan is available for small teams)
Key features
If marketing embeds or support/success product tours are your primary use case, then Navattic is likely to be a better fit. It focuses entirely on this space, is faster/easier to launch, and has a lower price — including unlimited user seats & unlimited demos on every plan.
It lets you create guided product tours, or a 'choose your own adventure' style of demo with checklists & options for users to explore.
You can play around with their live interactive demo to get a feel for how it works.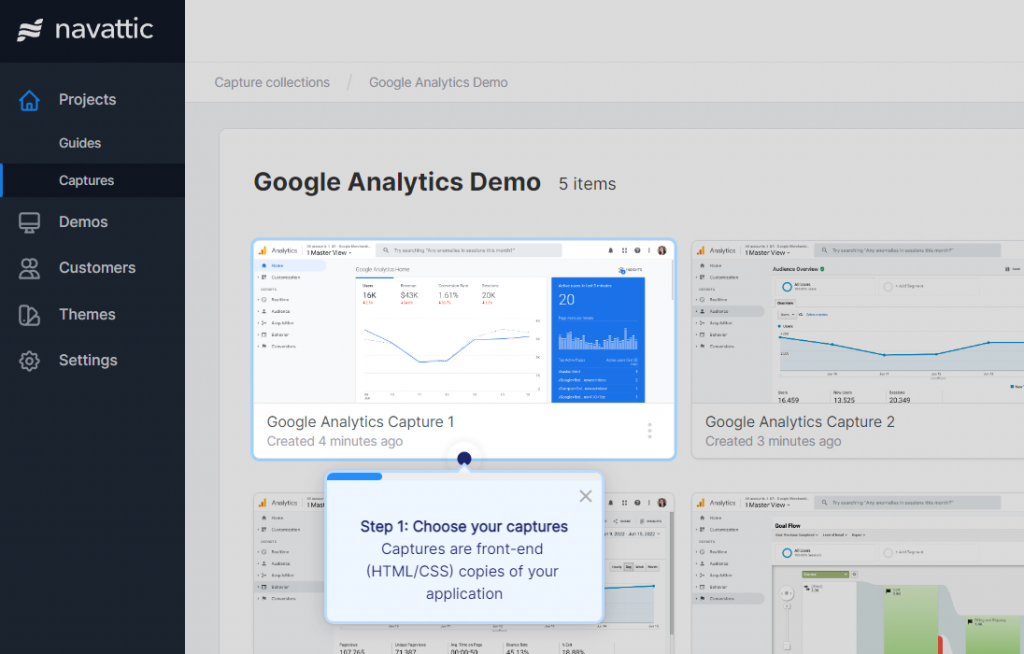 There are integrations with Hubspot, Salesforce, Marketo, Segment, and Google Analytics — making it easier to see how demo interactions impact metrics further down the funnel.
It's worth knowing that Navattic cannot replace every use case of Reprise. In particular, Navattic can't help you create fully explorable sandbox environments. Some sales teams do use it as an alternative to slides/videos, but overall Reprise is better suited to sales needs.
Lastly, Navattic have a SOC 2 Type II compliance certification, which checks the box for any security & privacy requirements.
Navattic vs Reprise
See a full comparison: Navattic vs. Reprise.
Navattic caters better for marketing use cases
Reprise can do more: sandbox environments & live demo overlays
Navattic has a quicker average time to implementation
Navattic caters better for SMB/mid-market, while Reprise focuses only on larger customers
Pricing
Navattic's base pricing is publicly available: $500 for 'Base' (company size up to 100 employees & base features), and $1,000/month for larger companies, plus extras like SSO & dedicated success managers/coaching. View pricing page.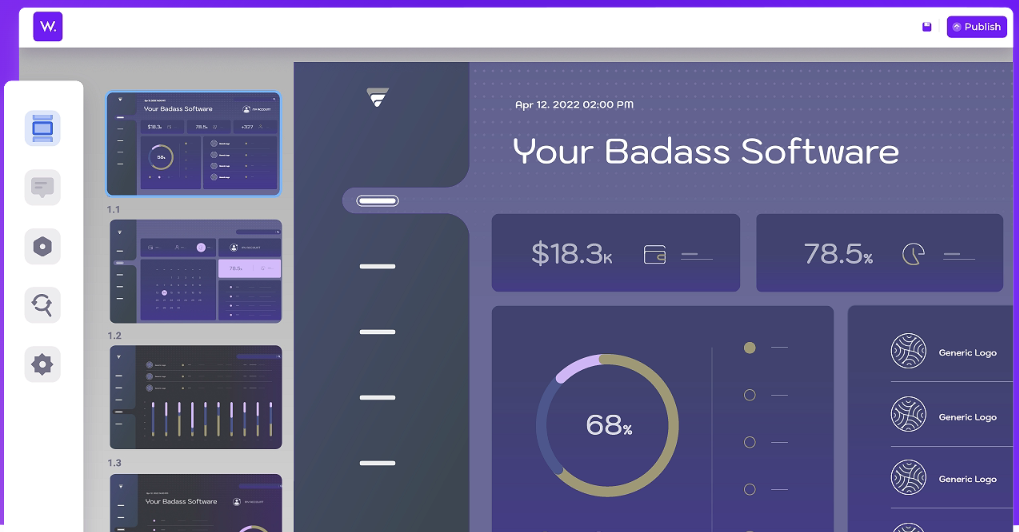 Best suited for: a complete replacement for Reprise with a lower cost & easier usability
Free trial: No. Request a demo here.
Starting price: Unknown.
Key features
While Navattic focuses more on top-of-funnel, Walnut covers more use cases, primarily focusing on sales & pre-sales.
Walnut captures your product's front-end using a Chrome extension, then enables either no-code editing, or HTML editing.
One unique feature of Walnut is that you can enable prospects to leave comments & questions directly inside the interactive demo, just like collaborating in a Google Doc or a Figma file — which makes for a more interactive sales experience.
Walnut is also strong in internal team collaboration, with all the basics covered: access/permissions, various sharing settings, and ways to tag/group demos internally.
Plus, you can create demo templates & save into a shared library. With those templates, anyone in the team can then quickly find a template, understand what it's used for, and reuse it for their use case.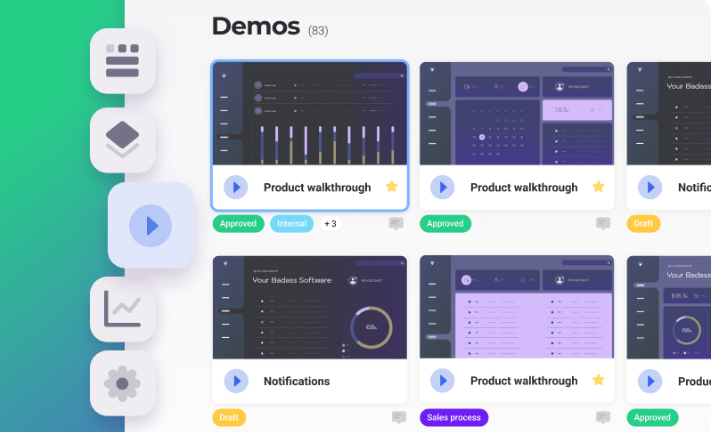 Walnut offers analytics features to help you check who has used your demos, for how long, their completion rates & more.
It has integrations with Salesforce & Hubspot, but lacks a couple of others (e.g. Google Analytics, Zapier, Segment).
See also: Walnut alternatives.
Walnut vs Reprise
Both tools cover sales & marketing use cases
Walnut's pricing has unlimited demos & demo views, while Reprise pricing does not
Reprise has a Google Analytics integration & data API that Walnut is missing
Users typically report that Walnut is easier to start with & use
Reprise give enterprise security a higher priority
Pricing
Walnut determines its pricing based on user seats. Every plan comes with unlimited demos created and unlimited demo views.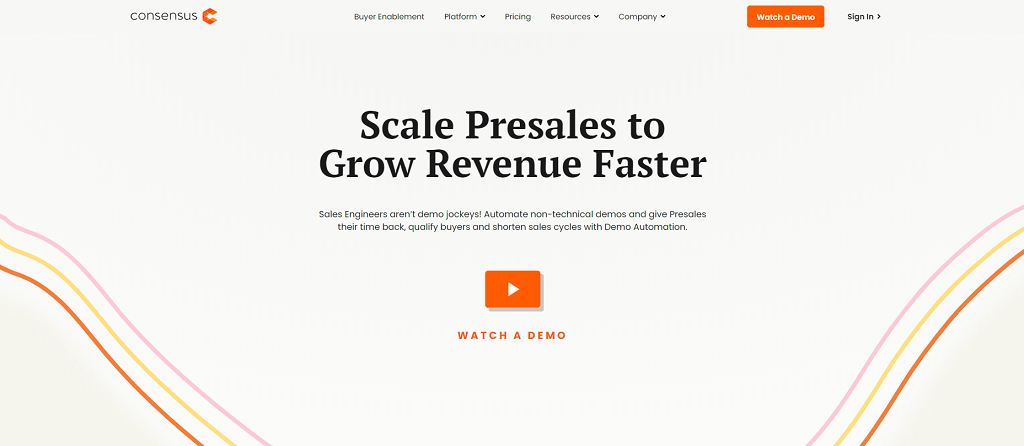 Best suited for: mid-market & enterprise looking to use interactive demos for pre-sales / sales
Free trial: No. Get a quote here.
Starting price: $12k annually.
Key features
Consensus is a mature solution with $110M+ in funding, capable of competing with Reprise, particular in pre-sales & sales use cases, but can cater for marketing too.
It lets you build a reusable library of demos with a series of videos, interactive tours, forms & other resources. Take a look at their own interactive demos here for an example.
Uniquely, the demos built & send with Consensus enable self-guided personalization. Users are asked which things are most important, and you can use those inputs to tailor the demo (e.g. skip sections, or deliver a condensed version if only 'somewhat important'.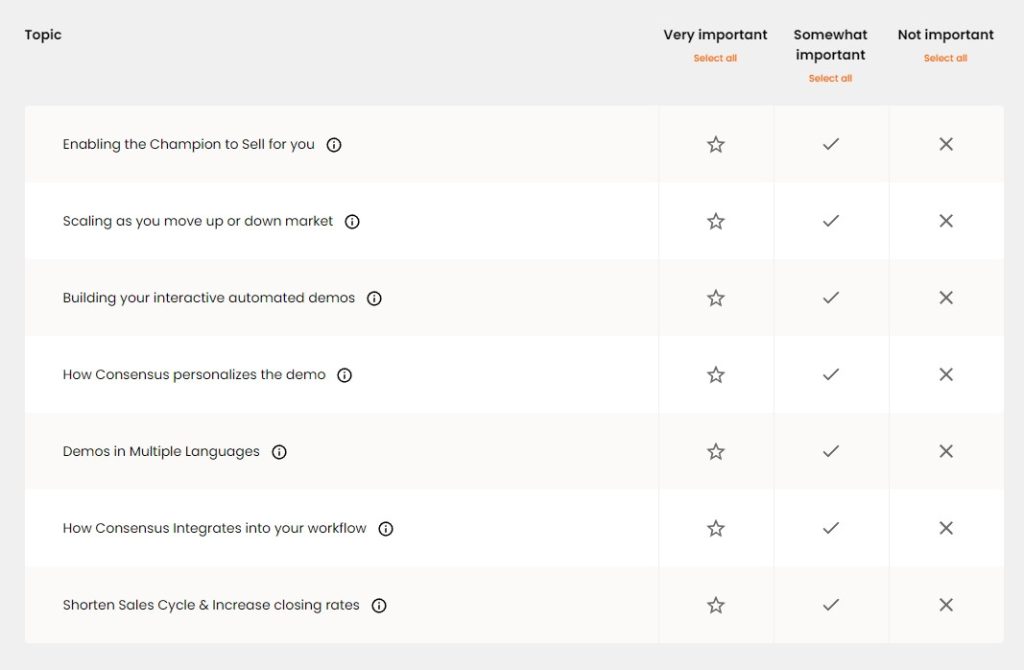 That lets you take a generic template and make sure prospects get shown the things that are most important to them. Additionally, you gather a ton of extra data from prospects, and AEs can get great data ready to prepare for sales calls.
A second unique feature is the 'BuyerBoard'; this gives your Champion a dashboard to learn how/when their colleagues engage with the demo they share with their team.
Compared to Reprise, Consensus has more useful integrations. Integrations that Consesus has, but Reprise do not have, include:
Outreach: embed demos in email templates
Gmail & outlook: makes it faster to send demos in emails
Zapier: an no-code alternative to API for building custom integrations & workflows
Lastly, Consensus also supports multiple languages, making it faster to translate buttons & text (but not the actual demo content) into other languages.
Consensus vs Reprise
Consensus has more integrations overall
Consensus has some extra features (e.g. let users choose what's most important to tailor a demo)
Consensus cannot create a fully functional & personalized sandbox clone; Reprise can
Starting prices are similar for both platforms
Pricing
Consensus pricing starts from $12k annually, but specific pricing isn't available publicly. Contact their team.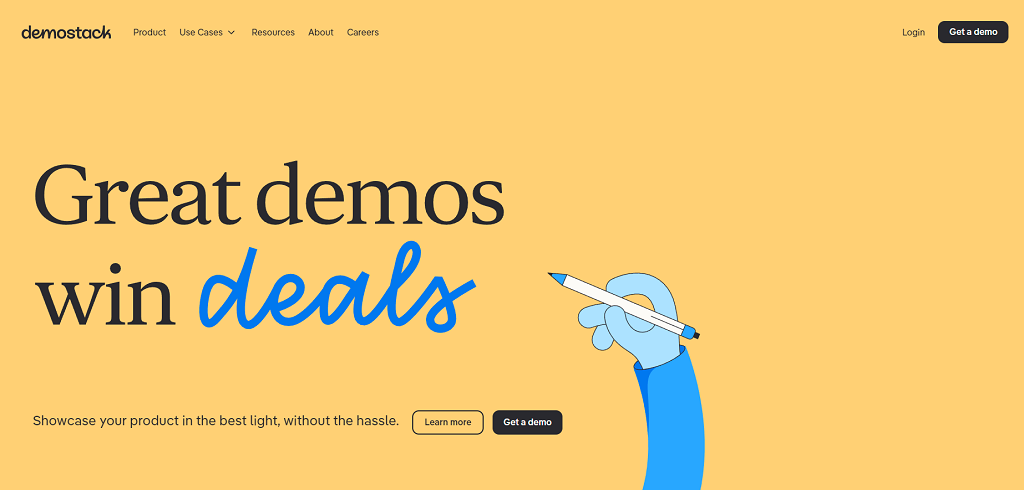 Best suited for: a comprehensive "full-stack" demo platform for every use case
Free trial: No. Sign up here.
Starting price: Unknown.
Key features
Demostack is capable of replacing all 3 Reprise products:
Product walkthrough tours
Live sales calls
Sandbox environments
For live demos, just like similar platforms, Demostack lets you create templates that an AE can quickly customize ready for a first call — which removes the need for a Solutions Engineer to be present, even on more technical calls initially.
One unique feature is their Demo HQ, which aims to operationalize all things demos. Like the name suggests, it provides one place for everything demo-related: customizing templates, managing sandbox environments, measurement & analytics, sharing/embedding, etc.
Demostack are hot on security, being SOC 2 certified, and compliant with all acronyms: GDPR, CCPA, HIPPA. They also do regular pen tests & have transparent system status updates. Learn more in the Trust Center.
While they have relatively few intgrations overall, Demostack do have a Salesforce integration which lets you understand better how demos are affecting metrics further down the funnel
Demostack vs Reprise
Each platform is similarly comprehensive in covering use cases
Demostack have an increased focus on demo operations & efficiency
Reprise has integrations that Demostack doesn't have (e.g. Google Analytics, HubSpot)
Pricing
Demostack's pricing is based on a platform fee plus seats, and product differentiation (tours, live demos, sandbox environments). Every plan comes with unlimited tours.

Best suited for: sales teams to create personalized demos using your live demo environment
Free trial: No, request a demo here.
Starting price: Unknown.
Key features
Saleo is a suitable alternative to Reprise for one specific use case: live demo overlays (replacing Reprise's 'Reveal' product).
It is built for sales teams, not for marketing embeds or support/success use cases.
The idea is to promote authenticity. To give prospects a realistic look into how everything works. Not only which features are available, but also the performance — load times, usability, and so on.
You can change metrics, graphs, text — whatever you need to tailor a demo, and help prospects understand how the tool would really look & feel in practice.
It can be used with a simple Chrome extension, and since the tool is simpler overall, time-to-value is likley faster than Reprise if you only want this one specific sales use case.
Saleo vs Reprise
Saleo only caters to one specific use case: live demo overlays
Reprise can also handle sandbox environments & product walkthrough tours
Saleo is faster to get started with & has fewer features overall
Neither tool are offering publicly available pricing
Pricing
Saleo's pricing isn't publicly available. Contact them directly to learn more about pricing.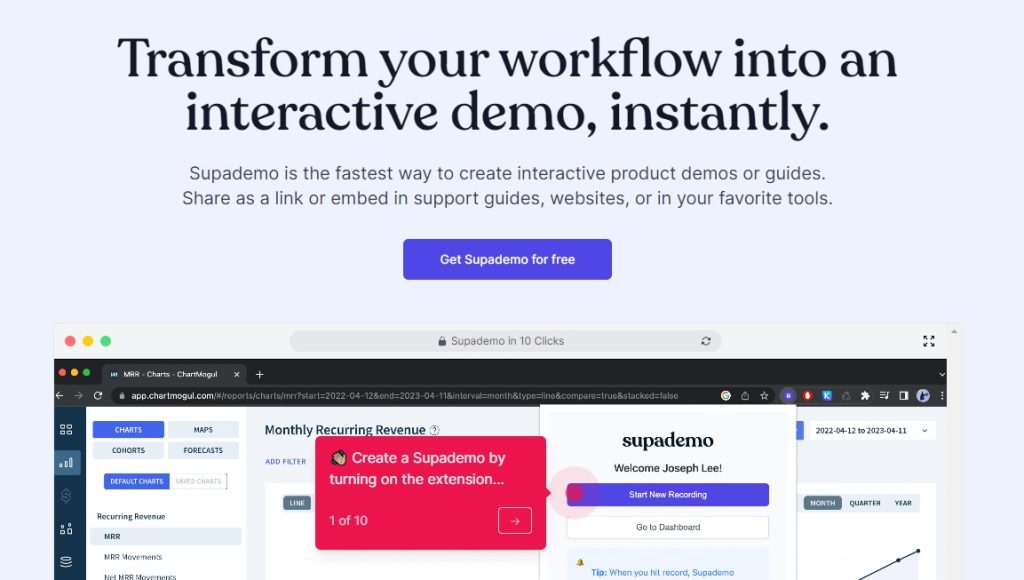 Best suited for: entry-level solution for product walkthrough tours
Free trial: Free plan for up to 5 demos.
Starting price: Free, then $24/month for 5 user seats & unlimited demos.
Key features
Supademo lets you create interactive product walkthroughs. It's a much cheaper solution, with a free version & monthly options.
Comparing to other tools in this list, you can think of it as a simpler version of Navattic or Tourial. Supademo currently doesn't try to handle sales use cases like Reprise, Walnut, Saleo and others.
It uses a Chrome extension to capture screenshots & videos, which means time-to-launch is fast. It also makes mobile responsiveness easier. The downside of using screen capture instead of HTML/CSS capture though (like Navattic), is that you can't easily customize the demo environment (e.g. type to replace names, change data, edit UI charts etc.).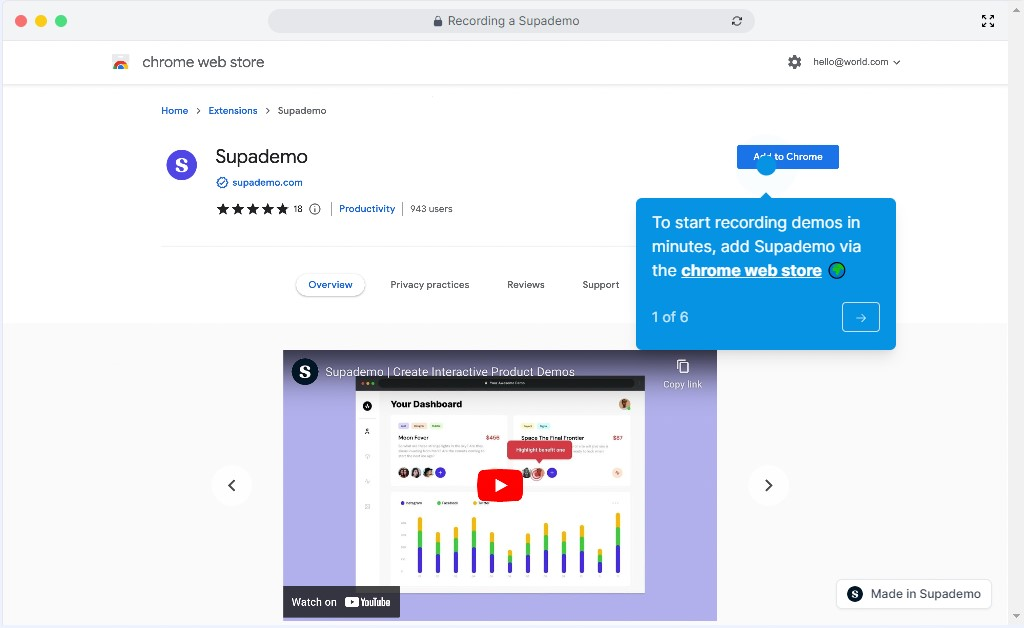 Supademo vs Reprise
Supademo is a better fit for early stage companies with lower pricing & monthly options
Supademo can't cover sandbox environments & live demo overlays
Reprise is substantially more comprehensive in features & use cases for a higher cost
Supademo is not enterprise-ready in terms of security & integrations; Reprise is
Pricing
Supademo has a free version for 5 demos, and paid plans start from $24/month for 5 users & unlimited demos. Custom pricing is available for more seats and additional features.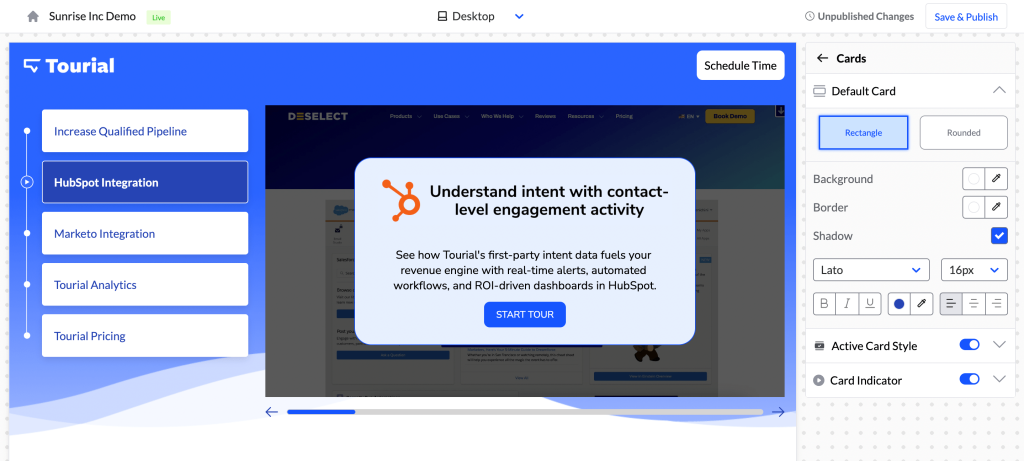 Best suited for: creating interactive demos for marketing use cases with screenshots/videos
Free trial: No, request a demo here.
Starting price: $790/month (paid annually). See pricing.
Key features
Like Navattic & Supademo, Tourial focuses on the product walkthrough use cases. It's more advanced than Supademo in terms of features & integrations, so let's compare to Navattic.
First: Navattic uses HTML & CSS capture, while Tourial uses screenshots & video capture. The latter method might be more suitable for handling:
Lots of complex workflows → you can add video captures to save on click fatigue
Mobile apps & mobile traffic (it's much easier to mobile optimize)
Lots of JavaScript functionality → HTML capture will miss actions e.g. drag n drop
On the other hand, HTML & CSS has the significant advantage of being able to easily click & change text, data, edit the UI to customize the demo screens exactly how you'd like them.
Unlike Reprise, Tourial is not built to handle sandbox environments & live demo overlays — like Navattic, they focus on the product walkthrough use case.
Lastly, a notable unique feature is their TourPlayer, which lets you create a 'playlist' of demos all in one place easily. Take a look at their own demo center for an example.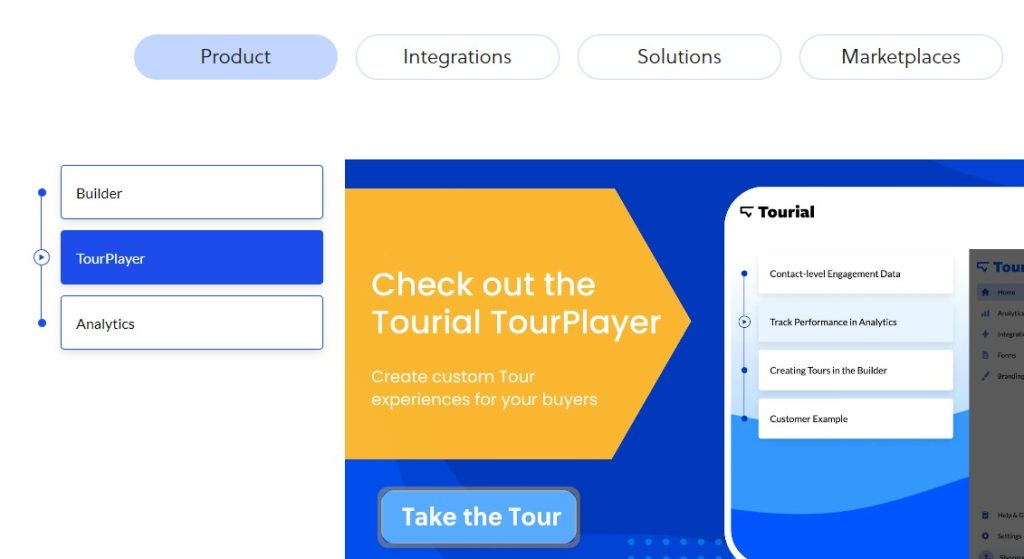 Tourial vs Reprise
Tourial focuses on product walkthroughs; Reprise has a more compehensive offering
Tourial have a lower entry price, and unlimited seats/demos on every plan
Reprise are more enterprise-ready in terms of workflows & security
Reprise is much more suitable for sales use cases
Pricing
Tourial offers 1 simple base platform package that comes with unlimited demos, user seats, demo views, integrations, forms, support, and TourPlayers. View full plans page here.
Their Startup package is available for companies with < 50 employees and includes all features, onboarding, and digital support.
Final thoughts on Reprise competitors
If you're looking for a complete solution to fully replace Reprise's products, your best bets are going to be Walnut, Consensus, or Demostack.
If you're looking for a solution only for live sales calls, consider Saleo.
If your priority is marketing / top-of-funnel use cases, try Navattic or Tourial for a mature solution, or Supademo for an entry level solution.