In shopping for an interactive product demo software, you're likely to come across Navattic & Reprise.
I've already done the research & spoken to all the clever folks who know about the differences, so I can save you some time on figuring out which is best for you.
Here's an actually helpful guide to choose between Navattic & Reprise based on what they can/can't do, and what I think are the key criteria.
Let's start with the 'TL;DR'.
The difference between Navattic vs Reprise
The main difference between Navattic and Reprise is that Navattic is cheaper, and heavily focuses on nailing the marketing use case. Reprise is more expensive, covers interactive demo use cases (including sales) more comprehensively, and prioritizes building for larger teams (300+ minimum employees).
| | |
| --- | --- |
| Reasons to choose Navattic | Reasons to choose Reprise |
| More focus on marketing teams | They build for enterprise (300+ employees) |
| Faster implementation for website embeds | If you have highly specific requirements |
| Lower entry price | Better catering for live demos / overlays |
| Unlimited user seats | Covers more use cases overall |
| Get a Navattic demo | Get a Reprise demo |
Pricing models
Let's address the other big one right away too — pricing.
Navattic's pricing
Navattic's pricing is publicly available: $500/mo for 'Base' (company size up to 100 employees & base features), and $1,000/mo for larger companies, plus extras like SSO & dedicated success managers/coaching.
Navattic's pricing model includes unlimited demos & demo views, plus unlimited seats. There's also a startup plan, and some enterprise feature differentiation.
Reprise's pricing
While not prominently mentioned now, previously Reprise advertised a starting price of $1,000 per month for 'Starter+', with 5 user seats & 3 demos. Pricing scales up from there for more demos & seats, and is customized for enterprise customers.
Navattic offering unlimited demos & seats is significantly more attractive if it fits your use case (marketing embeds). Reprise can do more overall, so the higher price could be worthwhile — more on that in the 'Use Cases' section.
Comparing Navattic & Reprise
I'm going to highlight the differences in some key areas:
These factors are what I believe are most likely to influence your buying decision.
In case you missed it, pricing is above. I'll also share with you some example demos below that are built with each tool.
1. Use cases
Summary: Navattic is a better choice for marketing & top-of-funnel use cases. If you want something primarily for solution engineers to replicate your live environment (and you can pay more), Reprise is better.
To understand where each tool excels, let's lay out the 3 core use cases for an interactive demo tool:
1. Product walkthroughs for marketing embeds & link sharing
2. Live demo calls between sales teams & prospects
3. Tailored sandbox environments: like the first, but fully explorable instead of a walkthrough
You could include a support/success/activation use case within the first too.
Here's what you need to know:
Navattic is better for step-by-step product walkthroughs
Both tools can fulfil this use case, but Navattic is preferred, because:
1. Navattic is quicker to get started. You can capture all the necessary screens in 5-10 mins, and it automatically orders the screens, pre-adds text boxes, then lets you make edits. Adoption is just easier overall.
2. There are some extra features. For example, exit intent CTAs, or checklists that let your user choose their own journey & skip steps. Here's how Mixpanel use checklists, for example: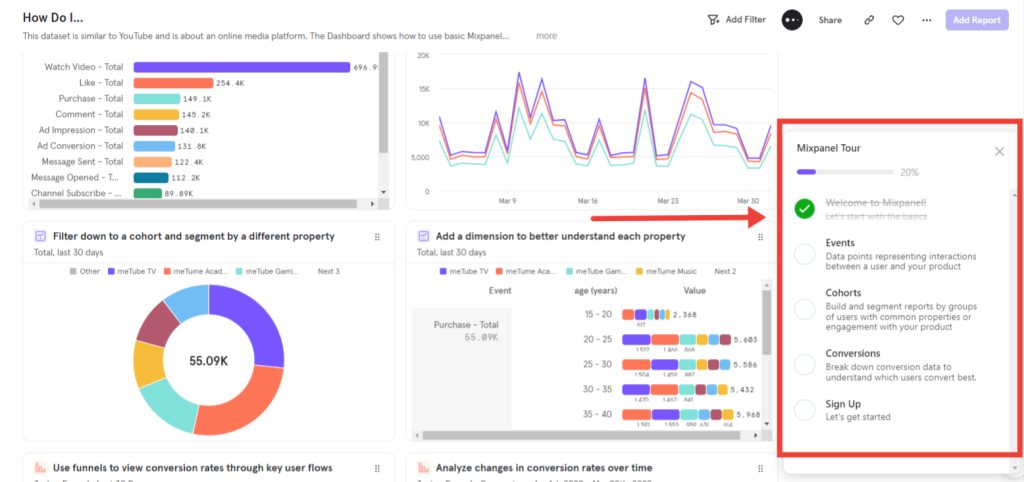 3. It's just cheaper & more accessible. If this is your intended use case, in 90%+ of cases Navattic will be able to do what you want it to for less $$$ & less effort to get started.
Reprise is better suited to live demos
In Reprise, you can replicate your live product in a demo environment, and customize it with overlays on the fly. You can also save templates, to quickly personalize each before a prospect call.
Some Navattic customers use interactive demos instead of screenshots / decks for live calls. But generally, Navattic doesn't compete in this space, so there's not much to say here. If this use case is important to you, you'll either need to choose Reprise, or Navattic plus a second tool, or an alternative altogether.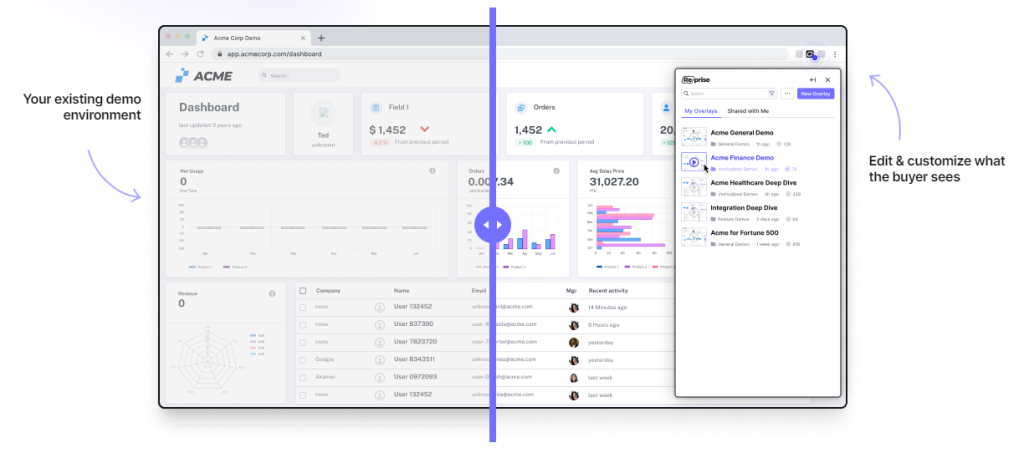 Reprise is better for creating explorable demo sandbox environments
If you want to send a customized sandbox environment for a prospect to explore your tool, both can *kinda* do it, but Reprise is better built for it.
In Navattic, you can quickly personalize your walkthrough demo & send it to a prospect, or use as a demo leave-behind. It's not a proper sandbox though; still a guided walkthrough.
In Reprise, you can create a realistic clone of your product that is completely safe & bug-free, plus customized to each prospect that receives it. The recipient can then click around & do whatever they want, just like being in the actual product.
This takes a lot more setup time, but once you're up and running, bulk-edit tools & templates speed up the process for each individual prospect.
2. Integrations
Summary: Navattic has a Segment & Zapier integration that Reprise doesn't have. Reprise has an API, Navattic doesn't.
Navattic currently integrates with:
Salesforce
HubSpot
Marketo
Google Analytics
Segment
Zapier
Reprise currently integrates with:
Salesforce
HubSpot
Marketo
Google Analytics
& also has an API
Differences in integrations
If you're a team that uses Segment for customer data, you'll likely want to push demo interaction data into analytics tools like Amplitude or Mixpanel. In Navattic, that'll be much quicker. It's possible using Reprise's API, but it requires engineering time.
For Navattic, the Zapier integration unlocks a lot of new possibilities too. For example, you can ping an SDR in Slack when you get a highly engaged website demo. It also allows you to connect to the rest of your tech stack with no-code where native integrations aren't available.
The main advantage Reprise has here is the API, which makes pretty much anything possible for any tech stack. It's very useful for larger orgs that have specific custom requirements, and the engineering resources to make use of the API.
3. Time to implementation
Summary: Navattic is significantly faster to implement, but that's partly due to the use case it caters for.
Implementation time depends mostly on which use case we're talking about (e.g. walkthrough vs. full sandbox), and how complex your demo will be. To make a simple embedded walkthrough for marketing with 10-15 screens plus annotations, Navattic is much faster
Although there are limited reviews so far, G2's data backs this up regarding ease of use & ease of setup: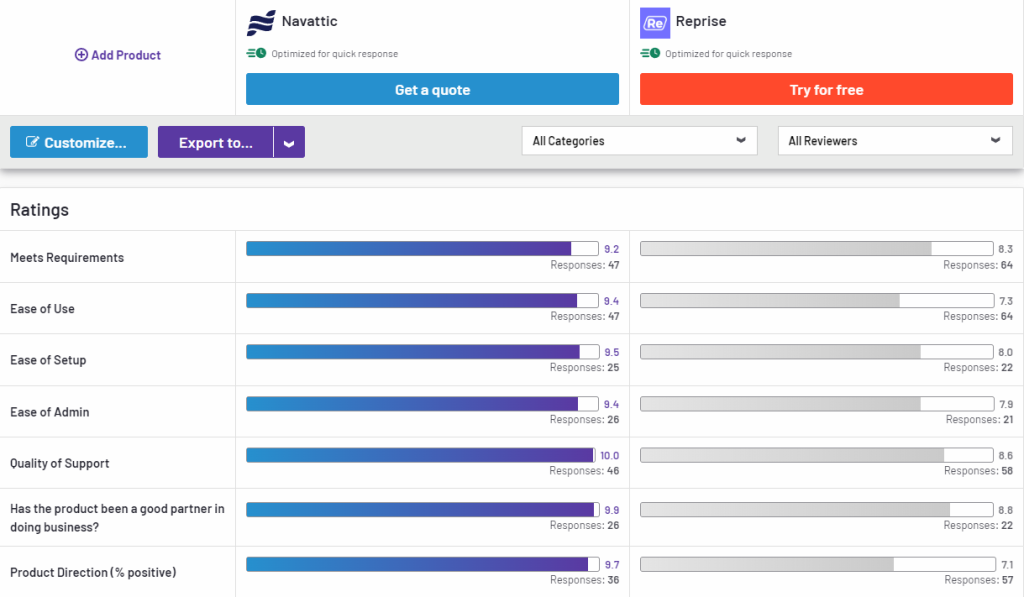 In cases where Reprise's implementation takes a lot longer, we're probably not comparing apples to apples. Creating a full sandbox demo is going to take a lot longer, and since that use case doesn't exactly exist in Navattic, it inevitably drags Reprise's average time-to-value up.
4. Security
Summary: Reprise has a greater focus on security & enterprise-readiness overall, but Navattic is SOC 2 certified too.
For mid-market & enterprise companies, security is going to be high up on the list of requirements to procure a new tool.
The good news is that Navattic & Reprise both check the big boxes: SOC 2 & GDPR compliance.
They both also cover: access control & permissions for each demo.
That said, Reprise has the edge when it comes to general readiness to handle enterprise security workflows & requirements.
The simple fact that they have an employee with "Director of Information Security" title says a lot, here!

As a smaller team, Navattic don't have a similar in-house role dedicated to security.
Example demos
I'd imagine you'll also want to see what demos made with Reprise or Navattic actually look like. I'll feature a couple from each tool here.
Built with Navattic
Dooly
See it live: https://www.dooly.ai/see-dooly-in-action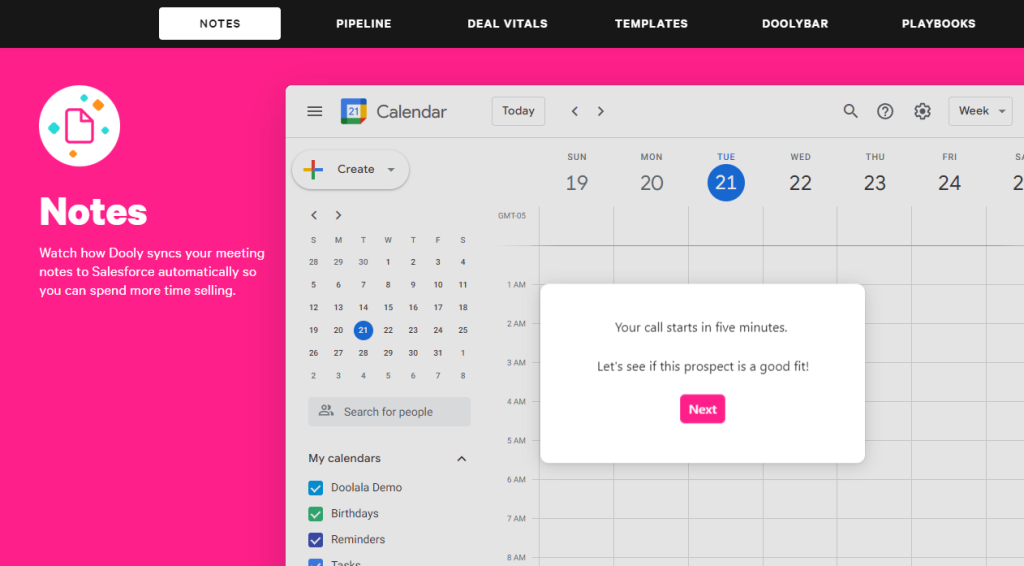 Dooly created a 'Dooly in action' page which contains 6 separate demos: one for each core feature of their product.
Each one gives the user an ungated way to understand exactly how Dooly works, and see if it does what they need it to.
Gorgias
See it live: https://www.gorgias.com/product-tour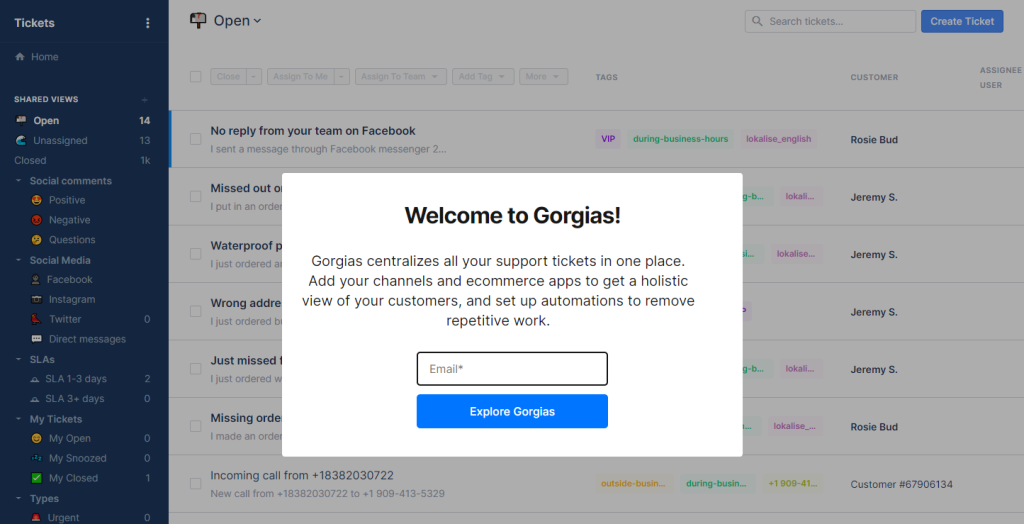 Here, Gorgias have an example of a gated interactive demo which requires an email to view, although it's worth noting that Navattic enables ungated demos too — you can choose which you prefer.
Built with Reprise
Bonusly
See it live: Bonusly tour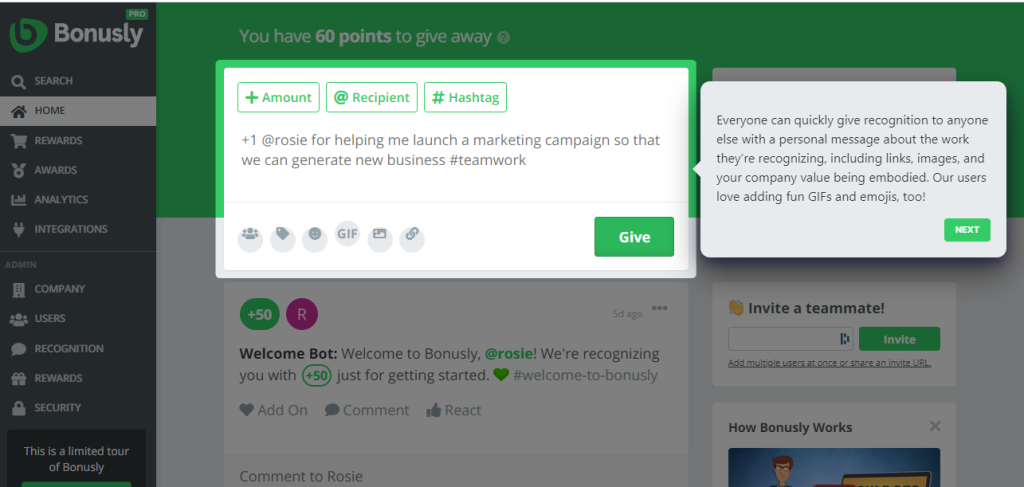 Bonusly's interactive tour is fairly long & straightforward, giving prospects a realistic view of what it would feel like to use the UI.
They use Reprise to offer multiple CTAs & internal link opportunities for demo bookings & related resources throughout: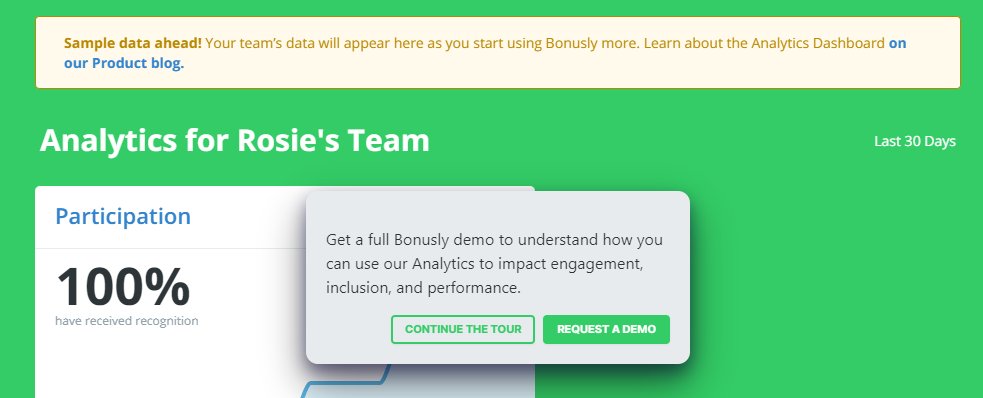 Conquer
See it live: https://conquer.io/product-tours-demo/
Conquer, like Dooly above, break down their demo into three separate flows to let users more easily navigate to what they're interested in.
Not much more to say here — but it's a standard example of what you can expect your demo to look/behave like using Reprise 🙂.
Summarizing
If you're a large organization that is going to:
utilize all three core use cases of Reprise
value the security & general enterprise focus
utilize the flexibility & customization brought with API access
… then Reprise is likely worth the higher price tag & effort to set up.
If you're a smaller team that values lower pricing and faster implementation time for marketing, Navattic is the obvious choice.