If you're running a podcast, streaming raw unedited audio usually won't satisfy your audience. To maintain quality, using an editing tool is inevitable.
Even without much of a budget, early-stage podcasters don't need to settle for poor audio quality. There are plenty of options for free podcast editing software to get you started.
Some are free forever, while others let you grow into paid features once you get some traction.
They can be used to enhance the recording by removing the background noise, separating audio tracks, improving the flow by chopping out unnecessary breaks, adding sound effects, and much more.
Let's look at 9 options with varying features and compatability.
Here are the 9 best free podcast editing software tools
Type Studio
Auphonic
Audacity
Riverside.fm
GarageBand
Power Sound Editor
Zencastr
Podcastle
WavePad
Compatibility: Web.
Use cases: video editing, video recording, automatic transcription, automatic translation, subtitle generation.
Paid plans available: Starter, Pro, and Team plans are available at $12, $20, and $36 per month.

Type Studio is a lightweight, web-based platform that lets you make simple edits to your video files. While it includes basic video editing functionalities such as trimming, cropping, and resizing, Type Studio's main points of interest are its automatic transcription, translation, and subtitle features. Type Studio can automatically transcribe and subtitle your videos in one of 30+ languages, as well as automatically translate between them, as a premium feature.
The most interesting feature is the ability to edit the video by editing the transcribed text instead of using video editing tools. This means that, for example, you can cut out sections of the video just by deleting the corresponding paragraph in the transcript.
While it won't be of much help with heavy-duty editing, Type Studio is a great tool to have if you want to easily add subtitles to your video podcast. Apart from enabling the translation feature, upgrading to a paid plan will let you export subtitle files and increase the maximum length of the video you may edit.
Compatibility: Web, Windows, MacOS, Android, iOS.
Use cases: audio editing, audio recording, audio post-production, audio transcription.
Paid plans available: paid plans are available starting at $11/month.

Auphonic is a web-based service that automatically cleans up and enhances your audio files through a set of advanced algorithms. These algorithms separate audio tracks and level them in a way that normalizes the overall loudness of the stream, filter out unwanted noise, hiss, and hum, and improve the stream's overall listening experience. Auphonic also includes a speech recognition algorithm that can generate transcripts, which you can later edit through the HTML output file.
While the main Auphonic tool is web-based, it comes with a suite of companion apps for mobile and desktop platforms. Auphonic Recorder for iOS will let you create recordings and transfer them directly to the main Auphonic platform, while Auphonic Edit for Android also includes portable editing capabilities. Auphonic Leveler Batch Processor and Auphonic Multitrack Processor are desktop programs that provide additional functionalities for advanced users but require an extra subscription.
Apart from the free plan which limits the total length of your processed audio to 2 hours per month, Auphonic comes with a set of scaling monthly subscription plans. While premium plans don't add any extra functionalities, they increase the total length of audio recordings which you may edit per month. Alternatively, you may also purchase one-time processing credits instead of opting for a regular subscription.
Compatibility: Windows, Linux, MacOS.
Use cases: audio editing, audio recording.
Paid plans available: no.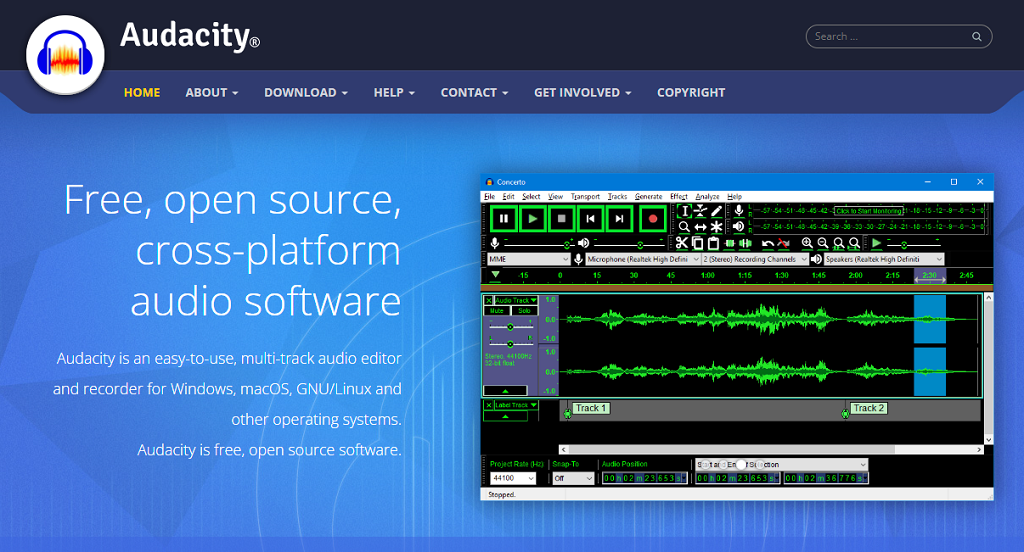 Most people who have ever dabbled in audio editing probably don't need an introduction to Audacity. It's a freeware audio editor that has been going strong ever since its launch in 2000, due to its powerful capabilities and rich features that are available for completely free. These factors have made Audacity the go-to audio editing solution for amateur users, but also many professionals.
Audacity is a beginner-friendly tool that, apart from its robust editing capabilities, also makes it possible to make multi-track recordings through the same app. Plus, due to its long history and loyal user base, Audacity has managed to accumulate a huge collection of plug-ins that enhance the already rich collection of features even further.
While they shouldn't be a deterrent, there are two major downsides to Audacity. One is its dated and clunky interface which definitely lets the program's age show through. The other comes from a certain level of stability issues caused by the dated architecture.
Compatibility: Web, Android, iOS.
Use cases: audio and video editing, audio and video recording, video transcription.
Paid plans available: Standard and Pro plans at $19 and $29 per month ($15/$25 per month for annual plans). Enterprise-focused Teams plan available at a custom price.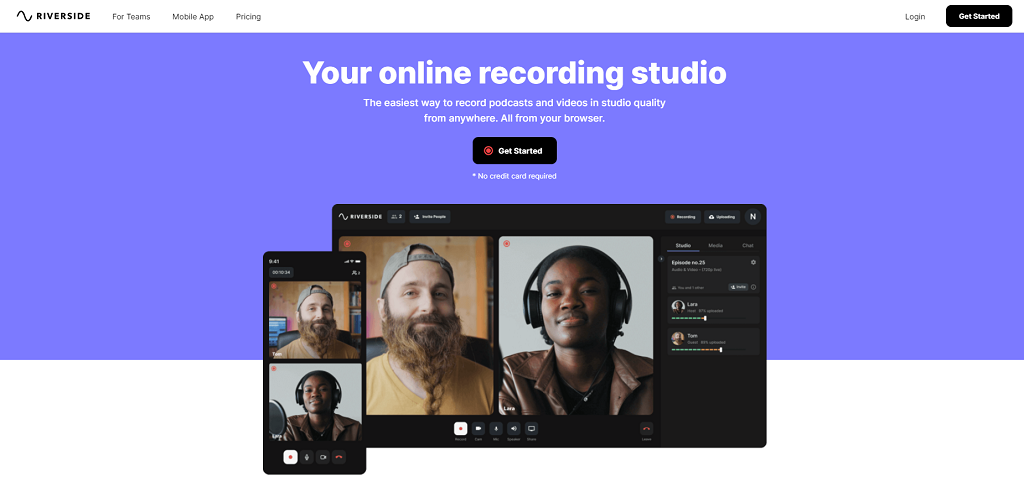 Riverside is an online web-based video recording and editing solution that prides itself on its portability. Indeed, Riverside makes it possible to record and edit your podcast with zero hassle no matter where you are, through its easy-to-use web and mobile apps. This makes it especially useful for hosting talks and interviews – your conversation partners may join your Riverside stream by simply following a link.
The editing process is done through Riverside's Magic Editor, which offers basic editing capabilities through a simple and largely automatic process. Unfortunately, this limits it in comparison to some more robust and complex editing tools. A nifty feature is the ability to automatically transcribe the video and edit it by editing the transcript, similar to Type Studio.
Riverside's free plan limits the recording quality to 720p/44.1kHz and adds a watermark to all exported files. Paid plans raise the quality limit to 4K/48kHz, increase the monthly limit on separate track recording and add an increasing array of extra features with each level of subscription.
Compatibility: macOS, iOS.
Use cases: audio editing, audio recording.
Paid plans available: no.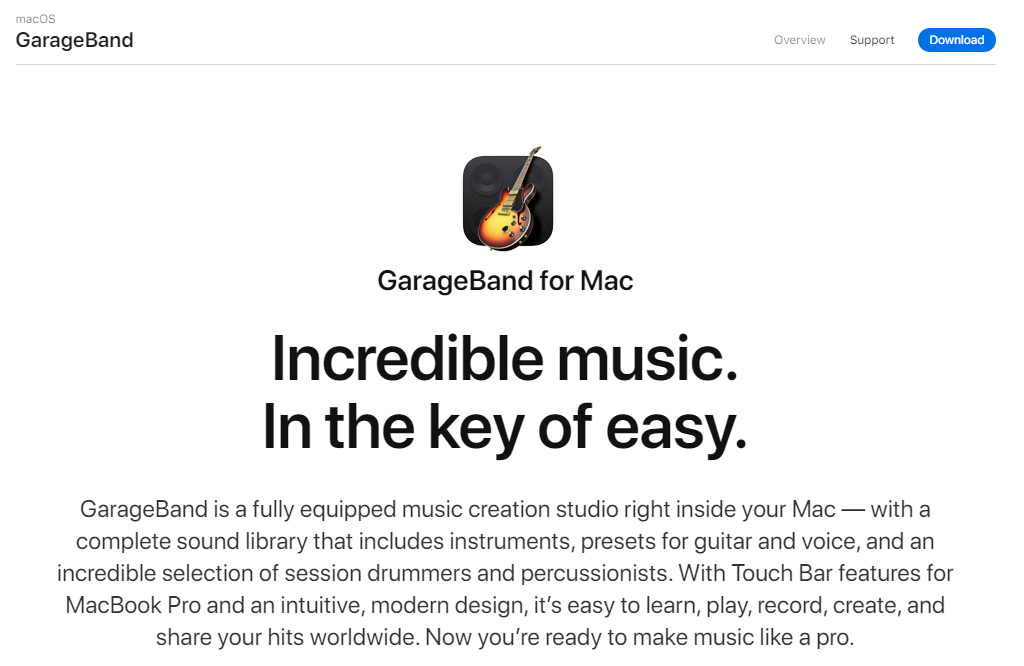 GarageBand is sometimes dubbed a "little sister" app to Apple's more famous Logic Pro digital audio workstation. Unlike the more complex Logic Pro, GarageBand is 100% free but is similarly geared toward music producers looking for an audio editing tool. Still, GarageBand is robust and versatile enough to be perfectly useful to podcasters, or anyone else in need of a way to edit audio tracks.
The fact that GarageBand is a full music production tool means that you won't have the automatic audio-enhancing functionalities that many of the other tools on this list can provide. Still, if you don't have a problem with manually tuning every relevant facet of your recording, GarageBand will prove to be a stable and powerful solution that can help you bring the best out of your recordings. It also features a built-in, although rudimentary, audio recorder.
Like most other software tools published by Apple, GarageBand is sadly exclusive to macOS and iOS systems.
Compatibility: Windows.
Use cases: audio editing, audio recording, disk ripping/burning.
Paid plans available: Deluxe version available for a one-time $29.95 purchase.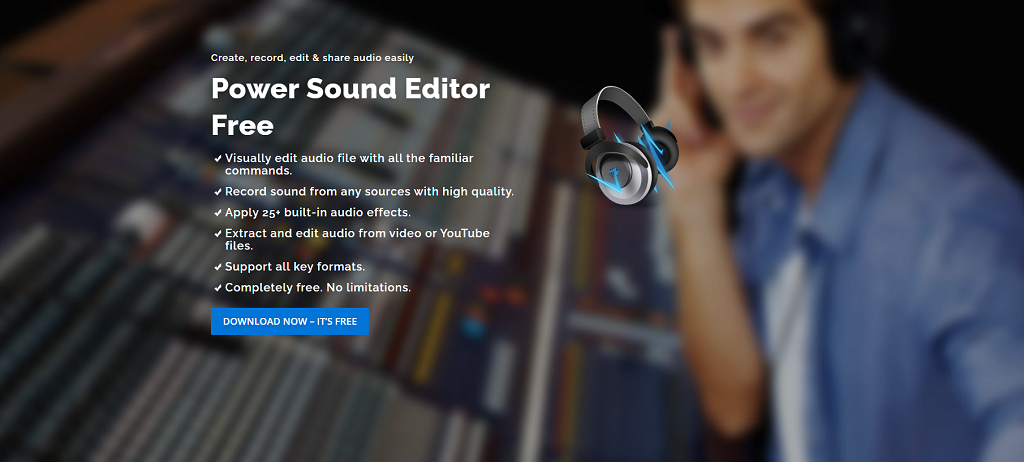 A freeware, powerful tool for audio recording and editing, Power Sound Editor presents a capable alternative to similar, better-known solutions such as Audacity. This tool brings broad editing capabilities in a simple, user-friendly package, with an intuitive, familiar GUI. It also allows you to record audio high-quality audio with a microphone or any other input device. Another notable feature is the ability to quickly and easily extract audio from video files or Youtube.
Power Sound editor supports input and output in virtually all key audio formats, so you never have to worry about compatibility. Apart from the usual editing tools, you can apply over 25 built-in presets and audio effects, such as Amplify, Fade, Reverse, Normalize, etc.
The paid Deluxe version of the software adds a few extra functionalities. These include a CD burner/ripper, a text-to-speech tool, and a batch converter for your audio files.
Compatibility: Web.
Use cases: audio and video editing, audio and video recording, audio and video production, podcast hosting, advertising, analytics.
Paid plans available: Professional and Growth plans for individuals are available at $20 and $49 per month ($18/$45 per month for annual plans). Thought Leader and Network plans for businesses are available at $91 and $275 per month. Enterprise plan available at custom pricing.

Zencastr is an elegant all-in-one solution that aims to combine the functionalities of a whole suite of podcast tools within a single web app. Considering the tool's web architecture, the full array of features at hand is downright mind-boggling. Zencastr can be used not only to edit your videos but also to record and host them, analyze your output, and help with advertising and monetizing your podcast.
This versatility still comes at a cost – Zencastr's editing tools are quite rudimentary, with basic functionalities. The interesting part comes from the automatic editing algorithms, which can instantly normalize the loudness and minimize background noise or filter out dead air and filler words during conversations. Zencastr's face-centering technology additionally helps adjust the video layout during video calls to get the perfect result.
Premium subscription plans add a collection of extra features which scale along with the price of the plan. The premium features which are most relevant for editing involve 1080p and 4K video, the ability to export 16-bit 48kHz WAV sound, and – most of all – a live editing soundboard.
Compatibility: Web, iOS.
Use cases: audio editing, audio and video recording, transcription, text-to-speech.
Paid plans available: Storyteller and Pro plans are available at $14.99 and $29.99 per month ($11.99/month and $23.99/month with annual billing).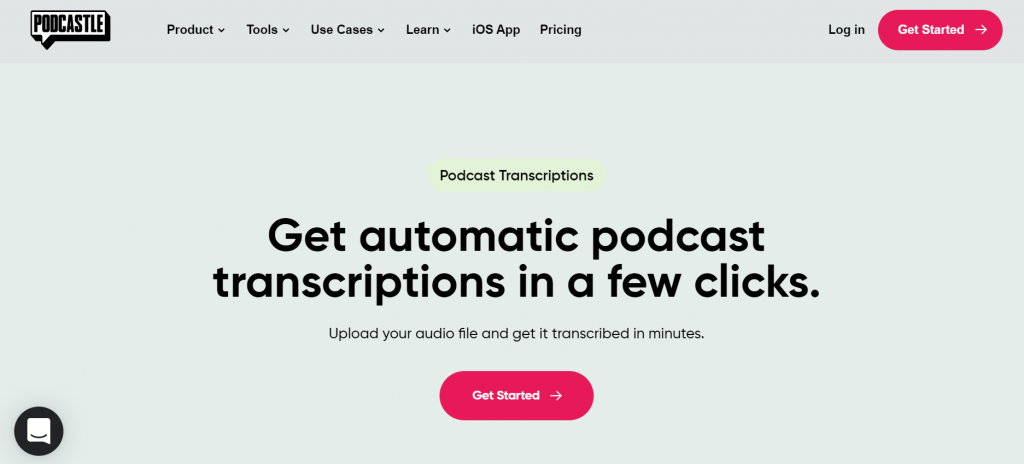 Podcastle is another web-based tool that lets you quickly record and edit high-quality audio files for your podcasts. While it has a video recording feature, it's limited to hosting video interviews with up to 10 guests. The recording feature boasts a surprisingly high-quality output, with the video quality going up to 4K and the maximum audio quality going up to lossless WAV. It's all possible to do through a sleek Chromium-based web app or a mobile app that's sadly exclusive to iOS.
As far as Podcastle's editing capabilities are concerned, it offers more features than many similar web-based apps. Apart from the basic audio editing tools and preset audio effects, Podcastle also includes silence and filler removal tools, as well as a special Magic Dust tool designed to isolate and automatically enhance the speech in the audio. There's also an auto transcription tool – after transcribing your video or audio track, you can crop it more easily by editing the transcript instead of using the regular editing tools.
Podcastle is pretty scalable. You can start small, but it's advanced features make it usable by larger teams, podcast agencies, and other experienced folks too.
The two premium plans add a collection of extra features, including Revoice and Filler removal. They also enable high-quality 4K and lossless WAV recording and increase the maximum time limit on your recording and transcription output.
Compatibility: Windows, macOS, Android, iOS.
Use cases: audio editing,
Paid plans available: Standard Edition and Master's Edition are available at a one-time $60 or $99 purchase. Master's Edition features are also available for an $11.64 quarterly subscription.

While WavePad's functionalities are limited to audio editing, it is one of the most powerful audio editing tools that you may find for free. WavePad supports almost any audio file format in existence, with sample rates up to 192kHz and 32 bits. Apart from the basic editing tools, it includes features such as preset audio effects, audio restoration, audio-to-video and video-to-audio export, and even advanced tools such as spectral analysis, speech synthesis and voice changer.
What particularly sets WavePad apart from similar tools are its robust batch-processing capabilities. You may reliably apply effects to or convert even several thousand audio tracks at the same time. For extra audio processing purposes, it's possible to seamlessly integrate WavePad with MixPad Multitrack Recording Software, an audio-mixing solution also created by NCH Software.
While WavePad comes with a free non-commercial license, you may also opt to buy a commercial Standard or Master's license. The free version and the cheaper Standard Edition contain all the features available in the Master's Edition, save for an SFX library and VST plug-in support. For quick edits, you may also download a companion app for Android or iOS that seamlessly integrates with the desktop tool.